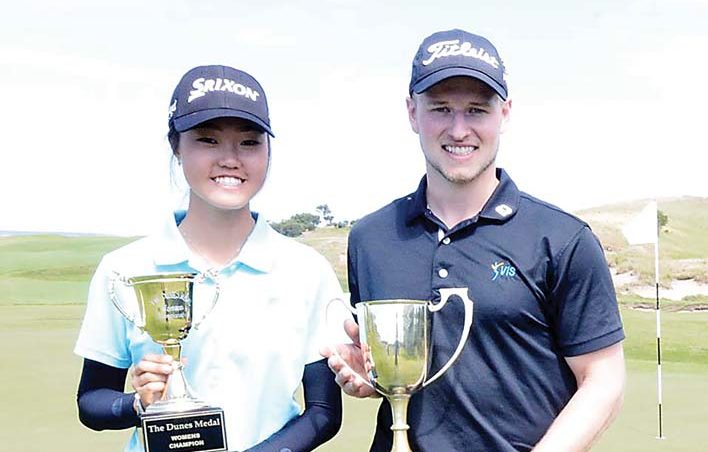 YOUNG up-and-coming golfers have once again come to the fore in The Dunes Medal with Blake Collyer, 21 and Grace Kim, 17 claiming this year's honours on Friday 30 November.
More than 160 competitors contested this year's edition but it was the young guns Collyer and Kim who fired the best rounds in the club's feature tournament.
Victorian golfer Blake Collyer became the first person to claim back-to-back victories in The Dunes Medal since its establishment in 2002. The Metropolitan member handed in four solid rounds of golf and managed to be the best-of-the-best among some top talent in this year's tournament.
Collyer shot rounds of 72, 72, 67 and 71 (282) to win this year's event ahead of Konrad Ciupek (287) and Lukas Michel (288). The win continued Collyer's standout year which includes victories in the United States of America.
New South Wales golfer and 2018 Youth Olympics gold medallist Grace Kim took out the women's competition after overcoming some early pressure from her playing partners. Kim got off to a slow start, shooting 78 in her opening round before hitting back with rounds of 72, 69 and 73 (292) to win the tournament.
Kim finished two shots ahead of Rose Zheng (294), with June Song (298) finishing in third.
Another stand-out performance was from 14-year-old golfer Sophie Yip (NSW) who led the women's competition after the first two rounds with scores of 72 and 73. Despite finishing with rounds of 77 and 82, it was an amazing effort from the youngster to finish in 12th place overall.