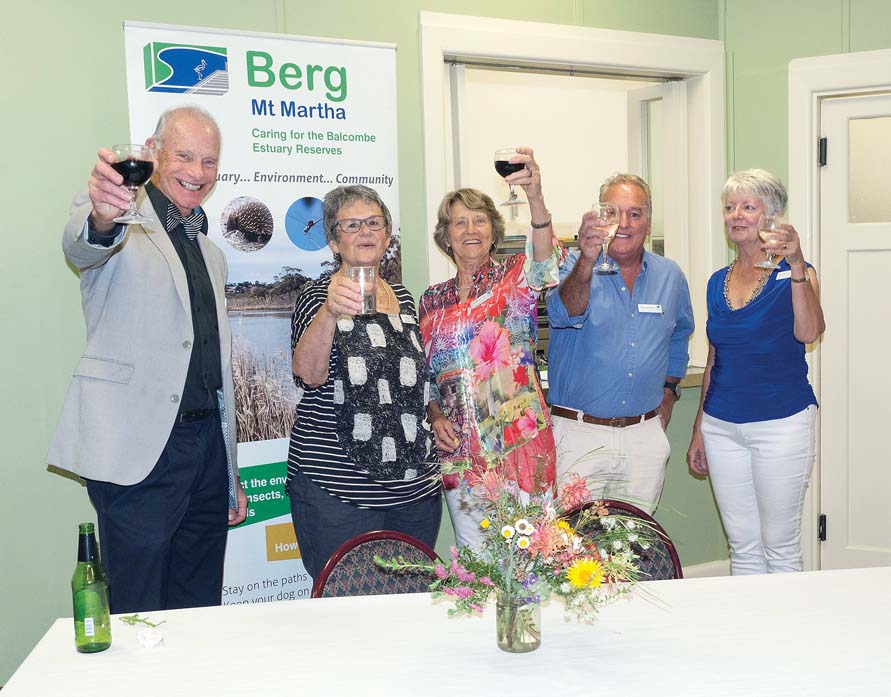 By Barry Morris
Environment group BERG Mt Martha has celebrated 21 years protecting and enhancing the Balcombe Estuary by announcing it is expanding its activities around the bayside village.
Speaking at an end-of-year Christmas party, president Graham Hubbard said BERG MM had completed much of the on-ground restoration work for the reserves and was now largely in a maintenance phase.
"Consequently, we have taken the bold step to widen our strategic vision, to be concerned with all natural environment issues in and around Mt Martha and Balcombe Creek, such as plastic pollution and coastal erosion," he said.
"We believe that this new vision will enable us to engage a wider Mt Martha community.
"By expanding our vision, we have opened ourselves to a wide range of issues that would not have been considered part of our concern.
"We see this as making ourselves more relevant to the community, using our skills and networks for community benefit and improving the overall natural environment of Mt Martha."
Members celebrated BERG's birthday at Mt Martha House with a buffet dinner, jazz band and guests, including councillors Bev Columb and Sam Hearn and Warlimont and Nutt representatives who brought presents of eco-bags.
Mr Hubbard said BERG had 460 members, 110 active volunteers, 16 business partners and an income of $165,000.
In his annual report, Mr Hubbard said the year's highlights included completing the first stage of a three-year self-funded philanthropy project to restore the north bank of the reserves.
BERG MM had also managed 20 grants projects and encouraged Mornington Peninsula Shire to spend $150,000 on several projects aimed at reducing sediment entering the estuary.
The environment group had appointed illustrator and artist Terry Denton as its patron to help promote environmental work with the community.
It had also worked with village businesses to get a single-use plastic bag free Mt Martha.
Members had spent 4900 volunteer hours working for BERG MM this year, an increase of 48 per cent on the previous year. Main activities still centred on working bees run weekly on Fridays and monthly on Tuesdays, Wednesdays and Sundays.
Monitoring water quality in the estuary and Balcombe Creek was carried out on a regular basis and results given to Melbourne Water.
A drone had been used to take pictures of the estuary which gave a better perspective on water movements as it opened and closed.