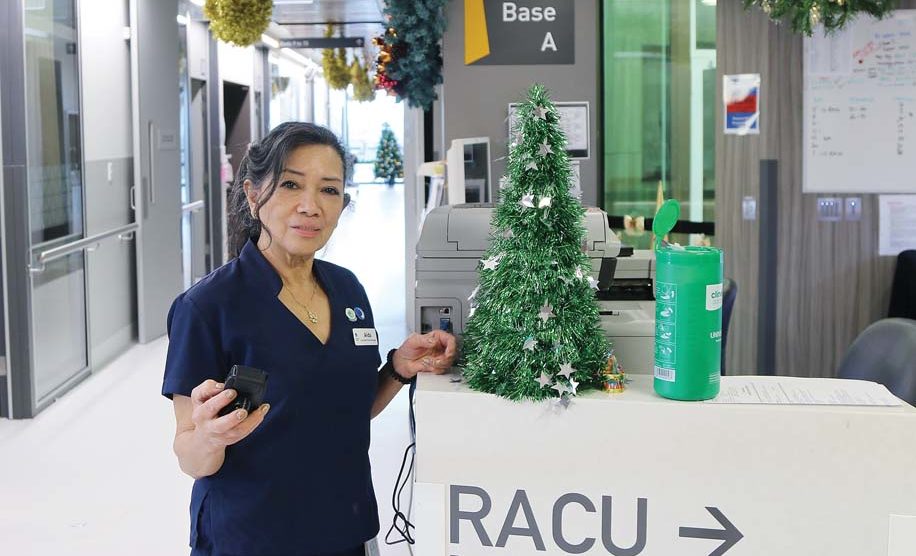 ALTHOUGH coronary care nurse Aida Singer turns 75 in January, she has no plans to retire.
Ms Singer has just clocked up 45 years' service with Peninsula Health and last week received a Service Milestone Award.
"I love nursing and I love all the people," says Ms Singer, an associate nurse unit manager at Frankston Hospital.
Ms Singer moved to Australia from the Philippines in the 1960s after studying her Bachelor of Nursing and Science.
"My father was a doctor and my sister, cousin and brother all work in health," she said.
"I was exposed to nursing growing up as my father was a practitioner at home in the country side and people would come in with blood wounds. I wasn't frightened of blood – we used to see a lot of it during emergencies."
After working at The Alfred Hospital and having two children, Ms Singer started working for Peninsula Health at The Mt Eliza Centre, caring for geriatric patients.
"During that time you could take the patients out for a drive with you on the weekend," she said.
Deciding it was time for a change, Ms Singer moved to Frankston Hospital and began her career in cardiac nursing. She studied midwifery in 1982 and worked briefly in that area before returning to her true passion and where she has spent the rest of her career: cardiology nursing.
"It was a coronary care unit, but it was on the balcony and had only two beds. I have seen a lot of changes since then."
The cardiology ward now has 24 beds and an eight bed rapid assessment cardiac unit.
Ms Singer is also known around Peninsula Health for her colourful Christmas decorations. "Over all these years I have loved decorating and I always decorate the hospital," she said. "I came in on my days off to put up the decorations this year.
"We have won first prize in the decorations competition quite a few times."
Outside of work the Mt Eliza resident loves gardening, going to the gym and cooking: "I always bring in a lot of food for everyone."
Ms Singer wants to eventually retire to Tasmania with her husband but, in the meantime, she plans to continue caring for patients and teaching the next generation of cardiology nurses at Frankston Hospital.