SOCCER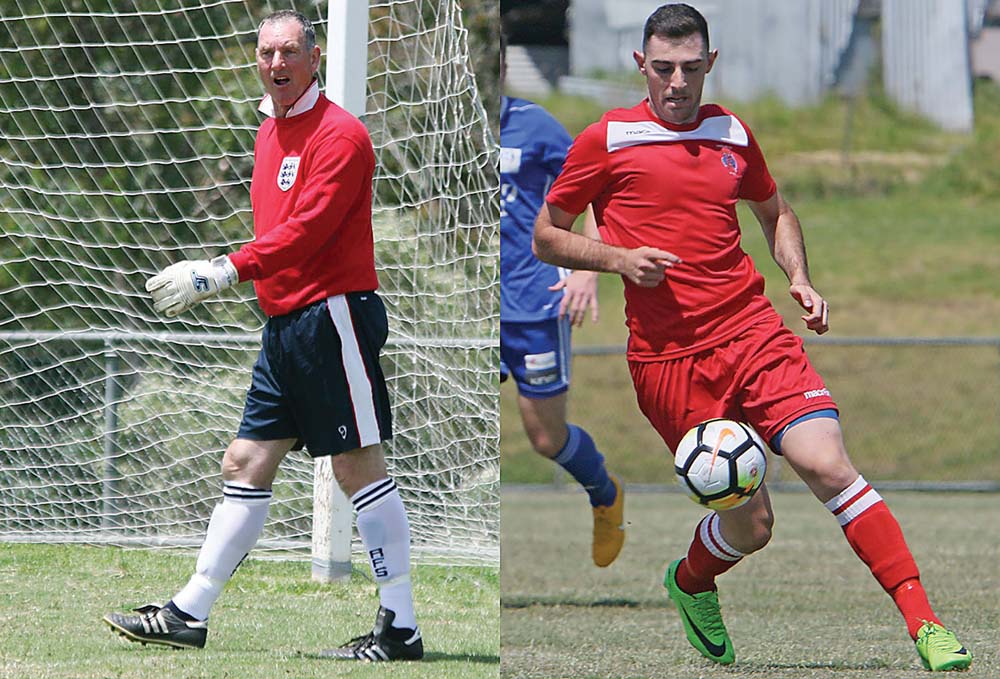 PETER Blasby is the new goalkeeping coach at Langwarrin.
Former Langy star and club vice-president Chris Jones was forced to step down from the post due to work commitments.
Blasby has already had a stint as Langy goalkeeping coach as well as assistant coach of the reserves.
He boasts a celebrated playing career at Frankston Pines, Albion Rovers, Heidelberg United, Melbourne Croatia (Knights), Morwell Falcons and Croydon and he was selected in Melbourne Knights' Team of the Century.
Blasby is widely acknowledged as one of the best specialist coaches in Victoria and the list of goalkeepers who have benefitted from his training includes Ryan Scott, Michael Theo, Lou Acevski, Stuart Webster and Domenic Kurasik.
His talents have been used by Bentleigh Greens, Dandenong Thunder, Mornington, Peninsula Strikers and Casey Comets and he was the inaugural goalkeeping coach at NPLW side Southern United.
"I wanted to grab the opportunity of working with Scotty Miller plus the goalkeepers he's got down there (Fraser Maclaren and Sermin Sadikovski) are both very, very good keepers," Blasby said.
"I'm doing two sessions a week with the senior keepers but next week I believe I'll also be working with Colby Jones (under 20s) and Branten Kindler (under 18s) which is good from my perspective as four is an ideal group to work with."
Blasby was appointed as goalkeeping coach at Dandenong City late last year and will combine both roles.
He was a keen observer at Lawton Park on Saturday as the seniors lost 4-1 to Oakleigh.
It was an excellent hitout for the local club against one of the best sides in the state and the emerging partnership between David Stirton and Roddy Covarrubias was on show.
Viktor Medini, who joined Langy from Dandenong Thunder last year, was released after the match and it's believed that Mazenod Victory is keen on signing him.
Langy head coach Miller is close to finalising the senior squad and it's expected that decisions on other players will be made shortly.
Meanwhile the high performance unit managed by Alistair Wallace is a major addition to the club structure.
Langy utilises the expertise of former Melbourne Victory and Partick Thistle defender Simon Storey, co-founder last year of CEED online physio services.
"Every player has gone through screening via WhatsApp or FaceTime and Simon then generates a report for me outlining any injuries or weaknesses and we work together to get the players back on the park," Wallace said.
"It enables Simon to have daily contact with the players. It's futuristic and it's where I see physiotherapy going.
"Tommy Ahmadzai, David Stirton, Brendan Richardson and Johnny Kuol were all in rehab before Christmas but by the Beaumaris game (22 December) they were all ready to be back in training and they've all fully trained since and played against Oakleigh today."
Wallace is assisted by physiotherapy student Michael Hombsch, Ben Millward is the strength and conditioning coach for the under-20s and Andrew Bayliss-White fulfils the same role with the under-18s.
Long-serving club fitness coach Peter Tuckett assists Wallace with the GPS program, another innovation that Miller and Wallace were keen to introduce.
"Every professional team uses this technology," Wallace said.
"It's about progressively overloading the players then once the season starts you red-flag abnormalities so you can grab the players before they get injured.
"It's not foolproof but more of an educated training direction.
"Scott, Jamie (Skelly) and I sit down and go over the training drills and what we want to do.
"Pretty much you want to complete in a training week the same amount of high-speed running you would do in a game and that has a preventative affect on hamstring injuries which are the number one injury.
"We also do a lot of strength worth before each training session."
Feedback from the players has been positive so far and Wallace and the coaching staff have been pleased with the way the senior group has bought into the program.
In State 3 South-East news Frankston Pines has completed the signings of goalkeeper Alfonso Cardinale and defender Cedric Benza.
Cardinale is a former Goulburn Valley Suns and Keilor Park custodian and returns for his second stint at the club after winning the best and fairest award in 2016.
"Fonzi is a good shot stopper, comfortable with the ball at his feet, a good talker and will keep the back four well organised," goalkeeping coach Lee Davies said.
"He's a good trainer and another excellent role model for the younger players."
Pines regard Benza's signing as a major coup as they faced stiff competition from a raft of other clubs to secure the dreadlocked former Springvale White Eagles and Langwarrin defender.
"I'm delighted to have signed a player of Cedric's pedigree for next season," head coach Kevin "Squizzy" Taylor said.
"His closing and recovery speed is second to none, he is strong, athletic, good in the air, comfortable with either foot and quick, all the attributes required of a modern centre back and he'll form an important part of our back four this season."
Another key signing due to be announced shortly is that of left-back Christian Malgioglio, ex-Dandenong City, who played with Springvale White Eagles under-20s last season.
"Christian was referred to us directly by Springvale White Eagles coach Nebojsa Vukosavljevic, who has identified Pines as an ideal club for young players of Christian's ilk to further develop in a senior environment," club president Steve Spencer said.
Spectators at Pines' pre-season clash with Casey Comets in December were given what the club hopes is a preview of things to come with Malgioglio's spectacular solo run and superb finish in that match.
Last season's captain Graham Hill is an integral part of Taylor's plans and joined in training last week after being linked with a move to Brandon Park.
Another Pines' recruit, flying winger "Tapsy" Munyanyiwa, is expected to start training this week.
Pines are keen to play home matches on Friday under lights and work is underway to ensure that the floodlights at Monterey Reserve meet FV match requirements.
It's expected that the work will be completed in the next fortnight.
The relationship between Pines and White Eagles continues to grow with the NPL outfit training at Monterey Reserve and holding pre-season matches there.
On Friday the Serbian-backed Eagles take on Berwick City at Monterey Reserve at 7pm and on Wednesday 23 January they host Kingston City at the same venue and kick-off time.
In State 5 South news Somerville Eagles are still looking to add to their senior squad as they target a title tilt in 2019.
Will O'Brien, Mark Pagliarulo, Carlo Cardoso and Callum Richardson have been the most recent additions while Daniel Hodge has trained with the Eagles and the club is keen to sign him after he took last season off due to work commitments.
"We're very happy at the moment. We had a strong squad already but we've added some quality to it with a couple of possible additions to come," co-coach Scott Morrison said.
One of Somerville's State 5 opponents, White Star Dandenong, is believed to have signed former Pines stars Christopher L'Enclume and Cedric Pernal, who have both represented Mauritius.
Somerville and Aspendale Stingrays may face trips to Morwell next season to take on Morwell Pegasus after the Gippsland club announced late last week that its application to join State 5 had been accepted by Football Victoria.
At this stage Pegasus does not know which regionalised State 5 league it will play in.
State 5 South is its preferred option and last season that league consisted of 13 teams.
Pegasus withdrew from State 1 South-East during last season amid rumours that the club was set to fold but it has worked hard to convince FV of its readiness to compete under its auspices once more.
The Latrobe Valley Soccer League had rejected the club's application for inclusion for the 2019 season.