PROVINCIAL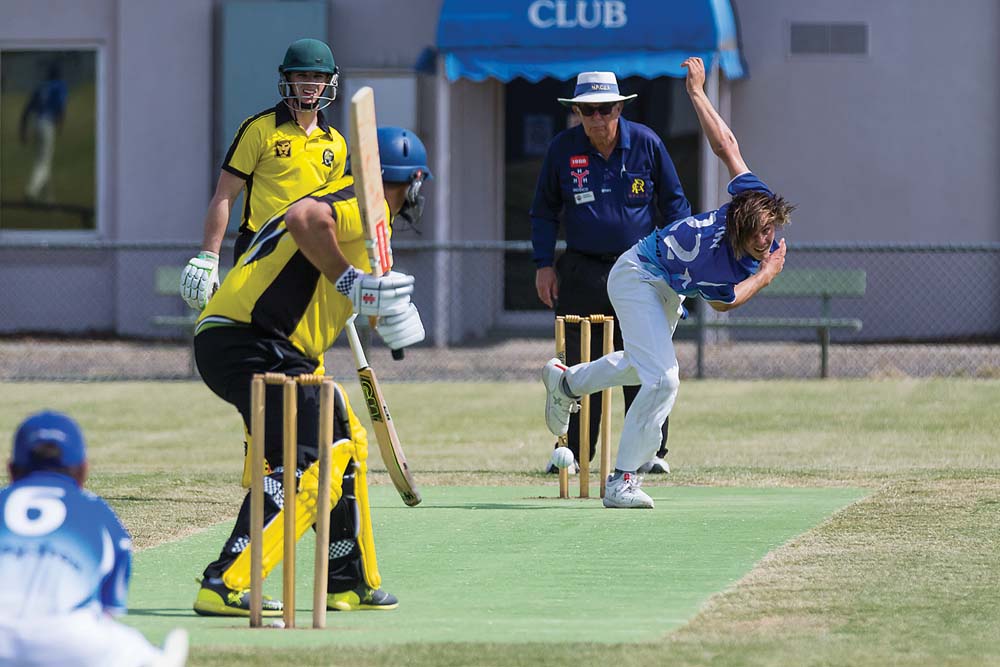 SORRENTO have easily beaten Pearcedale after setting a mammoth target at home at David Macfarlane Reserve.
Twin centuries from Robert Wilson and Leigh Poholke set the Sharks up with a huge score of 5/268. The two put together a stunning 159 run fourth wicket stand.
Poholke hit seven sixes on his way to his maiden century for the Sharks.
Jake Roberts dismissed both batsmen.
Pearcedale couldn't get close and ended up over 100 runs short at the end of their innings, finishing at 8/166.
Robin Parslow claimed four wickets and a run out.
At Harry MacDonald Oval Baxter have had to work hard to chase down Peninsula OB's target of 8/194.
Old Boys opened the batting and lost their first wicket for just 7 runs.
Tom La Brooy top scored for the home side with a well taken 55.
Baxter's run chase was helped by a brilliant innings of 72 runs from Chris Brittain.
Baxter did well to keep pace and not lose too many wickets, and ended up claiming the win with five wickets in hand and two overs to spare
Flinders struggled badly as they hosted Langwarrin and BA Cairns Reserve,
Langwarrin elected to bat first and put 209 runs on the board, with Jake Prosser passing his half century.
Flinders could only manage 101 runs in reply, bowled out with 12 overs left to play.
Morning have battled hard to claim a win over Mt Eliza.
Batting first, Mornington scored 180 runs from theri 40 overs.
In reply Mt Eliza struggled, left in grave danger at 6/41.
At brave innings of 75 from Justin Grant gave his side a chance, but his effort was not quite enough. Mt Eliza ended up all out for 154.
PENINSULA
SOMERVILLE struggled at times but claimed a win over Pines at Eric Bell Reserve.
Neither side had a batsman pass their half century in a slow scoring affair. Pines elected to bat first and put 144 runs on the board.
Nick Marshall was brilliant in restricting Pines, posting career best figured of 4/18.
Somerville's run chase was shaky at times, but they eventually claimed victory with three wickets and two overs to spare.
Red Hill performed well at home to claim victory over Crib Point, as they batted first and set a target of 207 to win.
Matthew Manfield fell agonisingly short of a ton for the home team, with just three runs required to pass his century before his wicket fell.
Matthew Blake was Crib Point's best batsman, hitting 74 runs, but it was not quite enough.
Crib Point finished up at 7/165 from their 40 overs
Baden Powell were impressive and performed well as a team to set a target of 193 to win for their opponents, Long Island.
Long Island were ineffective in their reply, with their first three batsmen all failing to reach double digits. They were bowled out for 154, 29 runs short of victory.
A well taken 57 from Ben Williams was enough to see Moorooduc claim a win over Main Ridge on Saturday afternoon.
Having posted a total of 162, Moorooduc bowled well and won by 53 runs.
DISTRICT
SEAFORD have held on by the skin of their teeth to claim a thrilling win away from home against Mount Martha on Saturday.
Mt Martha batted first after losing the toss and being sent in.
The home side struggled with bat in hand, with their top scorer putting on just 28 runs. They were eventually bowled out for 155, setting Seaford an attainable target to win.
First drop batsman Ian Rowe was Seaford's best, top scoring for the game with 45 runs.
Going into the final over, Seaford still had not reached their target and had just one wicket in hand.
A gutsy 19 from number 10 batsman Mitch Anderson proved crucial, as Seaford hit the winning runs with three balls to spare. They finished at 9/158.
Elsewhere, heatherhill emphatically defeated Carrum in an impressive display.
Carrum were bowled out for 134, with Lachlan Avery taking 3 wickets from just 4 overs.
In return, Heatherhill batted hard and fast. They claimed the win with 13 overs left to play.
The Seaford Tigers were made to pay for their poor top order batting, as they failed to chase down an impressive total of 195 set by Hastings.
Hastings batted well at home, with their top three batsmen combining for 112 runs. In contrast Seaford Tigers' top four batsmen combined for 25 runs.
Having not lost a wicket at 0/19, the Tigers quickly fell to 4/19 as it became clear they would fall short. They finished all out for 168.
Rosebud were woeful in their matchup, getting all out for 93 runs against Delacombe Park.
Pete Doughty was the sole shining light for the losing side, as he scored 54 runs. None of his teammates reached double digits.
Delacombe Park responded by piling on the runs. They won with 20 overs to spare and eight wickets in hand.
SUB DISTRICT
BONEO have hit the winning runs off the final ball of their innings to secure victory over Frankston YCW.
The Stonecats batted first and looked comfortably on top. A mammoth 109 opening stand put them in the box seat, with opener Stuart Plunkett's innings of 60 providing plenty of entertainment for the crowd. He hit 6 fours and 4 sixes.
YCW ended up at 5/170 by the time their 40 overs were up.
In response Boneo looked in danger as they were struggling at 3/39.
Middle order batsman Ryan Jellie put together a desperately needed innings of 68 to steer his side in the right direction, but when his wicket fell with 22 more runs needed it was clear things were set for a tight finish.
Remarkably off the final ball of the day, Boneo smacked the winning runs, with just two wickets to spare as well.
Levi McLoughlin-Dore was especially hard done by to be on the losing side, as he took 3/11 off his 8 overs.
At Citation Reserve, a slow innings from away side Rye was not enough to fend off Tootgarook.
Rye won the toss and chose to bat, but did so with little aggression. They finished their 40 overs at just 6/116.
Corey DeBruyn was especially economical, taking 2/6 from 8 overs.
Tootgarook secured a dominant 9 wicket win by chasing down their target off just 16 overs,
At Bunguyan Reserve, a tame innings of 132 was enough for Tyabb to defeat Skye.
Left battered and bruised at 4/20, Tyabb recovered to set a target of 133 before being bowled out. Aaron Edwards' 41 would prove crucial.
Skye could not find a batsman to put together a match winning innings, as they ended up all out for 110.
Elsewhere, Carrum Downs struggled against Dromana, setting them an easy target to chase down.
Dromana claimed the win by surpassing 3/102 with 12 overs left to play.
Balnarring had a bye.