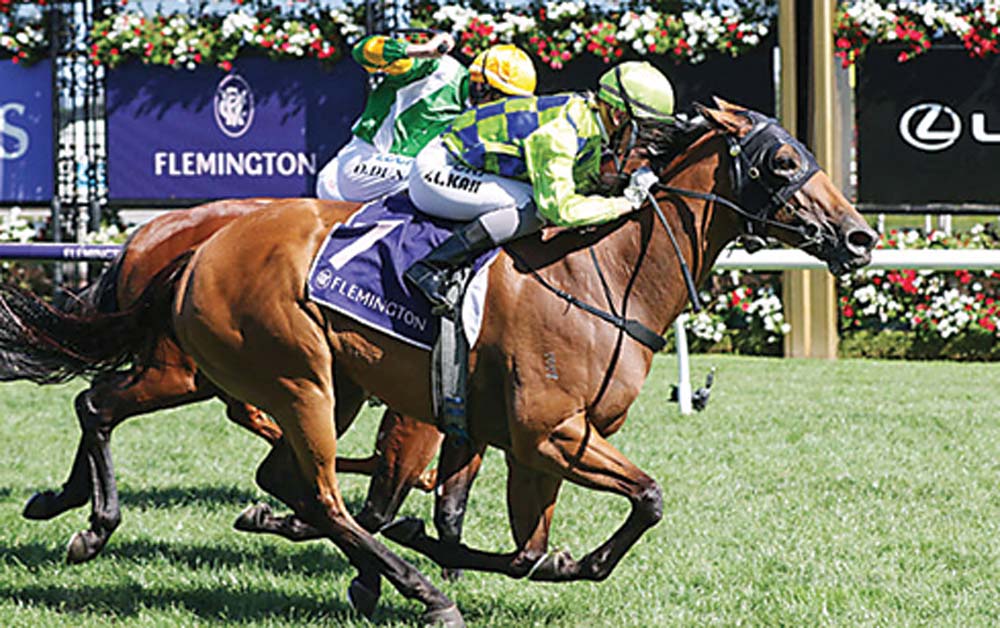 MORNINGTON-based racehorse trainer Jerome Hunter scored his third career stakes victory with speedy sprinter, Belwazi, at Flemington headquarters on Saturday 19 January.
On her first attempt up the Flemington straight, the five-year-old mare put pay to her group performed rivals to score a half-length victory in the $140,000 Listed Kensington Stakes (1000m) over equal favourites, Glenall and Champagne Cuddles.
Belwazi was a late-nomination for the race but it was a decision that has clearly paid off for trainer Jerome Hunter.
"It had been three weeks between runs and I wanted her to go to something else but there just wasn't anything really available," Hunter said.
"I never even really thought of the stakes races but the late nominations came out and I had a look through who was nominated and I thought that apart from the obvious two horses I didn't think that the field was all that strong for a listed race. I thought that we can go around for fourth or fifth and I'd be rapt and it'd give her a nice hit out but away she went and that was a pleasant surprise."
Despite the victory coming as a surprise, Hunter has always believed she would eventually head towards this level of racing.
"She goes good. I know she goes good, but it's just she hasn't shown it as much as I'd like," he said.
"She's only been running in restricted races but I've always thought she would eventually get pushed into this grade and I knew she'd be an open handicap horse before she retired."
"This prep she's been a bit hot and cold with her form and she should have won at Moonee Valley two starts ago but I think we got her on the right day.
"When she was on Regu-Mate (hormone control) she held her form more consistently but that's the way it goes now, you deal with the punches and you've got to go with that."
The victory also marked the arrival of gun South Australian jockey, Jamie Kah, who made the move to Victoria on Wednesday 16 January.
"You see her winning races in Adelaide and you think 'wow, all these horses just seem to run for her'," Hunter said.
"I knew putting her on she'd be very hungry and trying her hardest to win the race for her to kick off her career in Victoria.
"Just watching her replays you can just see how well balanced she is on a racehorse."
Hunter said that Belwazi will now either have a freshen up or head to Caulfield next week for the Listed W.J. Adams Stakes (1000m).