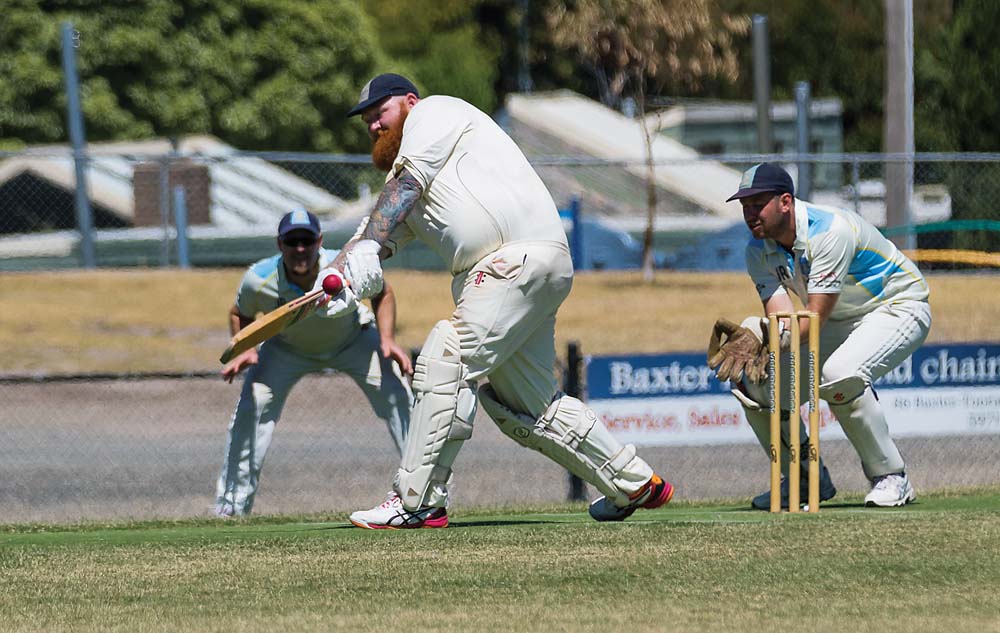 CRICKETERS again donned the white uniforms as two day cricket returned this weekend.
Carrum got off to a dream start against Seaford, putting together a brilliant first innings total of 5/259.
Corey Hand scored 86 runs, while John Mitchell scored 99 not out, hitting 10 boundaries along the way. Seaford will have a big task ahead of them to catch up next week.
The bowlers were in fine form at Delacombe Park on Saturday, as the home side battled Heatherhill in a low scoring clash.
Heatherhill won the toss and chose to bat first, putting 112 runs on the board before being bowled out.
All Delacombe Park bowlers impressed, but Nick Christides' career best figured of 4/19 stood out.
Delacombe Park's run chase started on the wrong foot, as Christides opened the batting and did not live up to his bowling performance, being dismissed for just 4 runs, They finished the day at 3/32.
Hastings struggled badly against Mt Martha, only putting 120 runs on the board in their first innings.
Mt Martha lost their first batsmen in reply for just one run, but recovered to finish at 1/25 at stumps, firmly in control of the contest.
Olympic Park played host to Rosebud and Seaford Tigers, with the Tigers opening the batting. They started well with a 53 run opening stand, before a mini collapse was triggered. They finished all out for 124.
Rosebud's Richard Brown took 5/25.
Rosebud played 22 overs before the close of play and finished at 3/49.
PENINSULA
BADEN Powell have absolutely dominated day one of their match against Main Ridge, putting a whopping 336 runs on the board by stumps.
Their middle order all performed brilliantly, but it was Rhys Elmi who performed best. His 122 not out, featuring 13 fours and 5 sixes, was the highlight of the day. Elmi is in red hot form, scoring at least a half century in three of his last four games.
Crib Point were much less impressive as they took on Somerville, putting just 90 runs on the board.
Jayde Herrick did they damage, taking stunning figures of 8/30, his career best.
Opener Brenton Alp scored 55 runs for his side as they passed their target comfortably, and finished at 5/120 at stumps off 29 overs.
Long Island struggled against Pines at Ballam Park, being bowled out for 109 off 72 overs.
The slow scoring Long Island were well restricted by good bowling. Liam Jackson's 3/21 made him pick of the bowlers.
Pines will restart day two at 1/12.
Moorooduc played well as a team against Red Hill at Red Hill's home ground. No batsman passed a half century, but all combined to put together a good total of 200.
Red Hill came in for 15 overs at the end of the day and showed they were not to be easily pushed over. They will begin on day two from 0/43, in a good position to chase down their target.
SUB DISTRICT
BONEO have performed brilliantly as a side, putting together a total of 7/287 off their 80 overs on day one against Tootgarook.
Just one of Boneo's batsmen, their number seven, scored less than 25 runs.
Cameron Williams came in late and put on a show, smacking 6 sixes on his way to a 60 run innings,
Skye let a good start slip a little bit against Carrum Downs, going 68 runs before their first loss of a wicket to all out for 152.
Opener Michael Mandile scored 50 runs and was the best batsman for his side.
Carrum Downs responded and put themselves in a good position, finishing at 0/29 at stumps.
At Dromana Reserve, Dromana look to have set themselves up for a victory over Balnarring.
Dromana batted first and put together a defendable but not spectacular total of 130 runs.
Their bowlers needed to be on point as Balnarring came in to bat, and they were.
Zacc Klan was in form, tearing through the top order to leave Balnarring struggling at 3/25 at stumps. He took 3/9 off 8 overs.
None of Rye's batsmen put their hands up and made a big score against Tyabb, as they finished all out for 134 off 67 overs.
In response Tyabb lost an early wicket and will restart on day two from 1/16.
Frankston YCW had a bye.
PROVINCIAL
BAXTER have secured a first innings win over Pearcedale at Pearcedale Recreation Reserve.
Sent into bat first, Pearcedale struggled badly and were bowled out for 102 off just 44 overs.
Dale Irving was brilliant with ball in hand, taking 5 wickets for 30 runs.
Coming in for their innings, Baxter were ruthless. They put runs on the board with pace, and passed their target off just 17 overs with 9 wickets to spare. They immediately declared after passing 102.
Pearcedale will start day two in a better position at 2/52.
At Harry MacDonald Oval, Peninsula OB put Mt Eliza to the sword with an impressive batting performance.
Wade Pelzer played a career best innings, scoring a stunning 182 not out not help his side to 8/267.
Sorrento were also mightily impressive playing at home at David Macfarlane Reserve, setting Langwarrin a total of 255 to chase down.
Robert Wilson played brilliant cricket, scoring 147 runs to be Sorrento's best.
Mornington have set Flinders a tricky total to chase down in their two day clash.
They looked shaky at times and lost their first wicket for 0, but eventually finished all out for 166.
Flinders were 0/3 at stumps on day one.