Clarification
Nepean MP Chris Brayne wants to make it clear that he does not intend to hire his former Liberal opponent, Russell Joseph, as a consultant, although he is willing to "tap into" Mr Joseph's "wealth of knowledge of the peninsula".
Updated, as published in the Southern Peninsula News – 12 March 2019
---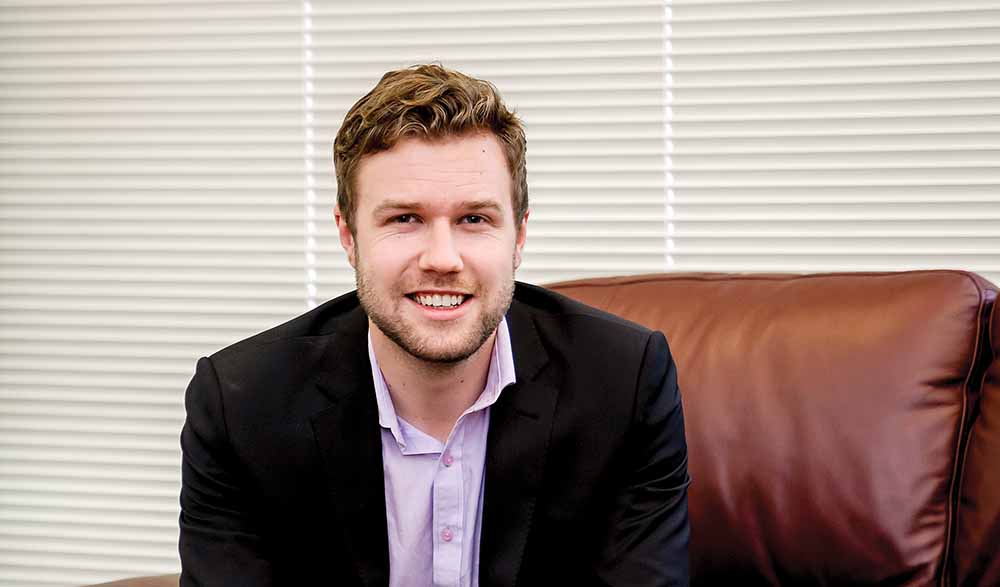 IT might have been just over two months ago but "new" MP for Nepean Chris Brayne still marvels at the emotions stirred within him on the "most intense night of my life".
The 25-year-old, of Balnarring, could be forgiven for having only a hazy recollection of election night, 24 November 2018, when he captured the previously "safe" Liberal seat coveted by Russell Joseph, the office manager of retiring MP Martin Dixon.
Dixon had held the seat for the previous 16 years and the bookies were so dubious about it changing to Labor that they were quoting odds as high as 16-to-1.
The enormity of the task was not lost on Brayne: "I thought I had zero chance and that it would go the other way. When the results started to come in I was shell shocked.
"The phone started going off and I got about 300 calls, texts and emails. It was overwhelming."
Later in the night, when the scope of the ALP landslide was becoming apparent – as was a possible victory in Nepean – The News tracked Brayne down to a Mornington take-away where he had gone with friend and campaign manager Joshua Sinclair to "take a breath" and regroup.
Even then he was coy about his prospects of winning the seat although chuffed about the extent of the swing towards the ALP.
"I wanted to wait until the full results came in before I was prepared to claim victory. I didn't want to blow my own trumpet.
"Also, I wanted to do it all in an orderly fashion. I definitely didn't want to do media and I wanted to show respect for Russell [Joseph].
"It would have looked pretty silly claiming a win without all the postal votes coming in – which we expected to go to the Liberals anyway."
Riding high on the wave of state Labor's resurgence, Brayne managed to pull off the impossible. Since then, he says, he has been overwhelmed by messages of support, even one from a 97-year-old woman "who knocked on the door and came in to the office to congratulate me".
"I wanted to give people an alternative [to the Liberals] and I was out there at shopping centres and all the pre-polls – as was Russell [Joseph] – because I wanted to get more young people on board, to make the seat more marginal.
"But I thought that no matter how hard I worked I would probably be 3000 votes down."
Brayne said he respected his rival who contacted him immediately after the poll to offer his congratulations. The pair had bonded over a two-hour lunch and Brayne is hopeful he can bring Joseph on board in a consultancy position to "tap into his wealth of knowledge of the peninsula".
"We don't want to be playing political games."
Brayne said he began taking an interest in politics at age 12 when his mother died. At the time US politician Al Gore's documentary An Inconvenient Truth – which aimed to educate people about global warming – struck a chord with him, as did former PM Kevin Rudd's commitment to tackling climate change.
"I was impressed by how passionate Gore was to something with a higher purpose and with doing what was best for the planet," he said.
"I thought: I can be passionate about it, too.
"Then Rudd came along and I think it was at that moment that the issues surrounding climate change all became connected."
Brayne is saddened that the subject has become a "political" victim of Australia's adversarial party culture. "It is really a moral issue," he said, adding that he would "stay on the side of science" if challenged on the topic by sceptics. He's obviously pleased to say that "in Nepean, people of all political persuasions care for the environment".
Brayne enjoyed stints working at Camp America and, in 2017, accepted an internship at the Carter Centre in the US. Founded in 1982 by former President Jimmy Carter it aims to advance peace and health worldwide. Brayne was involved in a program overseeing fair play in the Nepalese elections. In pride of place on his office bookshelf is a picture of himself with Carter and Carter's wife Rosalynn. Alongside this picture are books on his political heroes Bob Hawke and Paul Keating. A picture of Hawke adorns a wall.
Brayne has met with Mornington Peninsula Shire mayor Cr David Gill and says he is across major local issues, such as the shire's opposition to the state government's removal of local planning controls aimed at protecting coastal villages and townships. He says he is also abreast of shire plans – promoted by Joseph – to use recycled water for agriculture and to fight bushfires.
He had also spoken with Dromana Secondary College principal Alan Marr, toured Point Nepean National Park with long time campaigner for its preservation Kate Baillieu and says he welcomes contact with a special interest transport group advocating for an extension of the Stony Point railway line to Rosebud (Ribbon cut 'opens' Rosebud station, The News 23/1/2019).
He had met with energy company AGL to discuss the gas pipeline at Crib Point and the mooring of a regasification ship to process imported gas which would then be distributed through existing and new pipeline networks. He is aware of strong local opposition to the project.
"I will be putting all that to [Energy, Environment and Climate Change minister] Lily D'Ambrosio and [Planning Minister] Richard Wynne, who has ordered an environmental effects statement to assess the project," he said.
"I will see that the opposition groups are heard. There is a lot of concern about the way the project has been handled."
Although Brayne says he "loves the ALP, [his] allegiance is to the people of the peninsula".
"Someone asked me how I liked having Daniel Andrews for a boss and I told them the people of the electorate were my bosses – although getting recognised on the street still comes as a surprise."
Brayne says he is "more centre than the Greens" and will "work to support and protect the environment".
"I could only support a government that supports action on climate change," he said.
Admitting he was lucky not to have made "big promises" on the hustings, he says he will work to deliver a Headspace centre on the peninsula.
"It's just unacceptable that youth in places like Rye, Rosebud and Dromana should have to travel to Frankston to get the help they need in their time of need," he said.
Another goal is to improve the peninsula's bus services – which he says are unreliable. It's an issue close to his heart. "I caught buses all through university and it is unacceptable that it takes one-and-a-half hours to go from Balnarring to Frankston," he said.
"If we'd made investments in bus services years ago people would now be seeing public transport as a viable alternative to cars. They don't."
The rejuvenation of Portsea front beach is another goal, as is the retention of the peninsula's green wedge-zoned land.
Asked how politics might change him, Brayne said: "I know who I am; I hope I can be true to myself and fundamentally stay the same."
First published in the Southern Peninsula News – 5 February 2019