SOCCER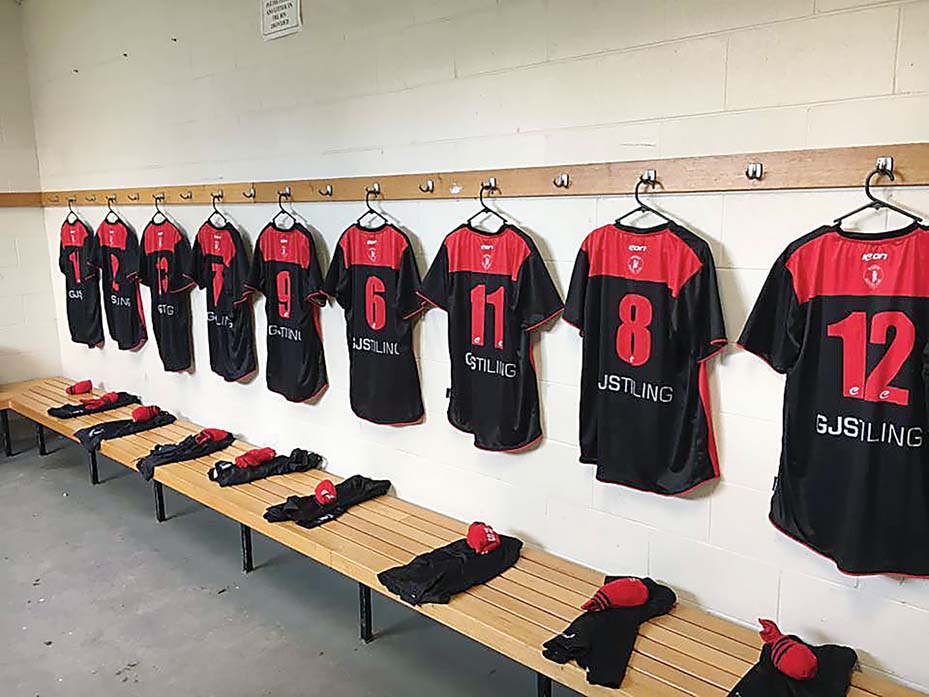 ROSEBUD has had its application to join State League 5 accepted by Football Victoria and it will compete in the South division in 2019.
And club president Melissa Osorio confirmed last weekend that merger talks with neighbouring Rosebud Heart are ongoing.
"At the moment we're going through the 2019 season ticking all the boxes and working with Football Victoria and Rosebud Heart and looking to the 2020 season (to merge)," Osorio said.
Rosebud returned to competition under the state federation's banner last year finishing second in Metropolitan 2 South-East.
The previous time the club played under the controlling body was in 1984 when it finished last in Metropolitan 4 with just five points from 26 games.
Langwarrin finished third-bottom in the same division that season narrowly avoiding relegation on goal difference.
Rosebud hopes to consolidate its State 5 status this year and the aim of the merger is to marry Rosebud's senior setup with Heart's junior setup.
"If the merger comes off we'll have a very big club with around 400 to 500 members," Osorio said.
"Right now Rosebud has about 35 senior players and last year we had our first successful year with our juniors where we started off with three teams and ended up with six by the end of the season.
"The amount of interest that we've had makes me think we'll have more teams this year.
"We're thinking of starting an under-15s or under-16s girls team and our senior women are going to be playing in State 4 for the very first time."
The senior and reserves men's squads will use both Olympic Park in Besgrove Street and Boneo Recreation Reserve as home venues this year and late last week Rosebud announced that Pat Sabatino had been appointed head coach.
"We wanted to wait until we were sure we were in State 5 before making an appointment," Osorio added.
Sabatino, 50, has coached at Keilor Park and Western Suburbs and in 2014 he coached Avondale's under-20s.
His arrival comes after other clubs in State 5 have appointed a coach and have started pre-season training.
"It makes it very difficult," Sabatino said.
When Langwarrin first entered the NPL it faced a similar scenario due to the tardiness of FV in ratifying its inclusion and it was still holding trials when many of its opponents had settled on most positions in their senior squads.
As we went to press Sabatino had only held three training sessions and was still in the process of sifting through the players to identify the ones to include in his squad.
He also is on the lookout for an assistant and has spoken to two possible candidates.
"This Tuesday night we'll have an intraclub practice match and this will bring us closer to working out who the senior players are," he said.
"Look I'll be honest with you. We're miles behind the other clubs."
Sabatino is in talks with State 3 North-West club Essendon United about arranging a friendly and is particular about who his side should play in preparation for its league campaign.
"We hope to hear back from them this week and I'm trying to get a feel about who to play in these practice games.
"We're trying to find our feet so you have to be a little bit cautious about who you play."
Luring players to Rosebud will be a major task for Sabatino and the club took to social media last weekend advertising for senior players for both the men's and women's teams.
"Attracting players down this neck of the woods is a definite problem, even with the juniors."
Rosebud doesn't pay any players so it's hoping to put networking to good use.
"Players have been ringing around any other players they know and maybe they'll be more interested now in coming to a State 5 club."
Another task Sabatino faces is trying to tweak the culture at the club by making the senior squad more competitive.
"It's not a one-season fix.
"We need to survive this season and try and attract more players down here."
Sabatino forms a strong link between Rosebud and Rosebud Heart as he is a committee member at Heart and coaches its under-15s.
He's hopeful that the 2019 season can sort out any teething problems between the two clubs and that the merger can proceed.
Rosebud has to wait until Saturday 18 May for its much anticipated local derby against State 5 title hopeful Somerville Eagles.
Somerville's co-coaches Scott Morrison and Dave Greening were pivotal figures in Rosebud Heart's brief time in senior soccer and Morrison is a life member of Rosebud.
The clash is scheduled for 3pm at Olympic Park.
Meanwhile Football Victoria released its State League fixtures last week.
Ground availability issues have wrecked the opening round of the State 3 South-East season with just one match scheduled.
Frankston Pines' league season starts in round 2 on Saturday 30 March against Bayside Argonauts at Monterey Reserve while Skye United's season starts with a round 3 away clash against Ashburton United on Saturday 6 April.
FV has contacted Pines in relation to its request to play home games on Friday nights and the club expects to gain approval subject to a lighting audit to be conducted before 14 March.
Whether or not Luke Murray, Tapiwanashe Munyanyiwa and Tuach Ter play for Pines this season is unclear.
Murray committed himself to Pines last November but has decided he wants to try and play at a higher level, "Tapsy" is taking time off to deal with personal issues while Ter hasn't been sighted and is rumoured to be on Springvale City's radar.
The opening round fixtures on Saturday 23 March for local clubs are: Mornington v Malvern City, Dallas Brooks Park, 8pm; Peninsula Strikers v Old Scotch, Centenary Park, 3pm; Dandenong South v Seaford Utd, Tatterson Park, 3pm; Chelsea v Baxter, Edithvale Recreation Reserve, 3pm; Bunyip District v Rosebud, Bunyip Recreation Reserve, 3pm; Old Mentonians v Aspendale, Mentone Grammar, 3pm; Endeavour Hills Fire v Somerville Eagles, Power Reserve, 3pm.
Langwarrin starts its NPL2 campaign on Saturday 16 February against Melbourne City at Lawton Park at 3pm while Southern United's NPLW season gets underway on the same day at Monterey Reserve with a 3pm clash against South Melbourne.
In State 5 South news Somerville Eagles announced two new signings last week.
Charlie Conrath, 26, who arrived in Melbourne recently from Brighton in England has played with Ringmer FC and AFC Ringmer as a left winger and central midfielder but in recent seasons has played as a full back.
James Liddle, 27, ex-Langwarrin, Barwon and Rosebud Heart, has also joined Somerville and can play in a variety of positions.
Liddle was part of the Heart senior team that won every league game in 2016.
Fellow State 5 South outfit Aspendale Stingrays drew 2-2 with Dingley Stars at Kingston Heath on Saturday.
Playing on an artificial pitch exacerbated already oppressive weather conditions and drinks breaks were required throughout the clash.
Triallist Luiz Dobre scored both goals for Aspendale whose best were Sonny Lindsay, Noah Berends and Jack Lindsay.
In the earlier match Aspendale under-18s took on Aspendale's reserves and won 5-0.
Meanwhile the seventh staging of the Steve Wallace Memorial Cup was the highlight of last weekend.
Moreland Zebras became the first side from north of the Yarra to win the annual event after the final against Langwarrin ended in a scoreless draw, Moreland winning 5-4 on penalties.
However it's unlikely that the Zebras will return to defend their title as Somerville is expected to compete in the 2020 Wallace Cup.
Somerville drew 2-2 on Saturday in a friendly against Philip Island in Newhaven with the visitors' goals coming from Dave Greening and Mark Pagliarulo.
This week's pre-season games:
THURSDAY: Langwarrin v Doveton, Lawton Park, 7pm.
SATURDAY: Frankston Pines v East Bentleigh, Monterey Reserve, 1pm & 3pm; Somerville Eagles v Chelsea, Somerville Secondary College, 1pm & 3pm.
SUNDAY: Peninsula Strikers v Collingwood City, Centenary Park, 3pm & 5pm; Skye Utd v Endeavour Utd, Reema Reserve, 1pm & 3pm; Seaford v. Aspendale Stingrays, North Seaford Reserve, 1pm & 3pm.