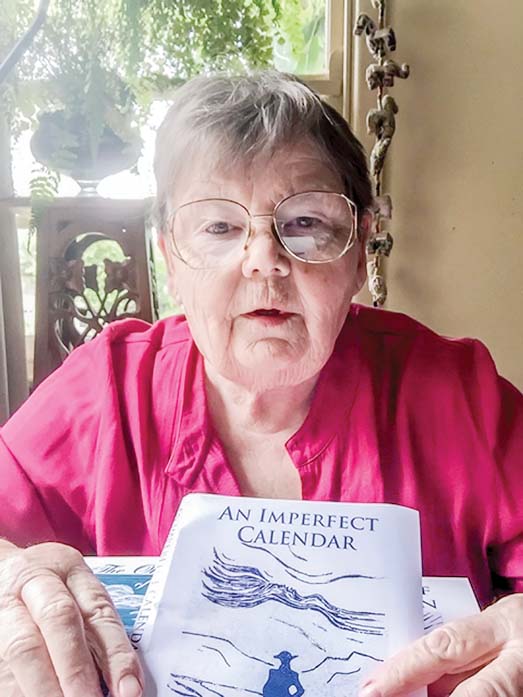 Author Fran Henke is about to publish the final chapters in her novel trilogy, A Fair Wind.
However, the historical narrative so far has proved so absorbing that "I can see a fourth – I want to know what happens to the child of this third story".
If she writes another book in the Wind series – making it a quartet – Henke will have authored 23 books.
But all that research into the past is in the future as Henke prepares to launch An Imperfect Calendar during next Sunday's Hastings Festival (24 February).
Her first novel in the series, The Other Side of the Wind, was self -published for Henke's 70th birthday ("rather than jumping out of a plane as do some septuagenarian thrill seekers").
The second, Winds of Rebellion, followed involvement of her characters at the Eureka Stockade on the goldfields of Ballarat in 1854.
"Readers kept asking about what happens next – I wanted to know too,' Mrs Henke said.
The aim of book three An Imperfect Calendar, was to embroil those same characters in moves towards Federation, but a tragedy caused one, an artist, to disappear, leaving behind his baby daughter. Distraught, he walks around the colony of Victoria, painting and drawing, observing how farmers were using innovative methods to cope with the extremes of climate and landscape.
"I really don't know what these people are up to. Sometimes they are out of control," Henke says. "I'm very fond of them and miss them when not writing their stories. Writing can be a mysterious process."
Henke says the idea for the trilogy began 30 years ago when a friend described a mishap befalling her ancestors on arrival at Geelong in the 1800s. The husband and wife were separated by a gust of wind taking their sailing ship out through Port Phillip heads and across the Pacific. One was left behind.
"This extraordinary yarn had to be written but took 10 years before I could work part time and write in whatever hours were left," Henke said. "Research was addictive – primary research among sailors' letters and journals, even old cookbooks. The second about the Rebellion – over an unfair tax – suited my ongoing concerns perfectly as secretary of the Australian Tax Reform Group.
"For this book I was fortunate to spend an afternoon with the curator of costumes and textiles at the National Gallery of Victoria. I'd done a lot of reading about clothing of the era, so it was a great thrill to see the frocks and underwear, to be assured the work I'd done so far was accurate. The curator even found for me a dress made in Geelong in 1865.
"Then I dug up a fascinating thesis on pioneering colonial farming, busting the myth it was all ravage.
"Best of all was discovering online a paper delivered in 1856 on how Aboriginal people used reflections in Lake Tyrell in the Wimmera – as a calendar."
Henke says she had "a wonderful time" writing, making linocuts and drawings as well as maps, for illustrations.
"Someone said every good book should start with a map and end with a poem. So, this one does."
An Imperfect Calendar will be launched at the Hastings Hall as part of Western Port Festival, 2.30pm Sunday 24 February. Henke is also exhibiting there as an artist in the festival show.
Henke's 2017 book, Life Skills for Polios, is being translated in Taiwan to Mandarin, is available online to benefit the Polio Network Victoria.
An Imperfect Calendar is published by Flying Pony Press (rrp$25). The first two books in the trilogy as well as Life Skills for Polios are available via flyingponypress@gmail.com with more details on www.franhenke.com