SOCCER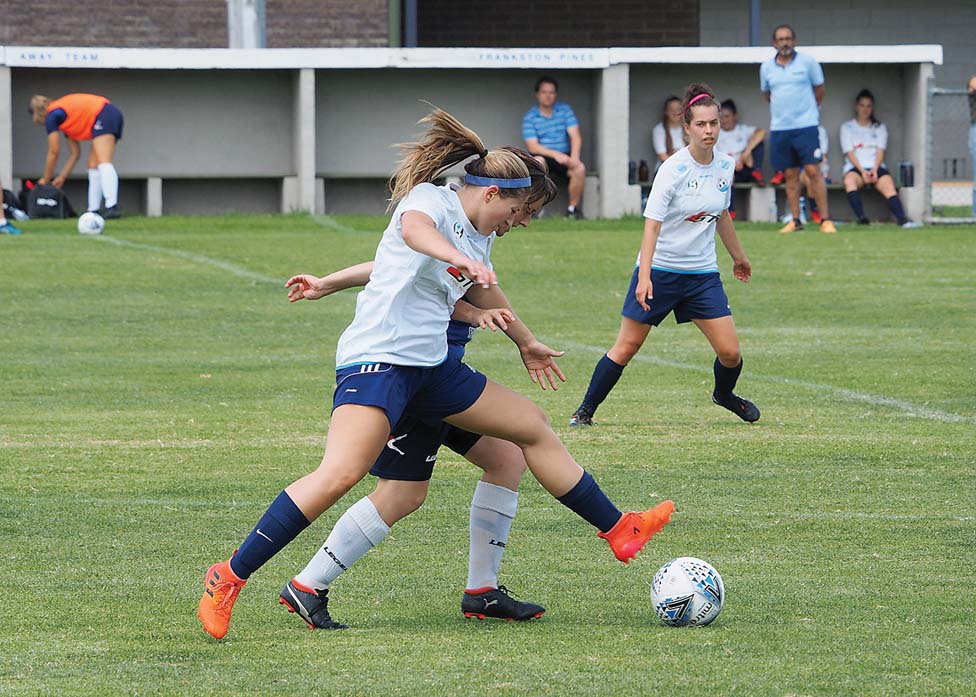 SOUTHERN United kicks off the 2019 season against one of the most cashed-up outfits in the NPLW when it hosts South Melbourne's imposing women's team at Monterey Reserve on Saturday.
It is a massive challenge for a team that created records last season for all the wrong reasons finishing last in the elite competition with a solitary point having scored five goals and conceding 188.
South Melbourne in stark contrast finished on top of the ladder and lost the Grand Final 3-1 to Bulleen.
And Southern's preparation has been far from ideal.
"We go into the season with just one practice match because we didn't have the numbers initially," Southern head coach Washington Castillo said.
"Ideally I would have liked to have five or six games under our belts but that's life and we'll make the best of it.
"We're preparing a game plan that we think will suit us but yes it is a very tough game."
Southern lost 3-0 to Casey Comets on Sunday with six players unavailable and Castillo hopes to have some of them back for the South Melbourne clash.
Southern's senior squad for 2019 (with previous club of new players in brackets) is:
GOALKEEPER: Celia Kelsall. DEFENDERS: Milla Jowett (Bayside), Sarah Wiek, Christina Sousas (Hopper's Crossing), Yasmin Cerda-Fredes (Casey Comets), Jacinda Anastasopoulos, Lily Gonzalez, Ella Douglass. MIDFIELDERS: Casey Aarons, Patricia Kurasik (Berwick City), Olivia Groves, Jess Beddows, Ashley Blackburn (Ballarat). FORWARD: Kallista Tzelios (Bayside).
Southern's under-19 squad is:
GOALKEEPER: Rianna Tann. DEFENDERS: Sarah Tebbutt, India Scarr, Phoebe Tann, Ellis Kadir, Anna McGill. MIDFIELDERS: Maizy Garwood (Rosebud Heart), Jennifer Quinlan (Mornington), Isabella De Gilio (Alamein). STRIKERS: Sita Karimi, Kaylah Aydin, Claudia Beissmann.
Southern's under-16 squad (no goalkeeper listed) is:
DEFENDERS: Taylah Hennekam, Alex Jones, Tanysha Hogan, Emily Ryan, Talia Palmer. MIDFIELDERS: Ezel Duyar, Sage Kirby, Nooria Mohammad (South Melbourne), Sydney James. FORWARDS: Danica Vukcevic, Rhys McKenna, Madina Ali (Narre Warren South).
Southern's under-14 squad is:
GOALKEEPER: Taylen Wulf. DEFENDERS: Leah Plavlijanic, Eden Abrahams (Sandringham), Macey Butler, Jemma De Vos, Shanece Dias, Tayla James (Brighton). MIDFIELDERS: Sarah Shanks (Sandringham), Lauren Riha, Eden McKeown. FORWARDS: Rhiannon Kelleher, Erica-Derrick Sarfo-Sarpong, Kayla McLeod, Emilia Ingles, Chiara Renzeme, Lilly Constantino (Peninsula Strikers), Ellena Zissis (Bentleigh Greens).
In NPL2 news Langwarrin's season started with a 3-2 loss at home to Melbourne City on Saturday.
A teasing, curling cross from the left by Ramy Najjarine in the 16th minute forced midfielder Wayne Wallace to slide down facing his own goal but he only succeeded in guiding the ball onto Jaiden Madafferi and past stranded Langy keeper Fraser Maclaren.
City looked to have taken the contest out of Langy's reach 11 minutes into the second half after a quick break down the left.
The ball was played inside to Moudi Najjar whose turn and low shot was blocked one-handed by a diving Maclaren only to present Najjarine with a close-range tap-in to make it 2-0.
Langwarrin was much more physical in the second period and that approach was ramped up in the 74th minute when veteran Boris Ovcin replaced Templin.
A combative approach to the game is in Ovcin's DNA and it was no coincidence that Langy's fightback took place after his arrival.
Ovcin was only on the pitch for a minute when Najjarine tried to stop him taking a long throw by getting up close and personal.
Ovcin shoved him in the chest twice then City substitute Idrus Abdulahi joined in and soon a pack had formed with players grabbing, pushing and shoving.
When normal service resumed it didn't take long for Langy to strike.
In the 77th minute Damir Stoilovic skinned his opponent on the right of the area and his cutback was met first time by Stirton to make it 2-1.
Suddenly the visitors were on the back foot and the huge crowd erupted when Kuol stole the ball inside the attacking third in the 93rd minute and was brought down inside the area leaving referee Ross Clark with a simple decision.
Stirton converted from the spot sending City keeper James Delianov the wrong way and it was 2-2.
But the home team's hopes of getting something out of this contest ended in the 96th minute when City substitute Gianluca Iannucci curled the ball from the right towards the far post.
Maclaren was backpedalling and did well to get a hand to the ball only for Najjarine to sidefoot home into an unguarded net for a dramatic winner.
In FFA Cup news Somerville Eagles defeated Barnstoneworth United 3-1 at Somerville Secondary College on Saturday.
The Eagles handed debuts to five new players with recent signings Francis Beck (from Baxter), Callum Richardson, Daniel Hodge, Will O'Brien and Mark Pagliarulo all starting with James Liddle and Sean Scully on the bench.
Somerville player-coach Dave Greening opened the scoring with a tap-in in the 8th minute after great work from Hodge and a bullet-like Hodge header after an excellent corner from O'Brien in the 21st minute made it 2-0.
Four minutes later Vantuntiang Kawngno scored for the visitors but the local side regained its two-goal cushion when Pagliarulo added a third after a superb through ball from O'Brien.
The second half saw the Eagles go through the motions eventually easing into the first main round, the draw for which will be conducted this week.
Rosebud bowed out of the FFA Cup with a 3-1 loss to Yarra Jets at Olympic Park on Sunday.
Three dreadful defensive errors presented the tie on a plate to the visitors and they didn't have to be asked twice.
Rosebud had started well with a stunning low strike from outside the area by Ben Gamble in the 26th minute but five minutes later Rosebud keeper James Cinar collided with teammate Harris Battison when trying to clear and the ball fell to Jets striker Aaron Pearce who stroked it into the unguarded goal for the equaliser.
In the 68th minute Rosebud gave the ball away inside its defensive third and tall Jets attacking midfielder Paul Cahill was brought down inside the area.
Cahill recovered to convert the resultant penalty and four minutes later Cinar's slapstick approach to possession allowed Pearce to rob him and stroke the ball into the gaping net to make it 3-1 and end the home side's hopes.
In State 1 news Mornington won both of last week's pre-season matches beating Peninsula Strikers 2-1 on Thursday then having to rely on a late goal to down Frankston Pines 1-0 on Saturday evening.
A Danny Black own goal and a Liam Baxter header decided Thursday's contest with Grant Lane scoring for Strikers.
A low strike from outside the area by Craig Smart was enough to beat Pines in a spiteful encounter last weekend.
The upside for Pines was their organisation and their refusal to be bullied while their pace posed problems for the Mornington defence.
Alex Bevacqua and Meron Negasi agreed terms with Pines after the match, the former joining from Nunawading City while Negasi was with Doveton last season.
In State 2 news Peninsula Strikers went down 1-0 to South Yarra at Centenary Park on Saturday.
Strikers' boss Danny Verdun is understood to have finally given Colin McCormack the nod as first choice keeper after McCormack and Christian Morales were vying for the role.
"Tapsy" Munyanyiwa played for Strikers.
He'd been with Pines during the pre-season until three weeks ago when he told head coach Kevin "Squizzy" Taylor that he wanted to take a break from the game for personal reasons.
The 21-year-old winger has been with Bentleigh Greens, Springvale White Eagles, Sunshine George Cross, Doveton and Point Cook.
In State 3 news Skye United lost 2-1 to Old Scotch at John Paul College on Saturday.
Skye had five players unavailable but led 1-0 at half-time thanks to a long-range shot from Jason Nowakowski that caught the Old Scotch keeper off his line but the State 2 visitors struck twice within five minutes early in the second half.
In State 4 news Seaford drew 2-2 with Sandringham at North Seaford Reserve on Saturday with Seaford's goals coming from Matt Schwellinger and Mitch Lander.
After the match Seaford confirmed the signings of Kevin Derry from Peninsula Strikers, Nick Ormond from St Kilda and Kurt Wagner-Goldsworthy from Frankston Pines.
In State 5 news Aspendale Stingrays lost 2-1 to State 4 Noble Park on Saturday with Alex Taylor-Hirst scoring for the Stingrays.
This weekend's league games:
SATURDAY 3pm: Southern Utd v South Melbourne (Monterey Reserve, under-12s 9am, under-14s 10.10am, under-16s 11.30am, under-19s 1pm); Langwarrin v Northcote City (Lawton Park).
This weekend's pre-season games:
SATURDAY: Mornington v Berwick City, Dallas Brooks Park, 1pm & 3pm; Peninsula Strikers v Mazenod Victory, Centenary Park, 1pm & 3pm; Hampton Park Utd v Skye Utd, KM Reedy Reserve, 1pm & 3pm; Seaford Utd v Elwood, North Seaford Reserve, 1pm & 3pm.