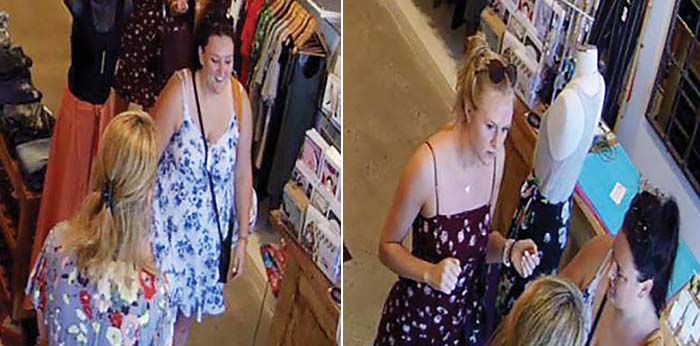 TWO young women who allegedly attempted to steal clothing and a $200 beach towel from a Sorrento boutique are being sought by police.
The women, pictured, selected the items and allegedly removed the security tags in the change rooms. Soon after, one attempted to distract staff while the other began walking out of the store with the clothing stuffed into a bag. An alert staff member stopped her and demanded she return the items.
Both women protested their innocence but handed over the items and left the store when the staff member began calling police. It is believed the women may have stolen items from other stores in the area.
They are described as 18-23 years old, one with long blonde hair in a ponytail, fair complexion and a slim build, the other with long brown hair tied back, fair complexion and a solid build.
Anyone knowing the women or having information is urged to call Constable Garry Robinson 5986 0444 or Crime Stoppers 1800 333 000.
First published in the Southern Peninsula News – 19 February 2019