PENINSULA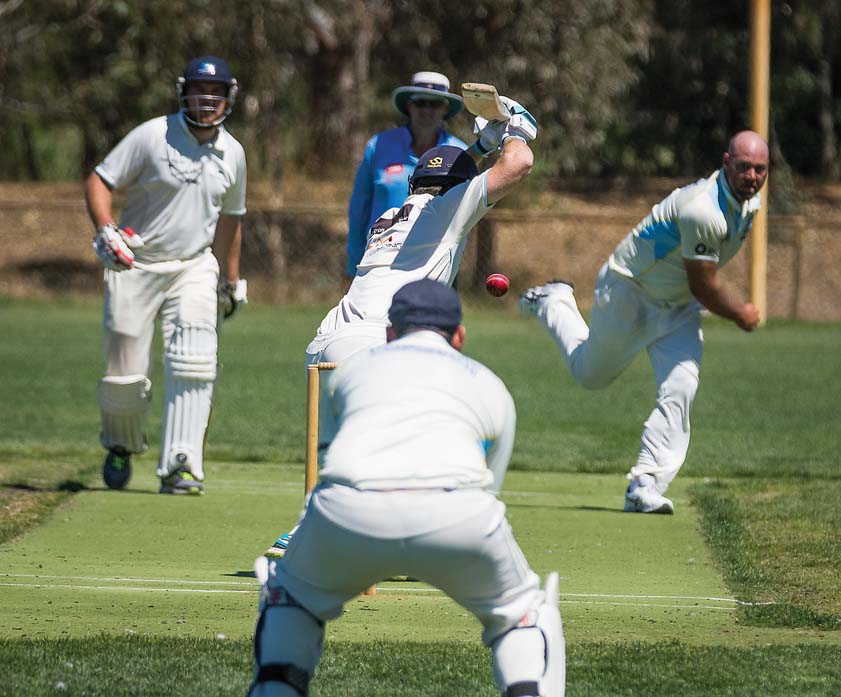 MOOROODUC have put themselves in pole position to claim a win over Crib Point with a good performance on day one of their clash at Crib Point Recreation Reserve.
Having been sent in to bat first, Moorooduc got off to a shaky start when they lost two quick wickets early.
A steadying innings of 42 runs from number 4 batsman Shamith Kennangara helped Moorooduc correct their course, and they eventually ended up making 185 runs before being bowled out.
Things would have been worse for Crib Point if not for Matthew Blake, who posted bowling figures of 4/16 off 8 overs.
Crib Point were at the crease for 10 overs to end the day, and it proved a costly 10 overs.
At stumps they were at 3/11, with a mountain of work to do on day two to recover.
Main Ridge will also have their work cut out for them on day two, after Pines made a good recovery in their clash.
Pines were sent in to bat first, and were struggling badly at 4/17. Nick Wilcox got things back on track with a well taken 54, helping his side to a total of 177 off 60 overs. Daniel Polson took 5 wickets.
In reply Main Ridge looked toothless, and they will have to restart from 4/46 on day two.
Nick Wilcox ran rampant before the close of play, taking 3 wickets for 1 run.
At Red Hill's home ground, the hosting side set a target of 185 for Baden Powell to chase down.
A great last wicket partnership helped Red Hill from 9/111 to all out for 185, a massive boost to their hopes of a win.
Baden Powell will start from 1/4 on day two.
Somerville took on Long island at Somerville Reserve in a clash that saw the home side bat first. They set a target of 181, and Long Island made a dent in that before stumps. They were at 0/38 at close of play.
DISTRICT
DELACOMBE Park and Seaford are set to battle it out to a close finish on day two after a competitive day of cricket.
Seaford opened the batting and struggled, putting just 107 runs on the board before being sent back to the sheds. Dean Blight did the majority of the damage, claiming a five wicket haul.
In reply Delacombe Park got off on the wrong foot, and will have to chase down their target starting from 3/30 on day two.
Carrum looked a little more settled in their match against Hastings, as they batted for the whole afternoon and put 203 runs on the board.
Jack Thomson's innings of 69 was the highlight of the day for Carrum.
Carrum's total could have been even larger if it weren't for the bowling efforts of Shavidu Amarasinghe, who took six wickets.
At Olympic Park, Rosebud played a slow and steady innings to set their Heatherhill opponents a target of 194.
Opener Ashley Nagel was particularly patient, scoring 36 runs over nearly two and a half hours of batting. Heatherhill bowler Brad Mur took 6/63 off 30 overs, his best figures for his club.
The clash between Seaford Tigers and Mount Martha seems as if it will end in defeat for the Tigers, as they put only 123 runs on the board batting first.
Mt Martha will get going on day two from 1/21.
SUB DISTRICT
CARRUM Downs will have a lot of work ahead of them if they want to get a result out of their clash with Balnarring.
Balnarring lost the toss and were sent in to bat first and lost a couple of early wickets, but corrected course to end up all out for a good total of 242.
Rye looks set to best Skye in their clash at Skye Recreation Reserve, having closed in within 45 runs of a victory.
Batting first Skye struggled, with many of their batsmen failing to capitalise on decent starts. They ended up all out for 105 off just 55 overs.
Rye bowler Tom Baron was best on the day, taking 7 wickets.
Coming in to bat Rye were impressive, and ended the day at 0/60 off 25 overs.
Around the grounds, Boneo had a good day against Tyabb, setting them a target of 243 to chase down.
Jarvis Anderson was pick of the batmen with a score of 60 not out, his first half century for the season.
Tootgarook had a bye.
PROVINCIAL
MORNINGTON have enjoyed a good day against Peninsula OB, helped by a mammoth innings from Matt Foon.
Foon put together his best ever innings for the Bulldogs, scoring 139 not out batting as an opener. His next best score this season was 93.
Mornington were bowled out for 232, with Foon carrying his bat.
Peninsula OB restart day two from 0/7.
Mt Eliza also performed well in their clash against Pearcedale, putting 210 runs on the board going into day two.
Langwarrin suffered through a bad collapse at Baxter Park, going from 5/133 to all out for 155 against Baxter.
In reply Baxter played 5 overs and will start day two from 0/5.
At David Macfarlane Reserve, Flinders will have to work hard to beat the home side Sorrento. Blake Hogan Keogh top scored with 46 but his side was dismissed for 112 off 72 overs.
Sorrento will restart on day two from 0/5.
First published in the Southern Peninsula News – 26 February 2019