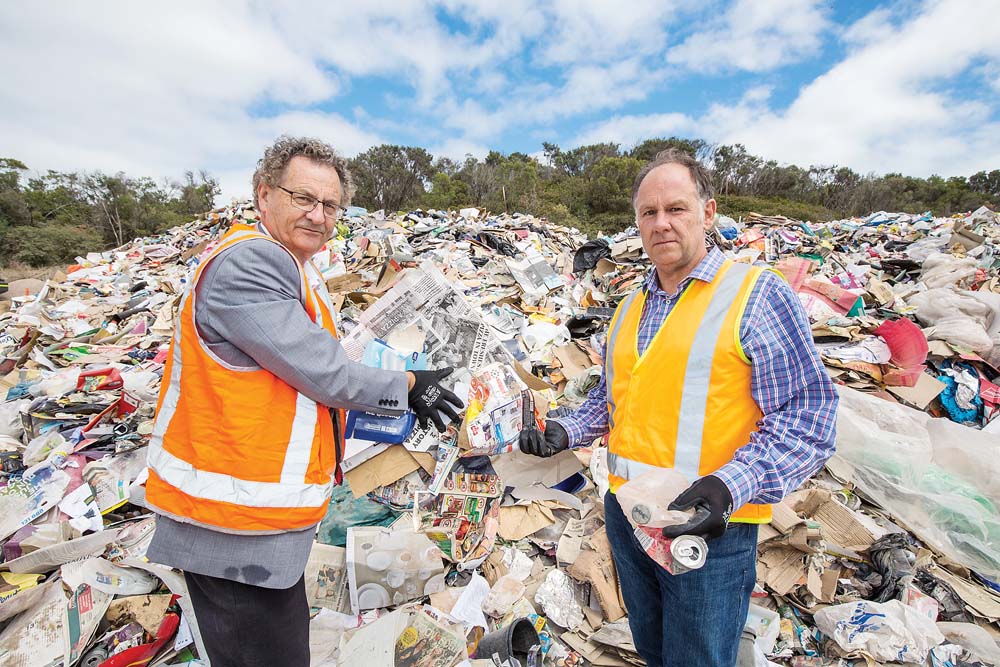 MORNINGTON Peninsula Shire is being forced to send recyclables to landfill.
The shire will continue collecting household recyclable waste, but with 130 tonnes "temporarily" stored at the Rye transfer station which has now reached capacity.
Meanwhile, the shire has joined other municipalities in trying to force the state and federal governments to find a solution to the growing crisis.
Shortcomings in the state's recycling operations were exposed on 15 February when the EPA ordered processing giant SKM – which collects the peninsula's recycled waste – to stop drops at its Coolaroo and Laverton sites over concerns the stockpiled plastic posed a fire hazard.
The mayor Cr David Gill said on Friday that the shire had made "every effort" to continue to recycle material while not disrupting its normal collection service, but that temporary storage was "now at capacity".
"Temporary storage was a contingency if SKM was able to reopen its facility within the week," he said. "[However], much like SKM and other councils, the shire is held to regulatory limits around the amount of material that can be stored and for how long.
"Without certainty on the availability of a suitable alternative we are left with no option but to divert all household recycling to landfill until further notice from EPA."
The mayor said this was an "extremely disappointing situation".
"Sending recyclable material to landfill was always our last resort," he said.
"Council is strongly advocating to state and federal government to share the responsibility with local government to ensure a quick resolution of the current crisis and ensure this cannot happen again."
The shire's representative to the Metropolitan Waste and Resource Recovery Forum Cr Simon Brooks, along with Crs Antonella Celi and Hugh Fraser, along with shire officers, attended the Metropolitan Local Government Waste Forum on Thursday 21 February.
They joined representatives of the 31 municipalities that make up the Metropolitan Waste and Resource Recovery Group in calling on all levels of government to "act quickly to avoid further escalation of the crisis".
"The shire has paid over $26 million in landfill levy over the past 10 years, contributing to the current $500 million fund held by the government.
First published in the Southern Peninsula News – 26 February 2019