OBITUARY
Michael Owen Parkinson, 1954-2019
Surfer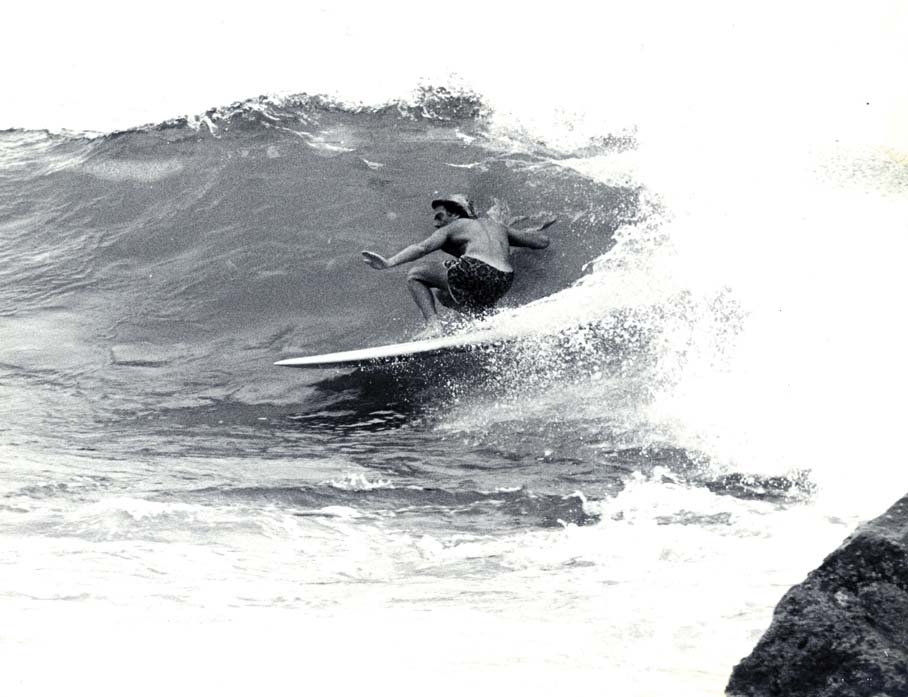 Eat your chips first; no one's going to take your flake. Sounds like good advice, but did it come from personal experience or have a deeper philosophical meaning? Maybe it was just something passed down as part of the Parkinson family law.
The short sentence about advice given to a friend by Michael "Mick" Parkinson was just one of many entries in a memorial book left on a table of empty glasses at Sorrento back beach on Thursday 7 February.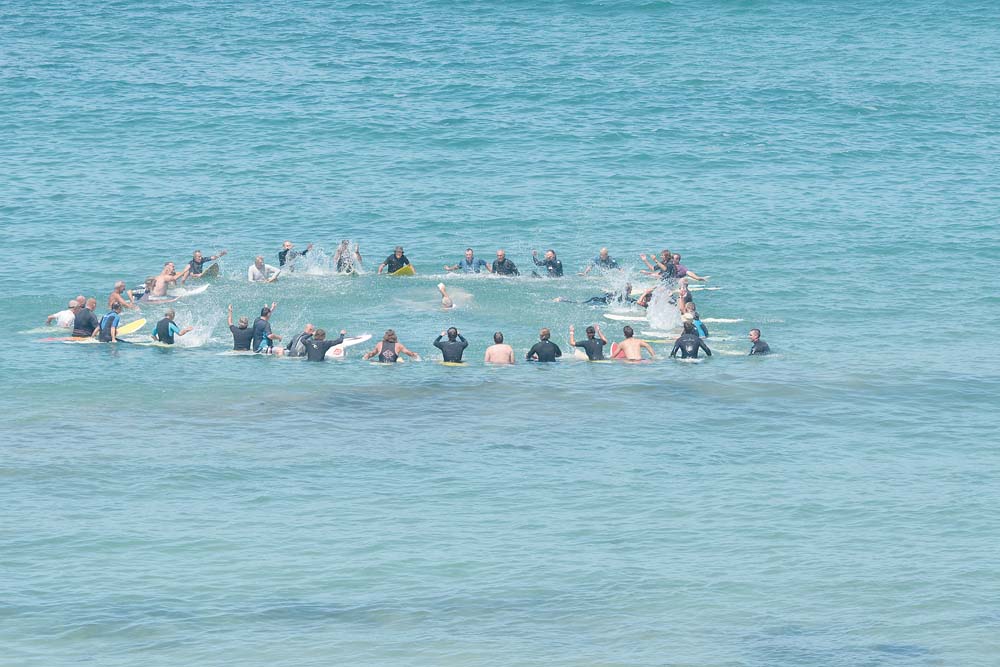 The glasses, tables with plates of sandwiches and chairs lined up in the sand facing the sea were there for the funeral of Michael Owen Parkinson, born at Dromana Hospital on 4 October 1954 and died 28 January 2019.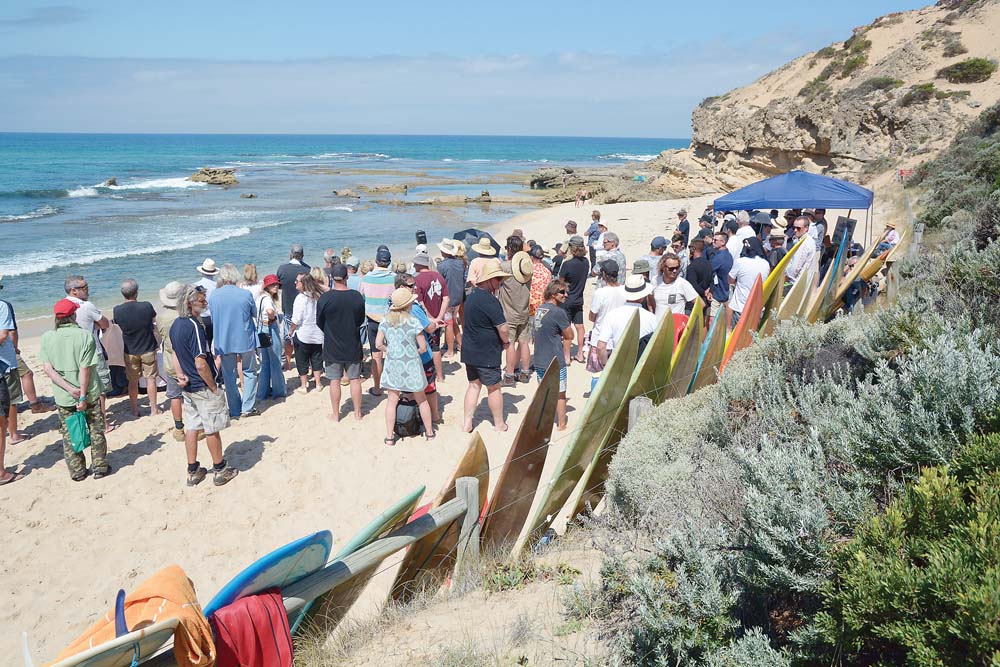 The beach was a place that had loomed large in Parkinson's life.
Fish and chips had also become a big part of his life as his parents, Des and Margaret Parkinson and grandparents Archie and Stella ran a family business, Parkinson Fish in Point Nepean Road.
The family sold fish they caught in Port Phillip and the shop was "conveniently located for Mick to host – after hours- some of the biggest parties on the peninsula", according to Kerrie Dixon.
Ms Dixon, celebrant, friend and neighbour for many years to Parkinson, his partner Darlene, son Jason and daughter Georgia, hadn't known him during his "surfing glory days", but invited mourners to "take a moment to invite peace where there are troubled thoughts, and give thanks for the gifts he brought into your lives".
Sorrento back beach was the home break for the keen and talented surfer that Mick Parkinson became. It was a place where he could paddle out for enjoyment, forgetting any problems he might be facing.
On that sunny day of his funeral earlier this month, many members of his family and his friends gathered to say farewell. To scatter his ashes into the sea, inside a circle of people sitting on surfboards.
In surfing terms, it's called a paddleout, a farewell to someone who saw the sea and surf as filling an important role in their life.
And so it was for Mick Parkinson, whose life and times were eulogised on the beach that day.
In reading the family's eulogy, Ms Dixon said Michael Parkinson was 14 when his mother died "leaving the three boys [older brother Keith and father Des] to continue their life, caring for each other and uniting in an inseparable bond to face the world together".
"As with many peninsula boys it wasn't long before Michael discovered the surfboard and the back beach," Ms Dixon said.
"Michael became well known for his surfing abilities and was soon encouraged to enter many competitions, where he was a successful and aggressive competitor. A happy period in his life that he was proud of. Not boastful, but proud of his achievements and of the many friends he made in his surfing years."
Ms Dixon said it seemed "out of place" to described Parkinson as aggressive "as he was always a compassionate and caring man to all".
The two Parkinson brothers made surfboards with fellow surfer Geoff Coker and "to this day the local surfers seek to find the Parkinson boards".
The Parkinson brothers also became keen and adept sailors, especially in their own "magnificent boat The Swan which was the love of their lives, and the envy of many".
"Michael had the perfect life. Fishing, surfing, girls, good mates and plenty of fun times around the peninsula and travelling north of Noosa to follow the waves and good weather," Ms Dixon said.
"His cheeky smile and warm-hearted attitude towards life, animals and people was recognised and appreciated by many. Always a dog or two in his care."
But the idyll didn't last.
"It was in his early 30s that things began to change for Michael. Touched with the dark side, he began losing touch with reality and life as we know it became difficult for him to manage."
He then met Darlene – at one of those gatherings at the back of the Rye surf shop – who became his partner and mother of their children Georgia and Jason. Darlene had been warned the sandy haired boy was a magnificent surfer who would give her the world but would also "play up on her and be a handful".
The caution from "a complete stranger" aroused her curiosity and she now believes their relationship was "written in the stars and meant to be".
Their relationship gave new focus to Parkinson's life and he became "a happy, loving, caring father", teaching his children all he knew, "from fishing, surfing, bike riding, cooking to loving animals".
"Sadly, Mick's demons became overwhelming for him and his addictive personality eventually led him to his recent decline [with long-term lung conditions] and heart failure from which, in spite of many years of being a man of steel … finally got the better of him."
Ms Dixon said Mick Parkinson's "sudden leaving did not offer time for goodbyes or closure on things that may have happened" and invited those standing on the beach to "take a moment to invite peace where there are troubled thoughts, and give thanks for the gifts he brought into your lives".
First published in the Southern Peninsula News – 26 February 2019