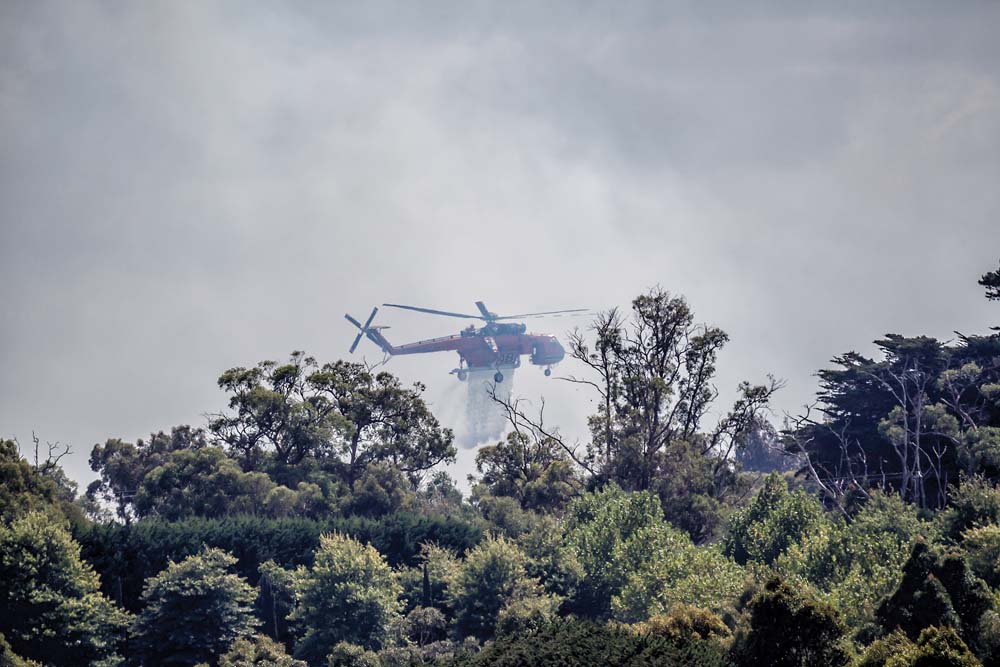 Fire-fighting appliances, as well as three Elvis air cranes and two helicopters, tackled a fast-moving bushfire at Shoreham, Thursday 28 February.
An emergency warning was issued for people living south-east of the blaze about 1.45pm, however this was downgraded to a watch-and-act about 4pm.
A CFA spokesperson described the fire in a plantation off Punty Lane, between Shoreham and Mornington-Flinders roads, as a "dynamic scene" confronting firefighters on the ground and the helicopters operating out of Tyabb Airport.
She said the fire was threatening homes on Tucks Road and moving south fanned by fresh northerly winds towards Western Port and Flinders.
No cause for the blaze had been established "at this early stage".
Ground crews stayed overnight to keep an eye on possible flare ups.
Shoreham Road resident Richard Whitehead said he had urged the CFA earlier in the week to declare Thursday a Day of Total Fire Ban.
"The fire came close to us," he said. "At 11am it was south of our property. We were worried about a wind change from the south."
Friday's weather made the situation equally unnerving. "It's getting hot, there's a dry wind getting up and any spark could do it," he said.
First published in the Southern Peninsula News – 5 March 2019