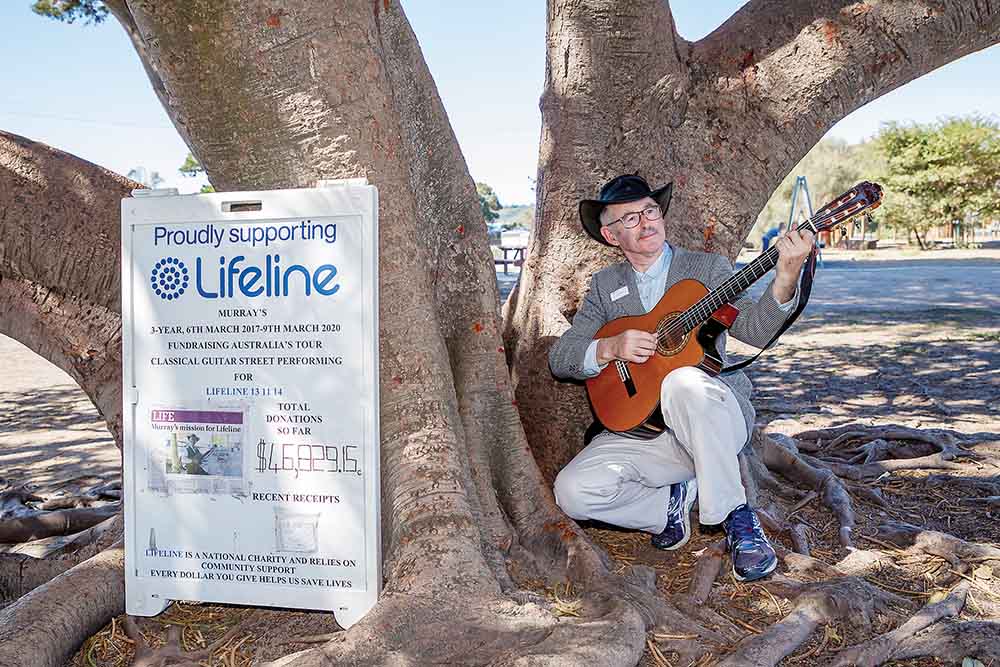 Murray Mandel has taken his talents to the road in a bid to raise money for Lifeline.
The 65-year-old classical guitarist is two years into a three-year journey on behalf of the national 24-hour crisis support phone service.
Lifeline volunteers provide suicide prevention services, mental health support and emotional assistance, either by phone, face-to-face and online.
Mendel, pictured, who lives in Sydney, began his travelling troubadour lifestyle from Canberra in March 2016 with hopes of being back there by 9 March 2020.
He has a 75-song repertoire of classical pieces, some of which he'll be playing at Bentons Square shopping centre from next Thursday (7 March) to Saturday.
As well as notching up the kilometres on his journey and raising nearly $50,000 for Lifeline, Mandel is setting some sort of record for media appearances: newspapers, radio and TV (74 newspaper articles, 45 radio interviews and 13 TV local evening news broadcasts so far).
Mornington is just one of 150 destinations on his tour (and an extra newspaper article).
Before taking up classical guitar in 2010, Mandel's career included 34 years as a microbiologist (27 at the Royal Hobart Hospital). He has also been qigong/tai chi instructor for 36 years.
These two forms of physical exercise and stretching are combined with mindfulness, with research appearing to show tai chi can improve balance control, fitness, and flexibility. They both involve relaxation and slowness.
Mandel says he took up raising money and awareness for Lifeline "out of a sense of compassion".
He hopes his "live background of soothing' classical guitar music" is enjoyed by shoppers.
Equipped with a hearing aid, Mandel is almost totally deaf in both ears due to "imbalance of the oxygen tent" he was placed in for about 20 minutes after being born.
His education began in deaf classes in kindergarten and primary school until his primary school's special teacher, with approval from his parents, "gambled on sending me to normal hearing secondary school, which was very rare at that time".
"Must have the music pieces in front of me when playing the guitar due to my profound deafness," he says. "Which is a different way from the other normal hearing musicians."
Mandel's CV also includes stints as a concrete contractor, kitchen hand, landscaper, "rag trade" production manager and working at a backpacker hostel.
But for now, he's a busker with a cause.
Watch out for Murray Mandel at Bentons Square shopping centre from this Thursday through to Saturday.
For help from Lifeline call 131 114.