PENINSULA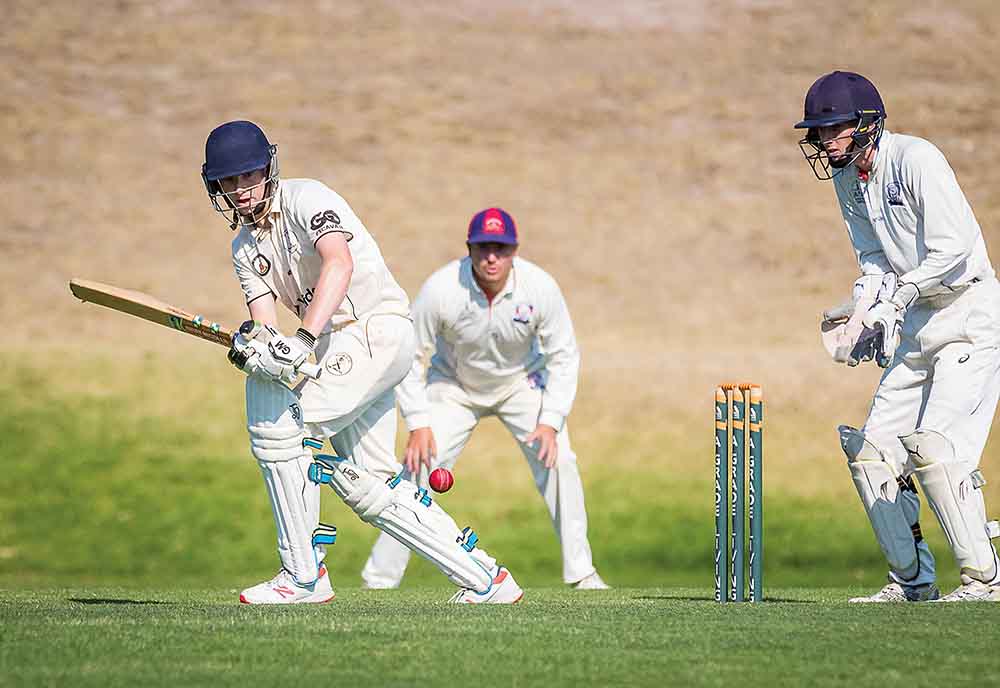 CRIB Point have fallen just short of Moorooduc in day two of a hotly contested clash at Crib Point Rec Reserve on Saturday.
Chasing 185 for the win, Moorooduc got off on the wrong foot and lost a series of early wickets.
The bowling efforts of Moorooduc's Reece Cordeux helped his side greatly, as posted figures of 4/39.
Crib Point ended up all out for 168, just 18 runs short of a win.
At Ditterich Reserve, Main Ridge got the better of Pines in another tight affair.
Batting first Pines scored quickly but lost wickets quickly as well. They set a target of 178 off 60 overs.
In reply Main Ridge were at times shaky and looked in trouble at 7/123. A good eight wicket stand from Jason Albress and Oliver McEncroe saved the game, with both putting together brilliant innings late on to guide their side to a win.
Red Hill enjoyed a good day at home, as they comfortably defended their day one total of 185.
Baden Powell had one good performer on Coen Chernishoff who scored 41, but were incredibly disappointing otherwise. They were bowled out for 128, well short of where they needed to be.
Somerville also did well to defend their total of 181, bowling well as a team to dismiss Long Island for just 125.
DISTRICT
HEATHERHILL gave Rosebud a run for their money but ultimately lost a nail biter on day two at Olympic Park.
With Rosebud having set 195 to win for Heatherhill going into the second day, things got off to a shaky start for the team with bat in hand. Heatherhill had to bounce back from a 2/4 start, but looked in a better position at 4/112.
The tail was not able to contribute much to the score, and once their highest scoring player fell for 67 things fell apart.
Heatherhill were bowled out for 183, just a handful of runs short.
Mt Martha enjoyed a fruitful afternoon away from home to the Seaford Tigers, as they comfortably chased down 123 runs to claim the first innings. Opener Simon Street top scored with 47 runs to set up his side nicely from the get go.
Seaford were also defeated comfortably, as they were smashed by Delacombe Park.
Seaford only put 107 runs on the board in their first innings, which was easily knocked off.
Nick Christides nearly defeated them off his own bat, hitting 104 runs before being caught and bowled. They ended up bowled out for a mammoth 291 off 64 overs.
At Roy Dore Reserve an innings of 49 from Luke Hewitt was the highlight for Hastings, as they feel short against Carrum. They were bowled out for 172 chasing 204 to win.
SUB DISTRICTS
FRANKSTON YCW have been thoroughly dominated by Dromana in a one sided affair at Dromana Reserve.
Batting first on day one the Stonecats put just 32 runs on the board before being dismissed, with their top scorer scoring just 12 runs. Six players were dismissed for ducks.
In response Dromana scored 189, and the Stonecats came in to bat once more with Dromana chasing an outright win.
The Stonecats were a little better in the second innings, scoring 5/77 before close of play for the day.
Balnarring and Carrum Downs had a much more competitive clash, with Carrum Downs coming within a whisker of chasing down their target.
Balnarring set a total of 242 runs to chase on day one, and Carrum Downs looked in a good position at 2/94.
Ryan Lynch top scored with 65, but it was not quite enough to get his side over the line.
Carrum Downs were bowled out for 232, 10 runs short of a result.
Boneo and Tyabb also played out a thrilling match at Bunguyan Reserve.
Boneo batted out the first day and put together an impressive innings of 8/243.
Tyabb's day started will with a stunning innings of 108 from opener Nick Taranto, but unfortunately for Tyabb his teammates did not match his efforts.
Four specialist batsmen were dismissed for single digit scores, as Tyabb were left all out for 235.
Rye got the best of Skye at Skye Rec Reserve, as the home said failed in defending a poor first innings total of 105.
Rye put together a 86 runs opening stand and scored 6/164.
Skye came back in for a second innings and ended the day at 2/59.
Tootgarook had a bye.
PROVINCIAL
PENINSULA OB have got the last laugh over Mornington in a high scoring encounter on Saturday.
With Mornington having put on an opening run stand of 89 and set 232 runs on day one, the Old Boys had a bit of work ahead of them. They responded with an impressive 103 run opening stand at the start of day two, with Dylan O'Malley top scoring with 74 runs.
Around the grounds, Baxter grinded out a nail biting win over Langwarrin at Baxter Park.
After setting Baxter a total of 156 to chase down, Langwarrin needed to work hard to keep their sights on a win.
With just one over left to play, Baxter hit the winning runs with just one wicket in hand.
Mt Eliza made quick work of Pearcedale away from home, defending their day one total of 210 with ease.
Pearcedale struggled with bat in hand, ending up all out for a miserable 105 in tough conditions.
Flinders also had a tough day, as they were easily bested by Sorrento at David Macfarlane Reserve.
Chasing 112 to win, Sorrento made short work of it and claimed the first innings with seven wickets to spare. They finished at 6/195.