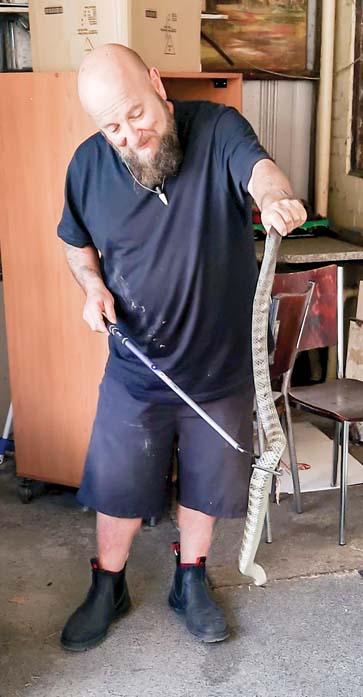 THE discovery of a metre-long tiger snake behind a Dromana fish-and-chip shop was an unwelcome surprise for proprietor June Wu, Wednesday 27 February.
"A delivery guy came in and said: 'Do you realise you have a snake out the back,'" she said.
"It was in the gas meter. I went out and it was the first time I've ever seen a snake outside of the zoo."
Ms Wu, the proprietor for 10 years, said she called snake catcher Barry Goldsmith who was able to quickly bag the reptile for release "within five kilometres".
Mr Goldsmith said the snake was the "first tiger I've caught in Dromana in 40 years".
He said he had seen fewer snakes on the peninsula so far this year because long grass had not yet browned off and rats and mice were still able to hide outdoors.
"When the grass dries the rodents will look for chook sheds or houses to hide in and the snakes will go looking for them," he said.
The Mornington resident urges residents to "respect the natural world".
"People might think there are more snakes because they hear about them on social media all the time but actually there a fewer," Mr Goldsmith said.
"The effect of land clearing and an increasing population means snake populations are in decline."
Snakes are protected in Victoria.
First published in the Southern Peninsula News – 5 March 2019