PENINSULA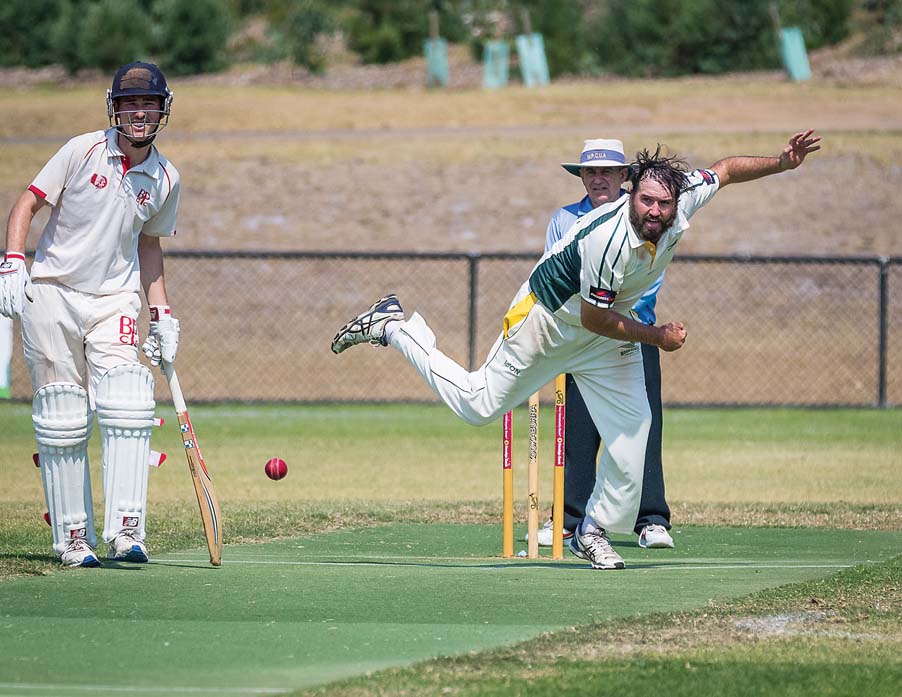 BADEN POWELL have put themselves in pole position for a grand final spot with a good day one performance against Moorooduc at Overport Park.
Three batsmen made scores of over 40 runs, with Rhys Elmi passing his half century off 130 deliveries.
Although slow scoring at times, Baden Powell will be happy to finish the day at 6/200 off their 80 overs.
The semi final between Main Ridge and Red Hill looks set to go down to the wire, with Red Hill batsman Simon Dart holding the fate of the match in his hands.
Main RIdge opened the batting, with middle order batsman Daniel Polson top scoring with 45 runs.
Main Ridge scored quickly, but paid for it with lost wickets. After just 47 overs, they were all out for 157.
Red Hill got their innings off to a rough start, losing their first two weeks early and struggling at 2/4.
Simon Dart came in as number 4 batsman and was impressive. As he hit 37 off 91 balls before stumps. Wickets fell around him but crucially, he remained not out. His efforts on day two will be vital to Red Hill advancing to the grand final.
DISTRICTS
DELACOMBE Park look to have booked their spot in the grand final with a dominant day one performance over Rosebud.
Electing to bat first, only two Rosebud cricketers reached double digit figures with bat in hand. A complete tail order collapse saw them all out for just 98 runs.
Robert Fisher only bowled 7 overs, but made the absolute most of them. He posted figures of 3/5, doing most of the damage for his side. They were his best figures for the season.
In response Delacombe Park reached 1/12 before stumps was called.
Heatherhill enjoyed a better afternoon against Hastings, setting a difficult target for them to chase down.
At 7/95 Heatherhill were in grave danger of throwing the game away, but a late rally from the tail saw them get to 183 before going all out in the last over of the day.
Sum Mallavery top scored with 33 runs.
SUB DISTRICTS
A DAY of dominance has put Tootgarook in the box seat to advance to the grand final. They kicked off their semi final battle with Boneo with a brilliant day one performance, putting 265 runs on the board before the close of play.
Boneo pushed hard and took 9 wickets, but could not dismiss them all.
The two sides finished level on wins going into the finals, making the one sided display a surprising one.
Top of the ladder side Dromana had a decent day against Balnarring at Dromana Reserve, and will have to work hard to defend their day one total.
Choosing to bat first, Dromana got off to a good start. Opener Jeffrey Bluhm has his best game for the year playing in the 1sts. He wasn't much in the mood to run between wickets, hitting 13 boundaries on his way to a total of 64.
Bluhm's teammates let him down as his side ended up all out for 202 off 78 overs.
PROVINCIAL
LANGWARRIN and Baxter could be set for a tight contest in their semi final clash, with Langwarrin setting an attainable target on day one.
Batting first at home, Langwarrin got off to a dream start. Flying at 0/69, they quickly collapsed to 3/73. Another collapse in the middle order would see them go from 3/123 to 8/136.
Langy ended up all out for 163, giving Baxter a good chance to claim a spot in the grand final.
A superstar performance from Chamike Sattambi was the highlight of the day, as the Baxter bowler took astonishing figures of 8/47. They were his best ever bowling figures for his club.
Baxter will restart from 0/1 on day two.
On Sorrento's home turf, they hosted Peninsula OB in a huge match to determine the second side in the grand final.
Sorrento spent day one out in the middle with the willow, scoring 189 runs before going all out.
Number 4 batsman Robert Wilson scored 55 runs for his side, helping them to a decent total. They will have to work hard to make sure Old Boys don't sneak a win and take a grand final spot from the top placed side.