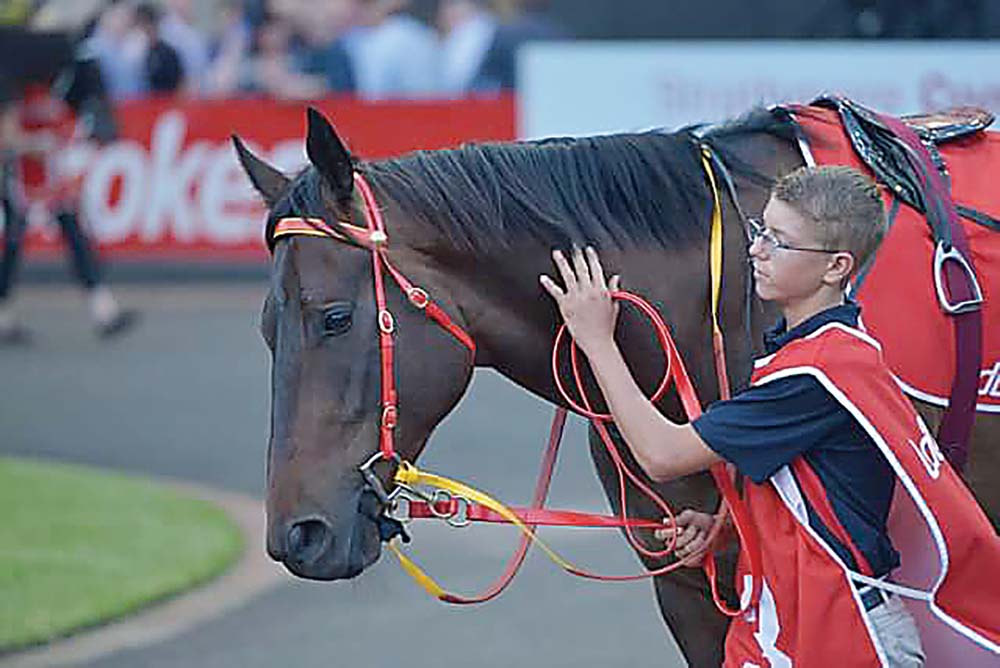 HORSE racing undeniably runs in young Campbell Rawiller's blood.
Growing up in a family steeped in racing history, the aspiring 17-year-old horseman is following the path which his father Nash (champion Australian and international jockey), uncle Brad (23-time Group One winning jockey), and mother Sarah have all trodden.
And the youngster took his next major step to making his dream come true, with an induction into Racing Victoria's Apprentice Jockey Training Program on Thursday 14 March.
Campbell will join six female and three other male riders in the program which seeks to unveil the next stars of the saddle.
Campbell has joined the Mornington-based stable of Logan McGill to learn his trade, while three other apprentices will also be based in Mornington: Kiran Quilty (Shane Nichols), Celine Gaudray (Pat Carey) and Matthew Cartwright (Lyn Tolson).
Campbell Rawiller said it's amazing to join Racing Victoria's program.
"It's unreal," he said.
"They've just thrown 110 per cent of everything they can to get you to where you want to be. You've got people like the likes of Ron Hall, Matty Pumper and Darren Gauci who are just unbelievable horseman and jockeys and you couldn't get much more of a better lead into racing than what they do for you.
"It's not only just the racing side, they've really covered all aspects of life. It's making you a successful human and athlete so being able to have that influence I'll just be trying to take it with both hands and throw my everything at it."
Campbell has competed in show jumping and dressage events throughout his childhood and has had plenty of inspiration to build on through his family ties to racing.
The decision to become a jockey wasn't a tough choice to make for the young horseman.
"With Dad being a jockey, he had all his racing gear at home and racing has just always been there," he said.
"We'd always go support Dad and I always watched the horses and was always into racing really. It's just what we love and what we've always been around. You love the horses very first of all and the early mornings are all worth it in the long run. It's exactly where I want to be."
Campbell had started "ground work" with his uncle, Todd, who was training in Sydney at the time, before moving back to Mornington and starting up with his current master trainer Logan McGill, just over a year ago.
"He was heavily suggested from many people for his amazing horseman skills and really being able to be a great influence on me and my career," Campbell said. "As soon as I met Logan, I really wanted to be his apprentice."
"I pretty much started with Logan from there and he's just had me irons down in the arena not worrying about the track at the start and just really teaching me how to be a horseman. He's just been unreal, absolutely unreal. He's taught me how to ride and how to ride properly and I can't thank him enough for that."
Campbell is currently riding in jumpouts and rides work every morning as well as completing work around the stables. He's hoping to land his first ride in an official race by the end of the year but said he's more focussed on taking everything "step by step".
"There's no real rush but hopefully before the end of the year I'd like to have my first ride but I have got my trial rides to keep doing and all I can do is keep improving and trying hard and when Logan's happy with me and the Apprentice School reckons I'm ready to go well that'll be when I'll go," he said.
"I won't be trying to rush any steps and I've always just found the more and more you do something the better you're going to get so the more trials the better."
While the up-and-comer won't be riding at Mornington's Cup Day meeting on Saturday 23 March, he said the day has always been pretty special to the family.
"I've been to a couple when Dad was riding in a couple of the Mornington Cups years and years ago, but we've always gotten involved at the Mornington Cup," Campbell said.
"It's always a great day out for everyone and something well worth not missing."
His father, Nash, claimed the Listed Mornington Cup on two occasions. Once, on the triple Mornington Cup champion Gunnamatta (trained by Tony Noonan) who he rode to his second win in 2003, and again in 2007 when he saluted on Hofmeister.
His uncle, Brad, also won the Cup on the Mick Kent-trained Banana Man in 2009.
This year's edition of the Mornington Cup is also set to be an intriguing contest with the winner gaining ballot exemption into the Caulfield Cup in October.