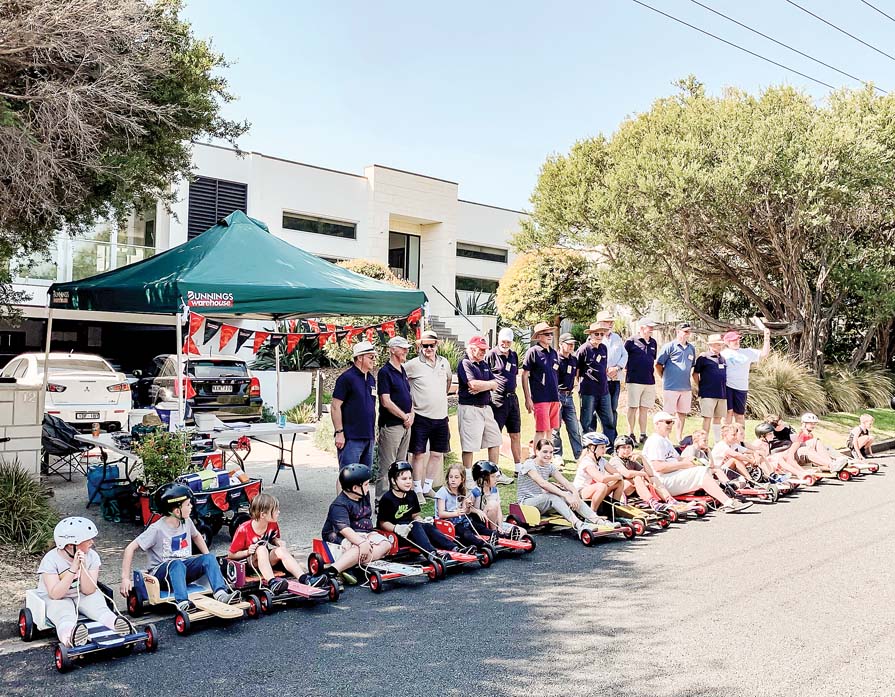 THE billy cart derby organised by Point Nepean Men's Shed went off without a hitch, Saturday 16 March.
"We could not have asked for a better day," organiser Terry Phippen said.
"We had all 20 carts in action over the afternoon, plus a few extras, and a design by shed president John Stevenson became instantly popular with competitors of all ages."
Charities to benefit from the $1200 raised were Rye Community House, "Buy a Bale" and Gippsland Farmers' Relief.
"The kids all took to the idea of racing the carts," Mr Phippen said.
"Some were a bit nervous at first, but later became super competitive, but it was all very friendly – they were all 'winners'."
Mr Phippen said the Point Nepean Men's Shed appreciated the help of Bunnings Rosebud, and staff member Jane Robins in particular, for their contribution to the event. "The Robins family had a big day, with daughter Paige being named champion. She bounced back from a crash in practice to calmly knock off the opposition. Her sweet smile disguises a very determined competitor."
Shed members kept the carts rolling down the slope. "There were not too many crashes and no serious injuries," Mr Phippen said. "A few running repairs were carried out along the way but all drivers and their carts survived."
First published in the Southern Peninsula News – 26 March 2019