SOCCER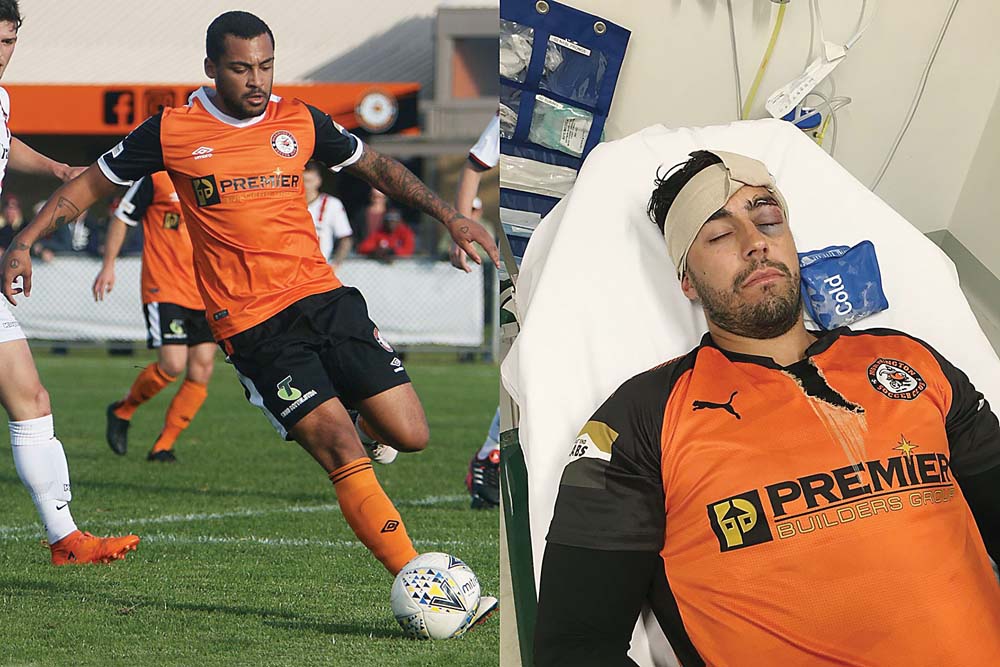 MORNINGTON head coach Adam Jamieson expects Casey Comets midfielder Brodie Paterson to receive a lengthy ban after a violent contest at Dallas Brooks Park on Friday night.
Comets came from behind to win this State 1 battle 2-1 and send the home side to a third consecutive defeat which casts major doubt over its stated ambition of winning promotion to the 2020 NPL.
But it was the controversial finish to this clash which stole the limelight.
The club video appears to show substitute Paterson pushing opponent Sam Catherine to the ground late in the match then falling on top of his opponent and striking him with a right-handed punch.
Channel Nine used the footage in a national news broadcast on Saturday.
When the dust settled from the ensuing melee referee Bill Kostadakopoulos sent off Paterson and Mornington defender Josh Valadon for violent conduct.
When asked if Paterson could receive a long suspension Jamieson's response was blunt.
"Yes. That sort of behaviour isn't acceptable in our society let alone a football field."
Scans on Saturday morning cleared Catherine of any facial or neck damage but doubts remained as to whether or not his sight had been affected by the incident.
Mornington players have certainly been in the wars early in the season.
There are claims that English import Andre Bennett was racially vilified during the club's round one clash with Malvern City.
Football Victoria was made aware of an alleged racist slur directed at Bennett during the match after receiving complaints from two spectators.
One of the spectators is believed to be a Football Victoria employee and the other is Bennett's partner.
Mornington and Malvern have discussed the issue and Mornington has been told that veteran striker and Malvern captain Arthur Papadopoulos has been suspended by his club for eight consecutive matches plus the reverse fixture against Mornington later in the season.
Football Victoria continues to investigate the matter.
Friday's 2-1 loss to Comets and the Catherine incident cast a sombre mood over Dallas Brooks Park.
Things were so much different when Mornington took a 1-0 lead in the 12th minute thanks to a low driven corner from Craig Smart and a superb glancing header by Catherine.
This was the Mornington of old and Comets keeper Faraz Zenoozi had the woodwork to thank when a superb curling effort from new Mornington signing Kane Bentley in the 33rd minute smacked off the bar and was cleared.
But Comets worked their way back into the contest and three minutes from the interval a long ball to the far post was headed back by Dejan Radojicic and Vojislav Milojevic hammered home a low shot to make it 1-1.
Comets had chances to hit the front in the second half but they had to wait until the 78th minute to gain reward for their efforts.
Mornington's defence failed to clear following a long throw-in on the left and Deakan Napier slammed the ball home from close range in what was to be the decisive moment of the match.
The home team huffed and puffed but didn't put Zanoozi under much pressure and at the other end of the pitch Mornington's lack of pace remained a major talking point.
Deep into injury time Mornington substitute Amir Osmancevic's spectacular bicycle kick was headed clear by the impressive Rogan McGeorge and Comets ran out a deserved victor.
In NPL2 news Langwarrin was in sparkling form in the first half against Goulburn Valley Suns with goals from Wayne Wallace and Roddy Covarrubias and although the home side had a better second half a late Damir Stoilovic strike gave Langy an impressive 3-0 victory in Shepparton on Saturday evening.
Scott Miller's side is now just one point behind league leader Eastern Lions.
On the down side Wallace was red carded in the 84th minute while Goulburn's Matt Lelliott was dismissed in the 63rd minute.
In State 2 news Peninsula Strikers slumped to a 6-2 defeat away to Monbulk Rangers on Friday night.
Strikers were down 3-0 at half-time but scored twice in the second half through Antun Vulic and Adam Crabb in what was a dismal display by the local club.
In State 3 news both Skye United and Frankston Pines lost 2-1 in away fixtures last weekend against Ashburton United and Whitehorse United respectively.
Skye goalkeeper Jonathan Crook made a great point-blank save to keep Ashburton at bay just before half-time and Skye hit the front early in the second half thanks to Mikey Turner after good lead-up play from debutant Nic Miliaresis.
Skye peppered the home team's goal for the next 20 minutes but a superb strike from outside the area by Arsenos Zervides made it 1-1 in the 68th minute.
In the 75th minute Ashburton headed to the spot after Saj Sugrim handled inside the area and Thomas Falconer made no mistake to give the hosts all three points.
Pines created enough chances to win comfortably hitting the bar four times and the post twice.
Pines went behind in the 38th minute after an excellent finish by Daniel Eksiyan.
The equaliser came in the 80th minute from a rehearsed set piece when a Serge Yanez corner was headed home by CJ Hodgson.
Three minutes later a disputed penalty decision allowed Liam Coulter to convert from the spot to round off the scoreline.
In State 4 news things went from bad to worse for Baxter after a humiliating 12-0 capitulation at the hands of ladder leader Rowville Eagles at Park Ridge Reserve last weekend.
Baxter senior coach George Hughes and assistant Rob Mathieson endured a difficult time during the off-season trying to bolster their squad but they recently completed the signings of defender Matt McCormack (ex-Comets and Morwell), attacking midfielder Nat Daher (from Dingley Stars) and winger Aaryn Rix (Frankston Pines).
This weekend Baxter is at home to fellow struggler Dingley Stars in a must-win encounter.
Stuart McKenzie and Nathan Yole are available and are expected to play.
Harry McCartney reports that Seaford's 2-1 away win over Dingley Stars last weekend was mired in controversy.
Two Pines recruits combined to open the scoring for Seaford in the 8th minute.
Naseer Mohammad played a well-timed ball into the path of Mitch Lander who hit it first time across Dingley keeper Yağız Atok Ersoy for the opener.
In the 16th minute Conor Mcfall's attempted cross to the far post eluded everyone and ended up in the back of the net to give the visitors a two-goal cushion.
A minute before the break a handling error from Seaford keeper Anthony Madafferi gifted a goal to Dingley when he failed to collect a high ball and was credited with an own goal.
Dingley's Stephen Nygen was walking a tightrope for much of this contest and referee Neil Byrne had no option but to book him in the 59th minute.
Shortly after Seaford star Dylan Waugh was involved in a clash of heads and was still protesting his innocence when shown a red card for violent conduct.
Nygen then received a straight red for abusive language.
Dingley had a chance to snatch a point deep into injury time after Madafferi handled outside the area but redeemed himself by saving the resultant free-kick.
In State 5 news Rosebud continued its fine start to the season with a 3-2 home win over Casey Panthers on Saturday.
Two wins and a draw have taken the league newcomer to third on the ladder and last weekend's success was thanks to goals from Chris Parry (2) and Billy Gowans.
The news wasn't as positive for Somerville Eagles as it lost 2-1 at home to Old Mentonians last weekend.
The visitors deserved their success as Somerville struggled to create chances and was forced to play star striker Dave Greening despite being nowhere near peak fitness.
Greening played due to the absence of Mark Pagliarulo who was holidaying with his family on the Gold Coast and his presence up front was sorely missed.
Cameron Parsons took over in goal as usual number one Francis Beck was at a coaching course.
Somerville's best chance fell to Greening in the 31st minute after he latched onto a poor back pass.
He looked certain to score after rounding Old Mentonians keeper Mustafa Zahir but couldn't strike the ball firmly enough allowing a defender to recover and clear.
Five minutes later Old Mentonians took the lead.
The ball was played into the box after a quick break down the right and Somerville failed to clear enabling Tyler Pollard to lay the ball into the path of Max Vulcan who slid in and struck a left-foot drive past Parsons from close range.
Parsons was by far the busier of the two keepers.
Somerville somehow hit back in the 53rd minute when Damien Garcia got a touch in a packed penalty area and claimed the equaliser.
But an excellent run from Cameron Ironside in the 60th minute was rewarded when he neatly lobbed the ball over the advancing Parsons and into the unguarded goal for the winner.
Aspendale slumped to its third straight loss going down 2-0 at home to Tullamarine on Saturday.
Aspendale's best were Sam Timuska Carr, Kieran Hughes and Peter Dimopoulos.
IN NPLW news Southern United lost 6-1 to Senior NTC at Monterey Reserve last Saturday.
Southern's under-19s lost 4-0 while the under-16s were involved in an entertaining 3-3 draw against Junior NTC with Southern's goals coming from Rhys McKenna, Ezel Duyar and Rhiannon Kelleher.
This week's games:
WEDNESDAY, 8.30pm: Upfield v Skye Utd (Aston Fields), FFA Cup round 5.
FRIDAY, 8.30pm: Mornington v Mazenod Victory (Dallas Brooks Park), Frankston Pines v Collingwood City (Monterey Reserve).
SATURDAY, 3pm: Southern Utd v Box Hill Utd (Monterey Reserve; under-12s 9am, under-14s 10.10am, under-16s 11.30am, under-19s 1pm), Langwarrin v Manningham Utd Blues (Lawton Park), Peninsula Strikers v Boroondara-Carey Eagles (Centenary Park), Elwood City v Skye Utd (Elwood Park), Baxter v Dingley Stars (Baxter Park), Seaford Utd v Endeavour Utd (North Seaford Reserve), Rosebud v Aspendale Stingrays (Olympic Park), Pakenham Utd v Somerville Eagles (IYU Reserve).