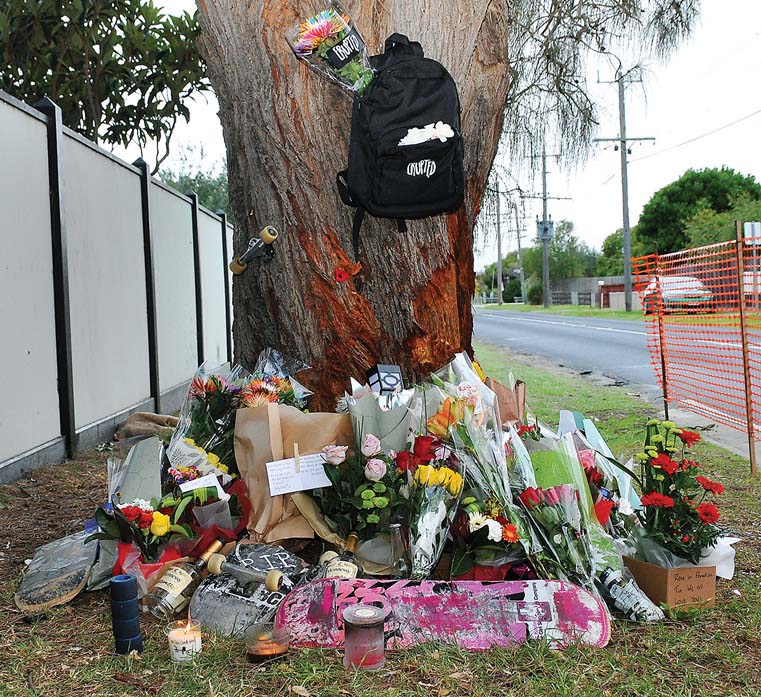 A 21-year-old Rye man has been charged with one count of culpable driving causing death and two counts of negligently causing serious injury after a fatal crash in Tootgarook early Friday 12 April.
Seventeen-year-old Timothy Hocking died and four others were injured when a Mazda CX3 with five young people on board struck a tree near the intersection of Marshall and Field streets about 1.15am.
Timothy Hocking, a student at Rosebud Secondary College and resident of McCrae, died at the scene, while another 17-year-old from Capel Sound was taken to hospital in a critical condition. A 17-year-old from McCrae was taken to hospital in a serious condition.
The driver and another 17-year-old, from Capel Sound, were taken to hospital with non-life threatening injuries.
Neighbours reported hearing cries for help and found two young men lying beside the car in the dark.
Rye and Rosebud CFA and SES crews stayed at the scene until mid-morning, hosing oil leaks and ready to extinguish any fires.
Rosebud CFA duty officer Sam Webb said police were examining the crash site for details as to the cause.
Neighbours say the narrow roads are "notorious for speeding". It appears the car was being driven along Field Street past the roundabout at Marshall Street when it ploughed into a large she-oak on the nature strip.
Police are investigating whether speed and alcohol contributed to the crash. They are becoming increasingly exasperated that young people are ignoring road-safety messages, saying their pleas "are not sinking in".
Detective Sergeant Darren Williams told Channel 9 News on Friday morning: "This is the worst you can get – when you lose a young kid, not even experienced in life. He's gone. His life's gone. His family's life is over. They'll never be the same again.
"You've just got to think that as a result of this there's hundreds – if not thousands – of people who are going to be affected by not only this one kid's death, but the injuries sustained by the others and they'll never be the same again.
"We're forever on the news putting out messages: 'Drive slowly', 'drive within your limits', 'don't drink drive' and people still do it. How do we get through to people? I don't know."
Both roads were closed Friday while investigations continued.
Anyone with information or who witnessed the incident is urged to contact Crime Stoppers 1800 333 000 or submit a confidential crime report at crimestoppersvic.com.au
As of Friday 92 people had died on the state's roads compared to 58 for the same period last year.
First published in the Southern Peninsula News – 16 April 2019