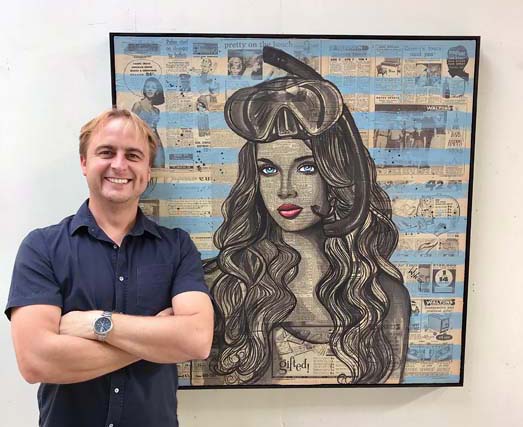 IT is fair to say that to some extent the finished works by artist Charles Wilcox are predetermined by events that happened many years before and well beyond his knowledge or control.
A painter and sculptor, Wilcox is an avid collector of driftwood and a fan of old advertisements, in newspapers and on billboards.
He attributes some of his "sculptural creativity" to his engineering studies. His approach to painting to his art studies throughout his schooling and, later, graphic design.
The Mt Martha-based artist is in Florence, Italy, this week where he is one of five international artists invited to display works in an exhibition titled, Art is Now.
Wilcox embarked on several businesses after finishing his education but it was while running one offering "adventure tourism" that he "created" a driftwood fish that his "career as an artist began".
"A friend bought the fish, so I made more, and soon I was creating lots of other works and sending them to galleries all over Australia, as well as to private collections around the world from London to Hong Kong," he says.
"All my inspiration comes from my love of the sea. My sculptures are just as much about the adventures to find the materials as the final artwork created.
"Every piece of driftwood I pick up has travelled across the ocean, survived the harsh elements and by chance washed up on the particular beach I'm walking along that day.
"These objects come from different locations around the Australian coast and when combined, give different textures, shapes and forms in one final piece."
Not limited to driftwood, Wilcox seeks out materials "shaped by the harsh elements of the environment" such as building materials "scorched by sun and hammered by storms".
Wilcox has always been drawn to "vintage" advertisements and billboards, "especially the images of the girls on the Peroni beer ads".
"I enjoy bringing life back to something old and discarded, such as the vintage newspapers I use for these works.
"There are many challenges with newspaper; it is not only fragile but with a single brushstroke you can easily cover a piece of history. It makes sense to me to use ink on newspapers, which are printed with ink, and the colourful acrylic stripes are my tribute to the classic old posters that really catch your eye."
Works by Charles Wilcox are displayed at Manyung Gallery Mt Eliza and Sorrento.