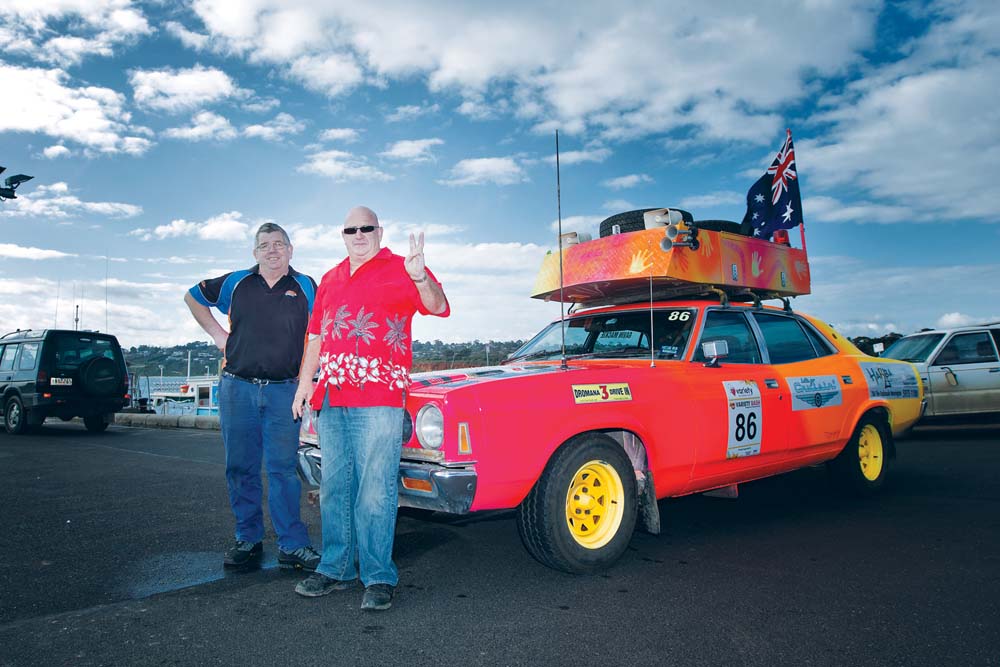 ARGUABLY Australia's best Elvis impersonator Rick Charles together with his son Adrian as Freddie Mercury of Queen are star attractions at a Variety charity fundraiser at Mornington Yacht Club from 7.30pm on Saturday 18 May.
"A Musical Affair with a King and Queen" has been organised by Variety Bash stalwarts John Crossin and John Mackie of Mornington as they prepare for another wild ride across Australia in August, from Melbourne to Geraldton in WA, in Car 86, their Ford Fairlane LTD that once carried Prime Minister Malcolm Fraser around Canberra.
This will be John Crossin's 16th Bash and the 15th for John "Bubba" Mackie, who owns Mornington Car and Tyre Services and keeps the Ford on the road (Bash cars must be at least 30 years old).
Mr Crossin is a former king of hospitality in Mornington who once operated Beaches and later Harba restaurant. Nowadays he runs Faulty Tours behind the wheel of a fancy minivan Nissan Elgrand.
The men of Car 86 have raised more than $250,000 for Variety The Children's Charity. Variety distributes almost $12 million each year to about 135,000 special needs, disadvantaged and sick children. No donated money goes on the car or the crew's living and fuel expenses during the event.
Mr Crossin said Variety did a power of good work and the Bash was one of its major fundraisers each year.
"They support the Royal Children's Hospital, ambulances to take critically ill and premature babies to hospital, the teenage cancer support group Canteen, and much more," he said.
"King and Queen" includes the tribute show plus dance music afterwards. Cost of $85 includes cocktail food. Limited tickets available.
Details and bookings: John Crossin, 0419 319 479 or email: statewidetanks@gmail.com