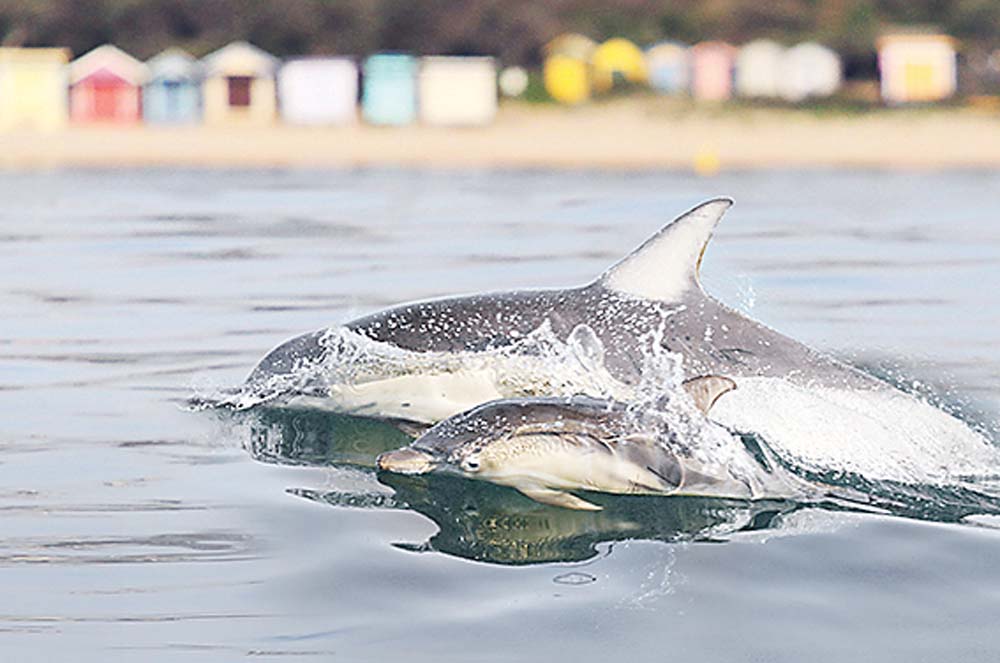 Barry Morris
THE Hastings-based Dolphin Research Institute is hoping to widen its support base to help safeguard the lives of the entertaining aquatic mammals.
Its adopt-a-dolphin program aims to have 100,000 people involved in 'i sea i care communities' by 2020 through citizen science, dolphin ecology and health and education.
DRI director Jeff Weir last week told a meeting organised by BERG MM at Mt Martha House that the communities were launched in June last year with the Western Port community of Tooradin followed by Mornington on Port Phillip.
Programs are run in schools, businesses and there are community events such as an annual walk and community workshops.
"Our marine family is fragile in the face of coastal pollution, human disturbance and a changing climate," Mr Weir said.
"By adopting a dolphin, people are contributing to our marine research and education programs which teach and inspire us all to care for our living marine treasures.
"Community support now will ensure future generations can be touched by our ambassadors of the sea."
The cost of adopting a dolphin is $98 and the DRI also enables members to adopt a dolphin with a dolphin swim for $180.
Mr Weir said reporting sightings of whales and dolphins in the two bays was an important way the community could help conservation outcomes in Victorian waters.
"We lead several important citizen science projects aimed at improving our understanding of cetaceans in our region and the issues they face," he said.
"Our programs, especially the Two Bays Whale Project, are carefully designed so sightings are validated to ensure that data are reliable."
The best places to see whales were Barwon Bluff, Port Phillip Heads, Cape Schanck, The Nobbies, Pyramid Rock, Cape Woolamai on Phillip Island and along the Bass coast.
Mr Weir said human behaviour needed to change to reduce catchment pollution.
"While we have made progress with pollution from industry, the pollutants from the impacts of us living around the bays remains as the major threat to our bays' sustainability," he said.
"The institute's social research shows that about two-thirds of our population think that rubbish on beaches is left by beachgoers. In reality, most litter on beaches is flushed by rain, down drains and waterways.
"This is a huge challenge because we only act if we feel part of the problem – and solution.
"If it's not safe for us to swim after rain, then it's not safe for dolphins and other marine life."