SOCCER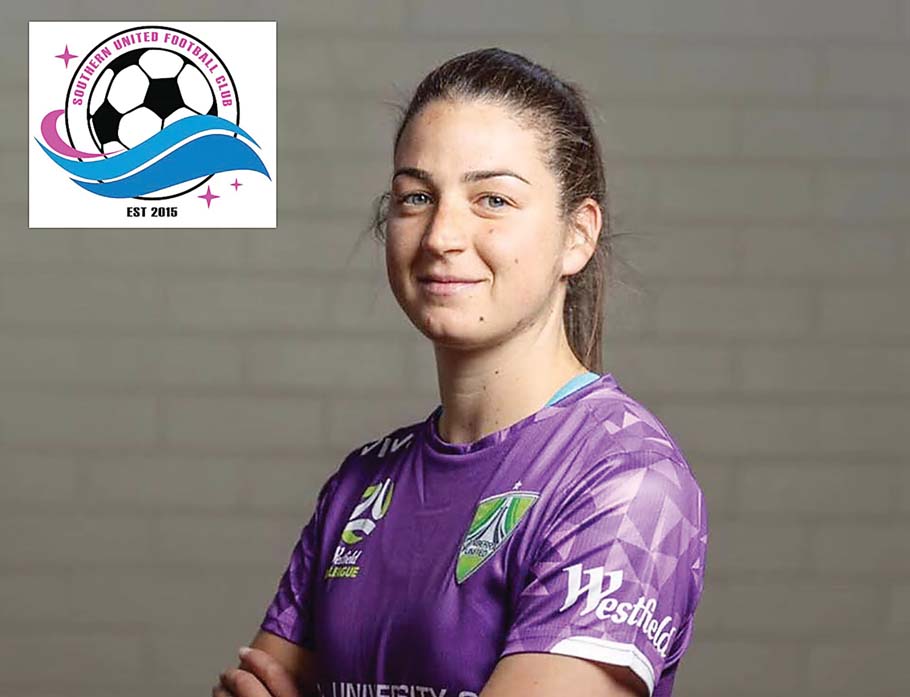 MELISSA Maizels is the new senior coach of Southern United.
A fortnight after joining the struggling NPLW club the former Melbourne Victory, Perth Glory and Canberra United goalkeeper replaced Washington Castillo late last week.
"I didn't come here with the intention for this to happen but when this opportunity came I had to take it because it gives me the chance to effect as much change as possible and hopefully be part of the resurgence of Southern on the peninsula," Maizels said.
"I think Southern has suffered enough."
Administrative, coaching and player upheaval have plagued the club for the past two years.
Last season it finished on the bottom of the league with just one point and five goals to show for its endeavours while conceding 188 goals.
After 11 games this season Southern has no points, two goals for and 114 against.
It's tempting for Maizels to make wholesale changes to the senior squad but that's unlikely.
"I understand that Southern prides itself on its culture and that is something I want to maintain," she said.
"We definitely need to bolster our squad but I'm only interested in players who fit in with our culture.
"I want good people because good people make a good club."
Maizels expects "a couple" of new players to train with Southern over the next week or so and "beyond that I'm planning to have some conversations with players to see if they want to be part of something that's a little bit special."
Southern may soon have two venues it can call home.
It is a co-tenant at Monterey Reserve with Frankston Pines, a venue set for a $3.9 million makeover and a co-tenant at the developing multi-million dollar multi-purpose facility at Wedge Road in Carrum Downs where work is underway on a fully floodlit synthetic pitch.
"Any player that wants to be a part of that is a player I definitely want to talk to," Maizels added.
In NPL2 news Langwarrin had one of its best results of the season when it defeated Melbourne Victory 1-0 at Lawton Park on Saturday.
Two superb through balls from Langy defender Luke Goulding in the first half set up scoring opportunities for Roddy Covarrubias then David Stirton but neither player capitalised and in the 30th minute Victory's Yazid Said pounced on a defensive error and laid the ball off to Stefan Ristic whose low shot struck the inside of the near post and rebounded across the face of goal before being cleared.
Both Victory players featured in a remarkable piece of goalkeeping from Langy's Fraser Maclaren three minutes later when he saved Said's close-range effort and recovered in time to block Ristic's attempt from the rebound.
The pivotal moment in a good footballing contest came in the 67th minute when Wayne Wallace's cutback from the right of the area fell to the incoming Jordan Templin and he made no mistake from 10 metres.
The win followed Langwarrin's FFA Cup success last Tuesday night when it defeated State 5 opponent Waverley Wanderers 6-2 at Anderson Park.
Langy led 4-2 at half-time thanks to a Covarrubias hat-trick and a Stirton goal.
Stirton added to his tally in the 56th minute and an Alex Van Heerwarden cutback from the left in the 80th minute was slotted home by Luke Burgess at the back post.
Langwarrin has drawn NPL heavyweight South Melbourne in the next round of the cup.
In State 1 news Mornington hosted promotion contender Richmond last weekend and despite playing against 10 men for the majority of the contest had to settle for a 1-1 draw.
The result put a dampener on the opening of the new verandah viewing area at Dallas Brooks Park and although Mornington welcomed back Sam Scott from injury and Josh Valadon from suspension its attacking stocks were depleted due to the transfer of Liam Baxter to Mazenod Victory and hamstring injuries to Amir Osmancevic and Nick Waite.
Richmond's inability to cope with a Sammy Orritt cross from the right in the 12th minute allowed Mornington midfielder Kane Bentley to open the scoring at the near post with a low strike.
Richmond keeper Rani Dowisha was sent off just before half-time for deliberately handling outside his area.
Mornington passed up gilt-edged chances to seal the issue and in the 97th minute Richmond's Zois Galanopoulos turned on the edge of the area and struck a low shot through a sea of legs to snatch an equaliser.
In State 2 news Peninsula Strikers had to settle for a 1-1 away draw against Knox City on Saturday despite bossing the second half of the contest.
Strikers' goal came from a John Prescott penalty in the 16th minute with Knox equalising nine minutes later through Mohammed Rasuli.
In State 3 news Skye United beat title chasing Collingwood City 3-2 at Skye Recreation Reserve last Friday night.
This was a cracking contest and Skye started in style hitting the front in the 9th minute when Billy Painting stole in at the back post to strike home a free kick.
A shove on Aaryn Rix in the 22nd minute earned a penalty and Daniel Walsh made no mistake from the spot.
Skye was closing down opponents well and right on half-time Mark O'Connor made it 3-0 when he pounced on an ineffective clearance to hammer home a half-volley from just inside the area.
Collingwood talisman Pat Makris was tripped in the 49th minute and converted the resultant penalty to make it 3-1.
In the 66th minute Saj Sugrim failed to cut out a pass that sent Matt Richardson clear on the right and his low shot was parried by Skye keeper Jonathan Crook into the path of the incoming Michael Swimmerton who made no mistake from close range.
Rix had two chances to give Skye breathing space but failed to convert and Stephen Mahon's low shot in the 71st minute was just wide of the far post.
Injury time was frenetic as Skye desperately tried to run down the clock and in the 96th minute the final whistle blew to signal the club's best league result of the season.
Fellow State 3 outfit Frankston Pines lost 3-2 away to Ashburton United last weekend despite leading twice.
Pines' goals came from Joe O'Connor and Jason Bradbury.
In State 4 news Baxter won 2-0 away to Keysborough on Saturday to record a third straight win.
Nat Daher put Baxter ahead in the 26th minute beating two opponents then curling the ball into the top left-hand corner of goal.
Four minutes before half-time Lewis Gibson made it 2-0 from the penalty spot after Nathan Yole intercepted a poor back pass but was dragged down by Keysborough keeper Eric Babiak.
James Foster was a standout for Baxter with some superb saves while Daher received a second caution in the 65th minute and will miss this weekend's home clash with promotion hopeful Noble Park United.
Meanwhile Seaford United lost 3-1 away to Noble Park United last weekend.
Harry McCartney reports that Seaford struck first through a Dylan Waugh header in the 22nd minute but a mix-up between goalkeeper Anthony Madafferi and Dion Brown gifted an equaliser to Nemanja Salamandic in the 31st minute.
A botched clearance fell to Alex Djukic in the 40th minute and his sidefoot volley put the home team ahead.
Seaford was caught on the break in the 75th minute and Leigh Karavasil raced clear before lobbing the stranded Madafferi to complete the scoreline.
In State 5 news Somerville Eagles had a 2-0 away win over promotion rival White Star Dandenong last Friday night.
Big spending White Star struggled to create chances against a superbly organised Eagles outfit with Matthew Swanson and James McKenzie forming a formidable defensive barrier.
It was a tense affair and it took until the 72nd minute for Somerville to break the deadlock when co-coach Dave Greening was first to react to a shot from the outstanding Charlie Conrath that struck the bar.
Greening buried the rebound with a side-foot half-volley from 10 metres.
Emotions spilled over in the 79th minute and Somerville substitute Joel Wade and White Star's Peter Papadopoulos were sent off.
The issue was settled in the 84th minute when Carlo Cardoso sent Greening down the wing and he cut inside before laying the ball off to Mark Pagliarulo.
The big Scot beat his marker and another defender before sending an unstoppable drive into the corner of goal then letting the White Star fans know all about it as Eagles' players and supporters celebrated.
The win was particularly satisfying for Greening who took to Facebook to describe the emotion:
"After receiving dog's abuse for 70 plus minutes from large sections of the crowd and opposition players, there is no better feeling than scoring and setting up another for your strike partner to win the game, silence the critics and have the last laugh."
Aspendale Stingrays had a 3-2 away win over Hampton Park United last weekend.
The visitors got off to a flier with a Kenan Nuhanovic strike in the opening minute after an Adrian Pace cross wasn't dealt with by Hampton Park keeper Dusan Hak Mandic.
A Ryan Mravljak header in the 20th minute made it 2-0.
But Hampton Park hit back with goals from Milad Juma and Mohsen Chehimi and it was 2-2 at half-time.
Teenager James Macnab nabbed the winner in the 70th minute with a close range strike following a superb Ben Garside cross and the Stingrays endured a tense 20 minutes until the final whistle.
Aspendale's best were Jack Lindsay, Peter Dimopoulos and Pace.
Rosebud won 2-1 away against Knox United last weekend with goals from Blake Hicks and Beau Sharp.
It was an eventful afternoon for Hicks who took over in goal after Rosebud keeper James Cinar was sent off in the 63rd minute with Rosebud leading 2-0.
Two minutes later Robert Taylor reduced the deficit but Rosebud held on for a win that takes it into the top half of the table.
Please note that Rosebud's clash with Somerville Eagles at Olympic Park, which was to be one of the upcoming round 8 fixtures, has been rescheduled so check Football Victoria's website and club social media posts for the new date for this much anticipated local derby.
This week's games:
SATURDAY, 3pm: Moreland City v Langwarrin (Campbell Reserve), Peninsula Strikers v Brandon Park (Centenary Park), Skye Utd v South Yarra (Skye Recreation Reserve), Frankston Pines v Diamond Valley Utd (Monterey Reserve), Seaford Utd v Sandown Lions (North Seaford Reserve), Baxter v Noble Park Utd (Baxter Park), Aspendale Stingrays v Bunyip District (Jack Grut Reserve).
SATURDAY, 7.30pm: Geelong Galaxy Utd v Southern Utd (Stead Park),
SUNDAY, 6.20pm: Beaumaris v Mornington (Beaumaris Secondary College).