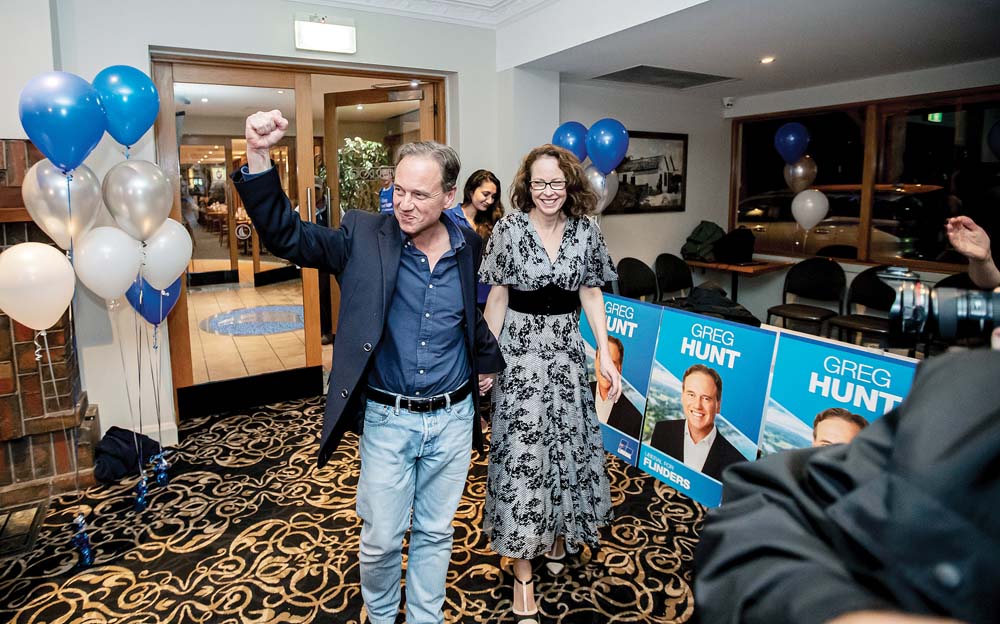 LIBERAL Greg Hunt easily retained his seat of Flinders in Saturday's federal election.
Mr Hunt's seventh win in a row helped the Scott Morrison-led Liberal National Coalition regain government for a third term.
A senior cabinet minister in the previous government, Mr Hunt is expected to retain his position as health minister.
In the nine-candidate contest for Flinders, Mr Hunt, by late Monday morning, had received more than 46 per cent of primary votes, well ahead of his nearest rival, Labor's Josh Sinclair, who was sitting on 25 per cent.
Coming third in the vote was now independent former Liberal MP for Chisholm, Julia Banks, with 14.55 per cent, followed by the Greens' Nathan Lesslie, 6.48 per cent; Christine McShane, United Australia Party, 2.36 per cent; James Persson, Animal Justice party, 2.23 per cent. Two former Mornington Peninsula Shire councillors, Reade Smith, Sustainable Australia, and Susie Beveridge, independent, and independent Harry Dreger all received less than one per cent of votes.
In neighbouring Dunkley, Labor's Peta Murphy won the seat from Liberal Chris Crewther. The seat had been subject to a redistribution which saw its boundary move north out of Mornington and into Carrum Downs, making it "notionally" Labor.
In a statement issued Monday morning, Mr Hunt said he was "proud and humbled" to be re-elected in Flinders.
"I want to congratulate my Labor opponent Josh Sinclair and all other candidates on a hard-fought campaign. Putting your hand up for public service is an endeavour never taken lightly and they should be immensely proud of their achievements," he said.
During the early counting on Saturday night, with a "roomful of optimistic people" behind him, Mr Hunt told Channel 9 he was "very optimistic", but shied away from claiming victory.
Within hours there were no doubts and his Labor opponent Josh Sinclair was congratulating him on his win.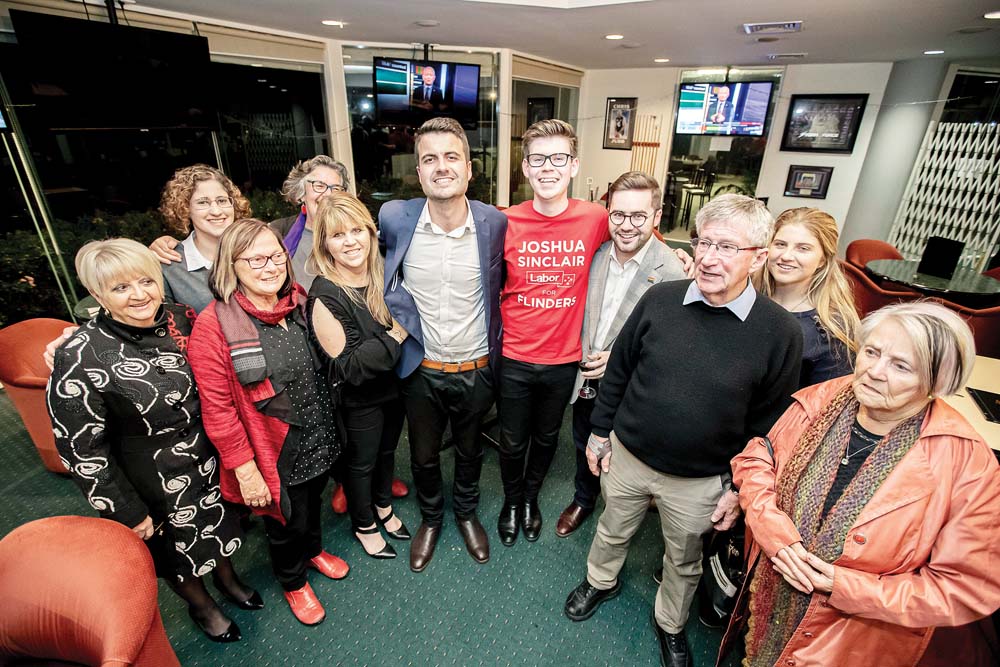 In an email that arrived at 2.39am Sunday, Mr Sinclair said he had called to congratulate Mr Hunt "a few moments ago".
Mr Sinclair said he had "gotten to know Greg and his staff and volunteers quite well recently and I wish them nothing but success for the next three years".
"Everyone who works in government or politics puts their heart into bettering our community and his office is no exception," he said.
Mr Sinclair said the four per cent swing to Labor in Flinders "is the closest outcome this seat has seen since 1983".
Mr Hunt was dogged throughout the five-week election campaign by leftist activist group Get Up, which took out advertisements reminders voters of his involvement in the attempted leadership coup by Home Affairs Minister Peter Dutton.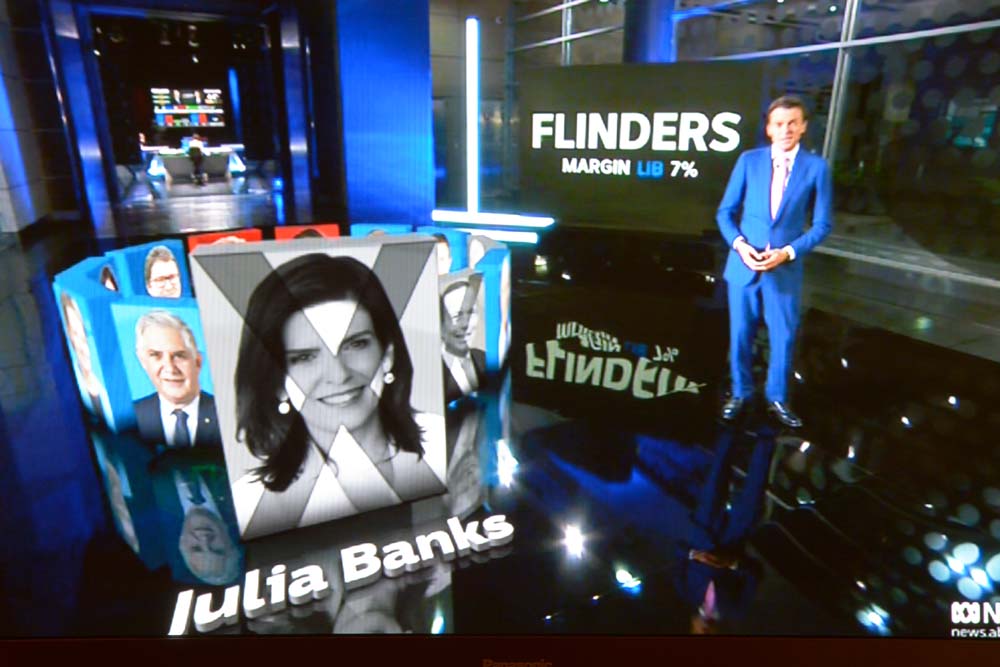 The failed leadership bid led to Scott Morrison being elected prime minister. Both Mr Dutton and Mr Hunt retained their portfolios and senior cabinet positions.
A voters' poll taken on behalf of GetUp by Lonergan accurately predicted Mr Hunt would retain Flinders, albeit with a reduced margin.
The same certainty of Mr Hunt's retention of Flinders was held by Mornington Peninsula Shire mayor Cr David Gill who, as well as issuing a statement of congratulations on Sunday, said the shire was hopeful that commitments and promises made during the election campaign would be kept.
"Commitments and promises will now be followed up by council in order to help gain the best practical outcomes for the Mornington Peninsula municipality's community," Cr Gill stated.
He said there had been "a welcome emphasis" on the peninsula's needs during the election.
Expectations were "high" that noticeable improvements would be seen in traffic safety, public transport, patient care, youth services, schools, "drought proofing" the peninsula, bike paths, environmental causes and for "the various community groups promised funding".
Mr Hunt told The News that there was "a wonderful list of projects and commitments to deliver for the peninsula … including a national centre for coasts and climate at Point Nepean, new cancer services at Rosebud and Mornington, improvements to local roads like Jetty Road, Rosebud and working with the community to oppose AGL in Crib Point."
Election commitments made by Mr Hunt include money for the Rye basketball courts; RM Hooper Pavilion; Point Leo SLSC; Somerville Bike Track; Barber Reserve; Western Port Biosphere; Hinterland Environmental Water Scheme business case; pedestrian upgrades in Balnarring; and Mt Martha North Beach.
First published in the Southern Peninsula News – 21 May 2019