SOCCER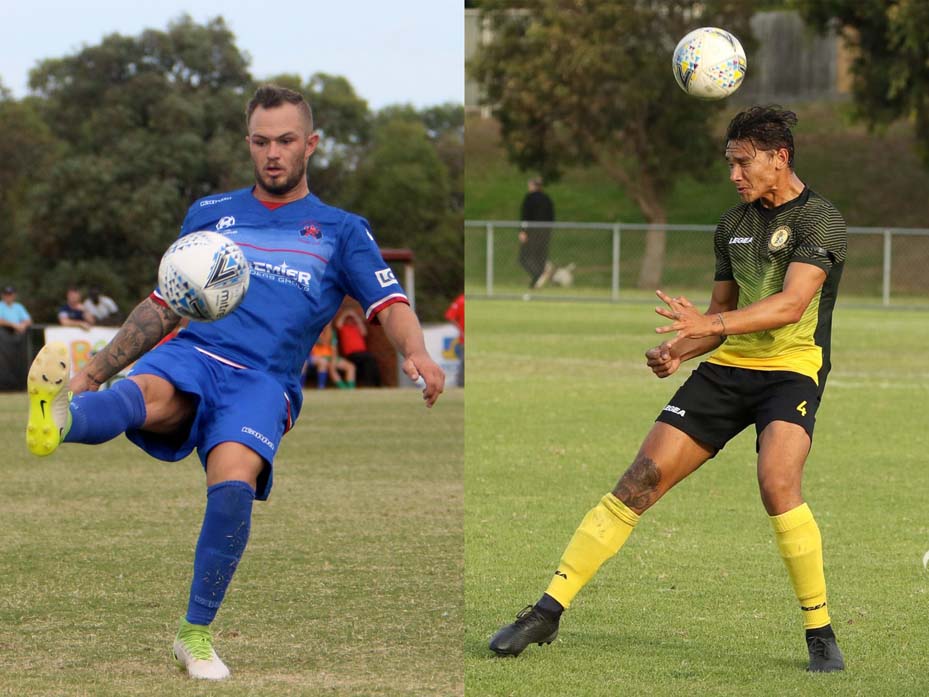 LANGWARRIN defender Luke Burgess snatched a point for the local outfit with an injury-time equaliser against Moreland City at Campbell Reserve last Saturday.
Moreland took the lead in this NPL2 clash in the 5th minute after a quick break down the right and a cutback was met first time at the near post by striker Apai Ukono whose shot was turned in almost on the line by Burgess for an own goal.
Three minutes later Moreland fans were incensed when referee Perry Mur turned down penalty appeals after Alex Van Heerwarden poleaxed an opponent inside the penalty box.
It took until the 80th minute for Langy to level with a superbly taken strike on the right of the area from attacking midfielder Jordan Templin.
Moreland's Jacob Colosimo thought he'd given the home side all three points when he evaded two opponents on the left in the 88th minute then sent in a low shot that beat Langy keeper Fraser Maclaren at the near post.
But Burgess had the last laugh when a deflected Callum Goulding shot fell to him inside the area and he thumped it into the back of the net.
In NPLW news the first significant move in the Melissa Maizels makeover of Southern United came late last week when the local club signed experienced utility player Erin Clout who made her debut in Saturday night's 2-0 loss to Geelong Galaxy United in Norlane.
Canberra-born Clout, 26, has played with Canberra FC, Gungahlin United, APIA Leichhardt and Box Hill United and is a Player Relations and Engagements Executive with Professional Footballers Australia.
Southern may make other player announcements shortly and is understood to be in talks with a defender to fill one of its visa vacancies.
Maizels has only been at the coaching helm for a fortnight but already has seen major improvement.
"The result (against Galaxy) can almost speak for itself but the improvement I've seen in the past two weeks with these girls has been nothing short of incredible," she said.
"They've been professional, dedicated and disciplined and I'm looking forward to seeing what we can achieve in the back half of the season."
Southern's under-19s drew 1-1 with Galaxy with Talia Palmer scoring for Southern.
The under-16s came back from 3-1 down to record a 4-3 win with all of Southern's goals coming from ace striker Rhys McKenna.
The under-14s won 1-0 with Rhiannon Kelleher scoring.
In State 1 news Mornington turned in its best display of the season when it strolled past Beaumaris 4-2 at Beaumaris Secondary College on Sunday evening.
Former Salford City striker Josh Hine enjoyed a mixed night with two first-half goals only to be sent off for a second caution in the 53rd minute.
Sammy Orritt completed the win with a second-half double.
In State 2 news Peninsula Strikers and Brandon Park had to settle for a share of the spoils when they drew 2-2 at Centenary Park on Saturday.
Strikers were outplayed in the first half but fought back from 1-0 down at half-time with two second-half goals within six minutes from star striker John Prescott.
The English import scored in the 67th and 73rd minutes but a superb interpassing move by Brandon Park in the 80th minute was finished in style by Jarrah Clear.
In State 3 news Skye United had super sub Daniel Attard to thank for its fourth straight win when it downed South Yarra 3-1 at Skye Recreation Reserve on Saturday.
Skye started well and was rewarded in the 7th minute when Saj Sugrim's endeavour saw him win back the ball then send in a deep cross that Mitch Blake headed home to make it 1-0.
Skye continued to dominate proceedings and only had itself to blame for not putting the game to bed early as South Yarra equalised minutes before half time.
Skye failed to clear from a corner and South Yarra's Taylor Matthews finished off a square ball to drag the visitors back into the contest.
South Yarra was denied a stonewall penalty on the hour mark as the ball clearly struck the hand of Skye defender Daniel Walsh only for the referee to ignore a chorus of appeals.
In the 68th minute Skye gaffer Phil McGuinness threw on strikers Attard and Mikey Turner and the move paid dividends.
Attard put Skye ahead in the 83rd minute when he poked home a loose ball in the box following a Marcus Anastasiou strike.
The big man then sealed the points in injury time as he finished well following a Harrison Michaelis cut back.
Frankston Pines recorded its first home win of the season when it defeated nine-man Diamond Valley United 4-1 last weekend.
Pines went into the contest without midfielder Serge Yanez who had work commitments, central defender Daniel Mota, whose wife was expecting their first child, and a trio of injured first teamers in Lewis Potter, Cedric Benza and Alex Bevacqua.
They all could be available this weekend but senior coach Kevin "Squizzy" Taylor may be an absentee after securing a ticket to next Monday's Championship play-off final at Wembley between his beloved Derby County and Aston Villa while striker Jason Bradbury is off on his honeymoon and will miss the next three matches.
Diamond Valley keeper Peter Kourkoulis kept Pines at bay with two acrobatic saves in the opening exchanges but allowed the ball to escape his grasp in the 24th minute.
Bradbury pounced but his goal-bound strike was handled by Diamond Valley's Abdelhadi Deroune leaving the referee little choice but to send him off and point to the spot.
CJ Hodgson converted with aplomb sending Kourkoulis the wrong way.
But a minute into the second half Diamond Valley hit back with a stunning break down the left and an inch-perfect cross that Will Dixon headed over Pines keeper Alfonso Cardinale to make it 1-1.
For the next 15 minutes Pines could have rewritten the manual on how to play against 10 men and look ordinary but Diamond Valley forward Marvin Masso had been booked in the first half and when he chose to throw himself on the ground when tackled he was booked for simulation and sent off.
Pines midfielder Nick Simmons sent Joe O'Connor clear down the left in the 72nd minute and his cutback gave Hodgson a tap-in and the killer blow for the visitors came in the 83rd minute when a long ball from Connor McAndrews was lobbed on the volley by O'Connor over the stranded Kourkoulis to make it 3-1.
Hodgson completed his hat-trick in the 91st minute with a low shot from the left of the area.
Finishing a match with just nine men seemed to be the order of the day at Monterey Reserve last weekend as Pines' reserves had two players sent off yet managed to record a remarkable 4-3 success.
In a bizarre contest which featured goalkeeping heroics, player indiscipline and a Diamond Valley official who thought it okay to stroll onto the pitch during a second half flashpoint and argue with Pines players it took a late Leevy Gatteck goal to separate the sides and give the home team its maiden league win of 2019.
In State 4 news Harry McCartney reports that Seaford United lost 5-3 at home to Sandown Lions in a controversial clash last weekend that saw both sides finish with nine men.
Seaford took the lead in the 10th minute after Dylan Waugh was tripped as he prepared to score and player-coach Matt Morris-Thomas converted from the spot.
Three minutes later a botched clearance from Sandown keeper Norman Vellien fell to the feet of Matthias Schwellenger and his precise lob over Vellien gave the home side a surprising 2-0 lead.
Sandown hit back with a blistering drive from Yangdow Kong in the 30th minute.
In the 42nd minute a challenge on Gatwetch Kuichloch saw him collide with the fence which incensed the visiting supporters who threatened to encroach on the pitch.
A five-minute delay followed as the referee and local officials regained control.
Right on half-time Waugh was brought down on the edge of the box and Sandown defender Tristan Contreras was sent off.
Two minutes into the second half the 10 men equalised from a headed own goal by Dean Snoxwell.
In the 50th minute a slick interpassing move by Sandown ended when Wumjock Gatluak calmly side-footed the ball past Seaford keeper Liam Swift to make it 3-2.
But Seaford substitute Mitch Lander equalised three minutes later when he was credited with the final touch after Sandown failed to clear a Morris-Thomas free-kick.
This seesawing contest again turned in Sandown's favour in the 55th minute when Seaford defender Dion Brown gave away a penalty which was converted by Masur Kuei to make it 4-3.
Seaford was reduced to 10 men when Morris-Thomas was given a second caution in the 65th minute and Sandown was reduced to nine men in the 71st minute when Yangdow Kong handled and received a second yellow card.
But Sandown went further ahead in the 81st minute when Seaford failed to clear and Wari Puoch scored with a left-foot shot from just inside the area.
Brown was sent off in injury time and his departure sparked angry scenes as a group of Sandown supporters rushed towards him as he left the pitch forcing officials and players to step in and try and restore order.
Shortly after referee Aurel Ioana blew for full time in what was one of the more difficult matches he's likely to oversee.
Meanwhile Baxter's recent run of wins ended last Saturday when it lost 2-1 at home to Noble Park United.
Baxter's Lewis Gibson was denied from the penalty spot in the first half by an excellent save from Noble Park keeper Branislav Karaga and a Bogdan Graovac goal in the 35th minute allowed the visitors to go into the break in front.
New signing Lawrence Komba from Dingley Stars equalised five minutes into the second half when he took advantage of Noble Park's inability to deal with a cross and scored from inside the six-yard box.
The pivotal moment came in the 86th minute with a controversial penalty decision and Aleksandar Djukic scored the winner from the spot.
Baxter continues to build its first team squad and signed Komba and two other players late last week.
Utility Liam Stuckenschmidt and left-sided player Ehab Hilal have joined from Frankston Pines.
In State 5 news Aspendale Stingrays recorded their biggest win of the season when they hammered visiting Bunyip District 8-1 last weekend.
Aspendale had this wrapped up when it led 4-1 at half-time and the home side's goals came from James Macnab (2), substitutes Luiz Dobre (2) and Ben Garside-Weinert, Ryan Mravljak, Sam Timuska-Carr and Adrian Pace.
This week's games:
WEDNESDAY, 7.30pm: South Melbourne v Langwarrin (Lakeside Stadium, FFA Cup round 7).
FRIDAY, 8.30pm: Springvale City v Seaford Utd (Ross Reserve pitch 1).
SATURDAY, 3pm: Mornington v St Kilda (Dallas Brooks Park), Mooroolbark v Peninsula Strikers (Esther Park), Skye Utd v Diamond Valley Utd (Skye Recreation Reserve), Elwood City v Frankston Pines (Elwood Park), Sandown Lions v Baxter (Ross Reserve pitch 2), Somerville Eagles v Hampton Park Utd (Tyabb Central Reserve), Old Mentonians v Rosebud (Mentone Grammar), Casey Panthers v Aspendale Stingrays (Prospect Hill Reserve).
SATURDAY, 3.15pm: Bayside Utd v Southern Utd (Kingston Heath Soccer Complex).
SATURDAY, 5.30pm: Geelong v Langwarrin (Stead Park).