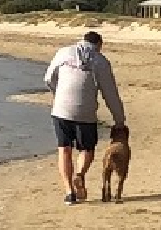 A MAN whose dog attacked a swan at Sorrento beach, 10am, Sunday 19 May, is being sought by police.
Onlookers said the man encouraged his dog to attack the swan which was later taken to a vet for treatment. He is described Caucasian and wearing a white/grey jacket and dark shorts.
Anyone who has information is urged to call Rosebud police 5986 0444.