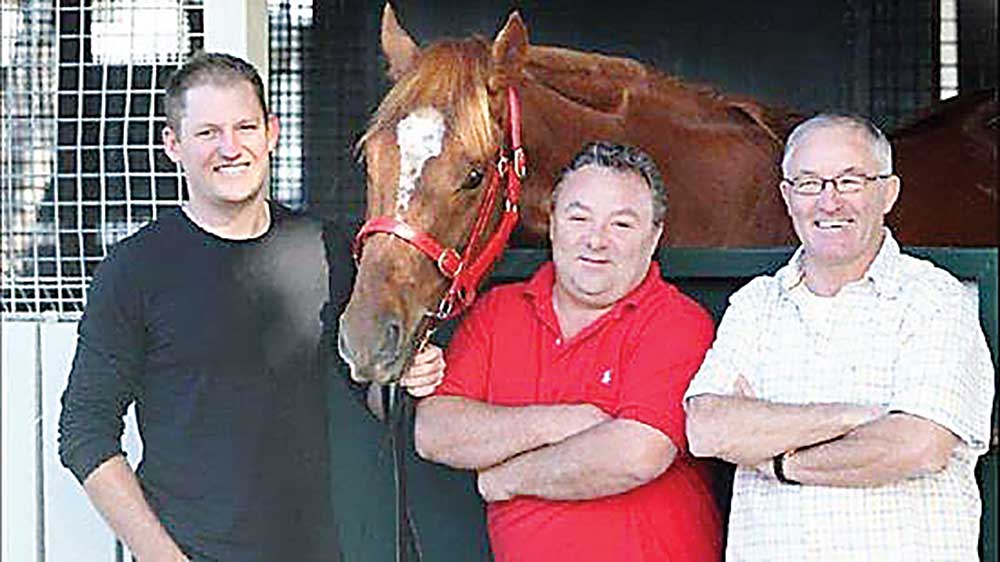 MELBOURNE Cup winning trainer John Meagher has come a long way since landing his first winner at Balnarring in 1971.
So much so that the champion trainer was inducted into the Australian Racing Hall Of Fame on Friday 17 May.
The trainer of more than 25 Group One victories including the 1985 Melbourne Cup with the Lloyd Williams-owned, What A Nuisance, and the 2000 Singapore Gold Cup with Kim's Angel, Meagher joins nine other inductees to enter the Hall Of Fame this year.
Meagher, whose two sons Chris and Daniel now train in their own right respectively at Mornington and in Singapore, has taken a step down from training the past few years but has helped oversee proceedings at his son Chris Meagher's set-up in Roberts Road, Mornington.
Meagher started out as an apprenticed jockey initially with trainer Bob Clarton in Mentone in the early-1960's before moving to Bill Murrell and George McCormick to further his skills.
Meagher kicked off his own training career in 1971 before landing his first winner with a horse called Ritzali (ridden by Alan Pickles) at Balnarring the very same year. Top sprinter Maniple was an early prolific winner for the humble horseman as he patiently began to build his reputation in the training ranks.
Jack's Doubt was another major winner for Meagher during the early part of his career as he took out the Great Southern Steeplechase at Mornington in 1972.
Meagher's first Group One training victory came with Ranger's Son in the 1983 Marlboro Cup (Sir Rupert Clarke Stakes) at Caulfield before Lloyd Williams engaged Meagher as his private trainer. Meagher continued to train for other owners as well during this period.
What A Nuisance won the first sponsored, million-dollar Melbourne Cup in 1985 for the stable, with continuing success for the partnership following in the next seven years. Drought won the 1986 Peter Pan Stakes and was narrowly beaten by Raveneux in the Victoria Derby, while Major Drive claimed the 1987 Sydney Cup for the team.
Meagher relocated his stables from Epsom to Chicquita Lodge at Flemington in 1989. Between successes were near misses in big races with imported horses including Regimental March, Shantaroun and Nayrizi.
Meagher resumed training independently in 1991 and had an early surprise winner when Connorvila took out the Grand National Hurdle at Flemington the same year. The run of success continued as Star of the Realm won the 1991 Victoria Derby and Ready To Explode won the 1991 Caulfield Guineas. Other top Meagher horses in the decade included Golden Sword (1993 Epsom and Toorak Handicaps) and Daacha (1995 Sydney Cup) among others.
Meagher also memorably trained five winners on the final day of the 1993 Flemington Spring Carnival.
Making the move in 1999, Meagher trained for 11 years over in Singapore and produced nearly 600 winners including Kim's Angel in the 2000 Singapore Gold Cup.
He returned to Australia in 2011 and established a training partnership with his sons Chris and Dan and set-up stables in both Victoria and Queensland.
It can't be understated the influence that Meagher also had in the jockey ranks as he mentored many champion jockeys with likes of Steven King, Brett Prebble and David Charles among others.
Nowadays, the true trainer keeps a keen interest in his son, Chris', stable by providing sound advice that he has obtained during his decorated career in racing.