SOCCER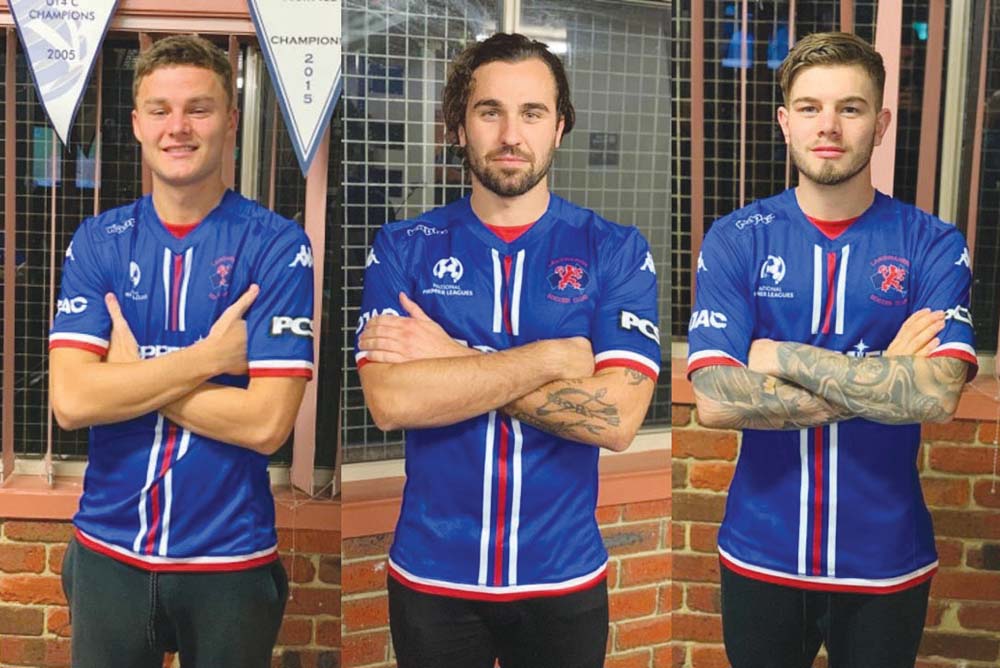 LANGWARRIN agreed terms with Lucas Portelli and Max Etheridge last weekend and they are expected to make their debuts against Brunswick City on Saturday.
Portelli is an 18-year-old central defender signed from Melbourne City and Langy tried to sign him before the start of the season.
Etheridge, 28, is a former Morwell Pegasus, Bentleigh Greens and Mornington striker and has recently finished a second stint at Kingston City.
Winger Brandon Jansz, 19, agreed terms with Langy last week.
He is a former Melbourne Victory, South Melbourne, Mornington and Peninsula Strikers player and was signed from Springvale White Eagles.
The player points system in force at NPL level forced Langwarrin to make room for their new signings so strikers Roddy Covarrubias and Johnny Kuol were released.
Both players were shocked when told as Covarrubias has been one of Langy's hardest workers this season while Kuol is a cult figure at the club due to his trademark somersault goal celebration.
Jansz made his debut in last weekend's 4-1 home loss to Whittlesea Ranges.
A long-range effort from Luke Goulding in the 12th minute opened the scoring but Whittlesea levelled through Jose Ramires five minutes before half-time and second-half goals from Jonathan Datillo (2) and Lawrence Shuruma completed the scoreline.
In NPLW news Southern United lost 7-0 to Alamein at Monterey Reserve last weekend.
Southern's under-19s lost 1-0 as did the under-16s while the under-14s won 3-0 with goals from Rhiannon Kelleher (2) and Alex Jones and the under-12s lost 2-0.
In State 1 news Mornington lost 1-0 at home against big-spending Nunawading City on Saturday.
Adam Jamieson's side was dealt a bodyblow when Sam Scott suffered a fractured fibula and ankle and had to be replaced by Chris McKenna after 24 minutes.
Mornington will hold a mid-season review after its next match against Eltham Redbacks in a fortnight and may reset its goals for the remainder of the season.
In State 2 news Peninsula Strikers lost 2-0 at home to North Caulfield on Sunday.
Strikers went into the match without suspended midfielder Grant Lane and Jon Guthrie who is recovering from a medial ligament strain while big Michael Hoogendyk was on the bench as he had battled flu throughout the previous week.
A combination of poor finishing and remarkable reflex saves from North Caulfield keeper Sam Quinn kept Strikers at bay.
Big John Prescott could have had five or six goals to his name while Anton Vulic couldn't hit the target when Prescott sent him through in the 30th minute with just Quinn to beat.
North Caulfield player-coach Ariel Rix was sent off from the technical area four minutes into the second half after persistently complaining about refereeing decisions.
His departure was greeted with a chorus of derisory laughter from home fans but the visitors were to have the last laugh.
Strikers soon discovered that their first-half profligacy in front of goal was to continue throughout the second period.
Hoogendyk and Matt Harrington came off the bench in the 65th minute with Harrington causing problems for North Caulfield down Strikers' right flank and he twice set up Prescott to no avail.
In the 78th minute Hoogendyk's shot was blocked, Harrington's shot from the rebound was blocked and when the ball fell to Jordan Avraham on the left he struck a low drive that flashed just wide of the far post.
Just when it seemed that we were destined for a scoreless draw the visitors struck.
Strikers had the ball in the back of the net in the 81st minute only to be denied by the linesman's flag.
North Caulfield quickly took the resultant free-kick and within seconds Benji Schneider was scooting down the right wing and his square ball across the face of goal was met by a sliding Shayan Missaghi for the opener.
Four minutes later Joshua Hodes reacted quickest to a scramble inside the Strikers' area and poked the ball past Strikers' keeper Colin McCormack to make it 2-0.
There was no way back now for the home side.
In State 3 news Skye United earned bragging rights and stretched its winning streak to six games with a 2-0 win over Frankston Pines at Monterey Reserve last Friday night.
The bizarre elements of this match involved a half-time streaker and a second-half delay while someone left the ground to ask the driver sitting in his car parked directly behind the Pines goals to turn off high beam.
Goodness knows what would have happened had the driver exercised their right to refuse the request.
But there was some football played and Pines fashioned the first good chance after three minutes when CJ Hodgson squared the ball to Meron Negassi inside the area and his first-time shot was parried by Skye keeper Jonathan Crook.
The opening goal came in the 12th minute when Skye broke quickly down the right and Mikey Turner played in big Daniel Attard whose first-time sidefoot was angled wide of Pines keeper Alfonso Cardinale.
In the 24th minute Jason Nowakowksi was put through on the right of the area and his cutback was met at the back post by the incoming Mitch Blake for a tap-in and a hammer blow to the home team's hopes from which it never recovered.
Three minutes later Blake should have put Pines out of its misery but he blasted high and wide with just Cardinale to beat.
But the miss-of-the-night award went to wee Turner after Attard put him through in the 63rd minute and the Scottish striker had his first attempt parried by Cardinale then ran onto the rebound and faced with an unguarded goal did the difficult thing by missing the target.
Pines went into the match without experienced defender Daniel Mota who was ill, midfielder Serge Yanez was unavailable while striker Jason Bradbury is still on his honeymoon.
Skye midfielder Jack Gallagher is overseas but new signing Alex Rojas came off the bench in the second half and the former Northcote City, Dandenong City and South Springvale midfielder could play a vital role in the club's promotion push.
Midfielder Marcus Collier continues his rehab from ACL surgery and is expected to be back in action in six to eight weeks.
In State 4 news Baxter lost 5-1 at home to Seaford United last weekend.
Baxter went into this clash undermanned and its cause was all but lost after 14 minutes when both central defenders had to be substituted.
Matt McDermott suffered a broken eye socket in a head clash in the 10th minute and Izaak Barr's hamstring injury ended his involvement four minutes later.
Barr was unlucky as the referee didn't see the linesman flagging for offside and play continued forcing Barr to stretch out to block a shot heading for goal resulting in his injury.
Dylan Waugh opened Seaford's account in the 19th minute when he was put through and shielded the ball well on the left of the area before neatly clipping it past advancing Baxter keeper James Foster and into the far corner of goal.
Foster stopped Seaford ending this as a contest in the first 45 minutes but he couldn't stop a low Nic Ormond volley from just inside the area in the 56th minute after Baxter twice failed to clear properly.
Seaford player-coach Matt Morris-Thomas replaced injured Waugh early in the second period and he headed in to make it 3-0 in the 68th minute then rounded Foster for a tap-in four minutes later.
In the 74th minute Seaford keeper James Madafferi stopped Nat Daher from converting Baxter's best chance but in the 83rd minute Lewis Gibson threaded the eye of the needle with a drive from the right of the area when Madafferi had anticipated a cross.
Foster lost possession after diving low to stop a Morris-Thomas shot a minute later and Matthais Schwellinger strolled into goal to make it 5-1.
In State 5 news Somerville missed a host of chances but kept its promotion chase on course with a 2-1 home win over Bunyip District last weekend.
Ben Meiklem and Mark Pagliarulo scored for Somerville.
Rosebud won 2-1 away against Hampton Park United with Chris Parry and Mike Durrance scoring for Rosebud while Aspendale's goals in its 4-2 home loss to Endeavour Hills Fire came from Kenan Nuhanovic and Ben Garside Weinert.
This weekend is a catch-up round for State League sides while there is a full NPL program for both men and women.
There are just four matches featuring local clubs:
This week's games:
Brunswick City v Langwarrin (Dunstan Reserve), Calder Utd v Southern Utd (Keilor Park Recreation Reserve), Brighton v Skye Utd (Dendy Park, pitch 5), Rosebud v Somerville Eagles (Olympic Park).