SOCCER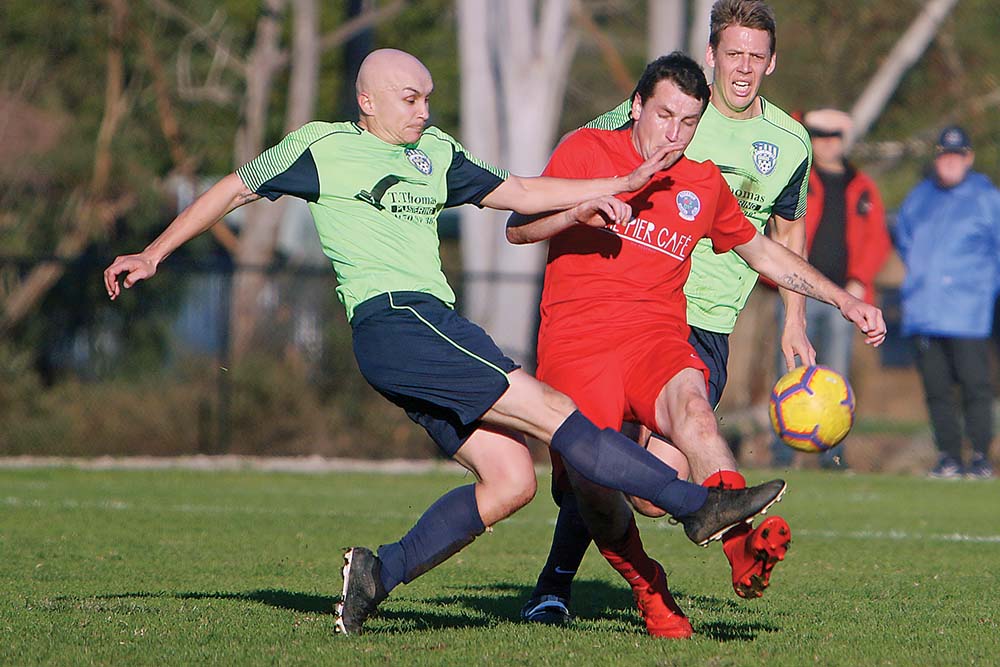 SOMERVILLE Eagles took a firm grip of second place in State 5 South after Saturday's 4-2 away win over local rival Rosebud.
The result leaves Somerville five points clear of third-placed Tullamarine but this definitely wasn't one for the purists as both sides seemed hellbent on giving the ball away as often as possible.
However some comical Somerville defending and the aerial frailty of Rosebud keeper James Cinar brought some uncertainty to the outcome and Rosebud deserves credit for its competitiveness against its much vaunted opponent.
Rosebud coach Pat Sabatino had a simple and effective plan of attacking the visitors on the break by exploiting the pace of Chris Parry in particular.
Conventional wisdom would have us believe that Rosebud was incapable of standing up to the attacking prowess of Somerville player-coach Dave Greening and strike partner Mark Pagliarulo but the visitors realised they were in for a contest after eight minutes when Rosebud went 1-0 up.
Rosebud's best player, central defender Ben Gamble, struck a powerful low free-kick from outside the area on the right sending the ball flashing past Brown and inside the far post.
A portent of the troubles Cinar was to face came in the 19th minute when he watched an inswinging Greening corner being headed off the line by Gamble and five minutes later a glancing header from Carlo Cardoso went in off the far post to make it 1-1.
In the 27th minute another inswinging Greening corner was headed in by big Daniel Hodge under little challenge and just a metre off the goal line and Somerville never relinquished that lead.
Three minutes later Rosebud's Mike Durrance broke clear only to volley over and five minutes later another Gamble thunderbolt was deflected onto the near post and bounced clear.
Cinar did well to parry a Greening shot in the 39th minute but he was completely lost three minutes later when Ben Meiklem swung onto his favoured left foot and curled in a cross that sailed over Cinar's head to make it 3-1.
It seemed that Somerville was well in control but a minute into the second half a mix-up involving James McKenzie and Brown allowed Parry to make it 3-2.
Shortly after McKenzie and Brown gave an encore performance but the Somerville bench wasn't applauding.
Assistant coach Stan Packer let Brown know how he felt in clear and unambiguous terms and Brown's response was both animated and colourful.
But there was a small matter of three points at stake here and they were precious if the visitors were to maintain their promotion push.
Pagliarulo should have scored in the 73rd minute when he broke through into a one-on-one but struck his attempt straight at Cinar who was able to parry then gather.
Four minutes later Callum Richardson played an excellent first-time through ball to Greening motoring down the right and his stunning finish from just inside the area settled the issue.
Somerville may well win promotion this season in fact it still entertains hopes of clawing back Old Mentonians in the title race but if it succeeds it will have performed at a far higher level than it did in this match.
As for Rosebud it remains on course to cement its status in State 5 in its first season back at this level of competition.
In NPL2 news Langwarrin lost 1-0 away to Brunswick City on Saturday and may now be too far behind the league pacesetters to vie for promotion.
It increasingly looks likely that staying in the top six and preserving its status in the second tier of Victoria's elite club competition will be Langy's focus for the remainder of the season as there now is just a four-point buffer between the Lawton Park outfit and the seventh-placed side.
Brunswick should have hit the front after four minutes when Luke Burgess was dispossessed by Nate Foster and his ball across the face of goal was slammed over the bar from point-blank range by Matthew Murphy.
The decisive moment for Brunswick came four minutes later when Murphy skipped clear of Jaiden Madafferi down the right and played the ball into the area on the bounce where Riki Hosoai headed past Langy keeper Fraser Maclaren for the only goal of the contest.
For the most part Langy huffed and puffed but lacked a cutting edge and was only able to amass a handful of shots on target.
Evidence of its impotence in attack came in the 75th minute when defender Burgess got onto its best chance only to lose his balance and shoot wide from 10 metres.
Langy talisman Wayne Wallace was in England on family matters but is due back this week and there's no doubting his importance and influence on his team.
In NPLW news Southern United lost 8-0 away to Calder United on Saturday.
Southern coach Melissa Maizels was pleased with her team's performance against the runaway league leader drawing a comparison with the previous clash between the sides.
"I'm not going to focus on the result today because the performance from the girls against the calibre of players Calder have was nothing short of inspirational," she said.
"But I'd be doing the girls a disservice to not acknowledge the fact they turned a 17-0 defeat in round 1 into an 8-0 defeat this time around. The character and attitude of these girls are unrivalled."
In State 3 news Skye United made it seven wins in a row with an emphatic 5-2 away win over fourth placed Brighton last weekend.
Skye dominated early proceedings and was rewarded in the 38th minute when Mark O'Connor's through ball found Daniel Attard whose attempt was parried by Brighton keeper Damien McDade and Mo Elhassan was on hand to smash the ball into the unguarded goal.
Minutes before half time O'Connor doubled the lead as he buried his chance when an indirect free kick was touched off to him giving the visitors a two-goal buffer at the break.
Three minutes into the second half Mitch Blake got in on the act and finished off a well-worked move to make it 3-0.
In the 62nd minute Attard was dragged down in the box and Daniel Walsh stepped up to make it 4-0 from the spot.
However, Brighton applied some late pressure as Seamus Mulcahy (80th) and Dave Nicholas (87th) gave the hosts a lifeline.
But new Skye signing Maxim Avram from Brandon Park came off the bench and ensured that Skye claimed all three points after a smart turn and finish in the 93rd minute following some fine build-up play from Harrison Michaelis.
The result leaves Skye in third place just two points behind Whitehorse United with a game in hand.
That match is against Whitehorse and is currently scheduled for Tuesday 9 July at Skye Recreation Reserve.
Meanwhile Frankston Pines is zeroing in on the signatures of midfielder Alex Whyte from Langwarrin and utility player Max Boulton from Casey Comets.
Whyte held talks with Peninsula Strikers last week but Pines coach Kevin "Squizzy" Taylor knows Whyte well from last season at Langwarrin and is trying hard to lure the youngster to Monterey Reserve.
Taylor also rates Boulton highly and the versatile youngster could prove a valuable addition to the senior squad.
In State 4 news Baxter has signed Joe Iline from Pines.
Iline is a former Doveton and Baxter player who returns to Baxter Park at a time that the senior squad is hit by injury with Matt McDermott's broken eye socket likely to sideline him for the next four weeks while Izaak Barr (hamstring) could be out for another fortnight.
Baxter had last weekend off and the break helped midfielders Stuart McKenzie and Dan Disseldorp to recover from their injuries.
Striker Nathan Yole is still out with a back injury while attacking midfielder Nat Daher (hamstring) will be tested this week.
Midfielder Charlie Jones (hamstring) is expected back at training this week.
This weekend's games:
FRIDAY, 8.30pm: Frankston Pines v Middle Park (Monterey Reserve), Springvale City v Baxter (Ross Reserve).
SATURDAY, 3pm: Eltham v Mornington (Eltham North Reserve), South Springvale v Peninsula Strikers (Warner Reserve), Monash Uni v Skye Utd (Monash University Playing Fields), Seaford Utd v Chelsea (Seaford North Reserve), Pakenham Utd v Rosebud (IYU Recreation Reserve), Knox Utd v Aspendale Stingrays (Park Ridge Reserve), Casey Panthers v Somerville (Prospect Hill Reserve).
SATURDAY, 8.30pm: Melbourne City v Langwarrin (Veneto Club).
SUNDAY, 4pm: Senior NTC v Southern Utd (Knox Regional Centre).