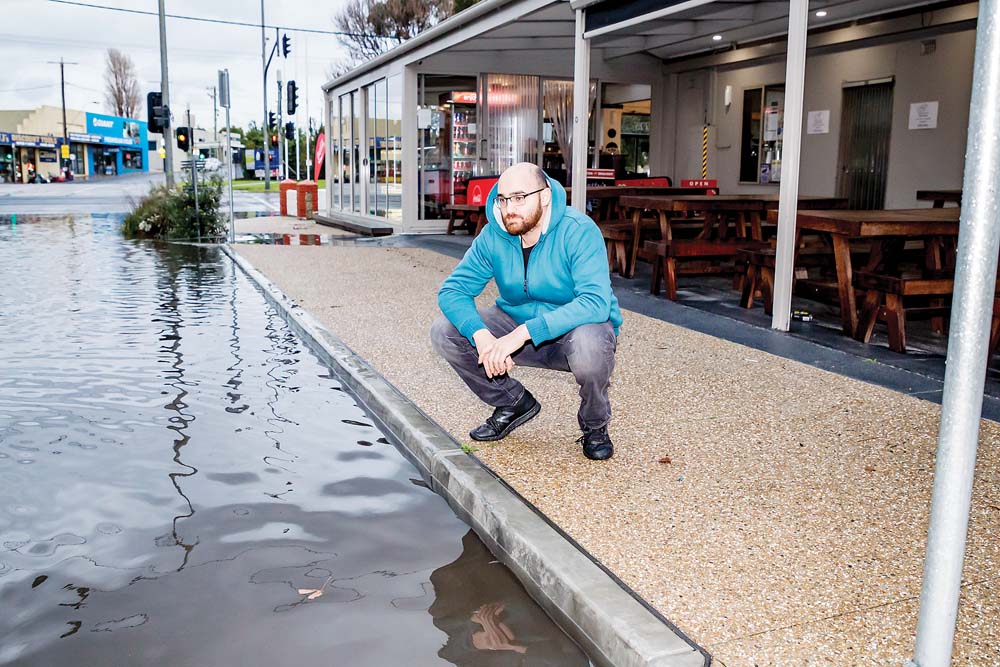 FLOODED footpaths and overflowing gutters after heavy rains like we had last week in Point Nepean Road, Rosebud, are bad for business.
Traders on the usually busy strip have been hit hard – prompting them to urge Mornington Peninsula Shire Council to fix the drains so that the excess water can escape.
Jetty Pizza and Baro Mediterranean Restaurant proprietors Amer and Bahaa Jamal Eddine have circulated a petition calling on the council to ensure a quick fix – especially at the intersection of Jetty Road and Point Nepean Road.
"We business owners are urging the council to fix this drainage issue immediately as it is extremely bad for business," Bahaa Jamal Eddine said.
"Both Jetty's Pizza and Baro have had reservations not turn up in the evenings due to the flooding at this intersection.
"Elderly people, especially, are put off by the floods although it is an issue for everybody, not just the elderly.
"It's a big put-off to have to drive through flood water to patronise a business: who would risk that in order just to eat?"
Mr Jamal Eddine said the SES and government services advised motorists not to drive through flood waters. "This is effectively recommending they not patronise our business when it rains – on days like 12 and 18 June," he said.
"We do not need more reasons for people to avoid visiting our shops in the depths of winter when many local businesses struggle regardless of this additional handicap. This is a weekly occurrence during winter."
Mr Jamal Eddine said he had called the council "multiple times" to complain. "They promise to send a sewage team to assess the situation and get back to me, but this has not been followed up by council employees," he said.
"Inadequate sewerage run-off points are the cause of the problem as even when the sewer is cleaned this issue persists."
First published in the Southern Peninsula News – 25 June 2019