Stephen Taylor and Keith Platt
AN uneasy truce has been declared over the issues of planning and operating permits for businesses within the Tyabb Airfield precinct.
Talks last week between Mornington Peninsula Shire and Peninsula Aero Club resulted in both sides agreeing to co-operate on "a reasonable set of working arrangements to be included in the airfield master plan by the end of September".
The shire will contact businesses outlining how they obtain the necessary operating permits.
Details about the lack of permits are contained in a report compiled by a Queen's Counsel appointed by the shire in May.
The findings of the report led to the shire issuing an order on Monday 3 June which virtually shut down the airport and its ancillary businesses.
The businesses have now been told they can resume work and the airfield is also back to operating as normal.
"It was a start – we talked," aero club president Jack Vevers said after last week's talks at the shire's Rosebud headquarters with CEO John Baker, planning director David Bergin and Cr Julie Morris.
Mr Baker issued a statement saying, "the council want to ensure a healthy and vibrant Tyabb Airfield into the future".
"An enforceable master plan linked to updated planning permit approvals for the precinct is essential. This will ensure the appropriate use and development of the authorised landing ground, while improving the amenity of residents now and in the future."
The mayor Cr David Gill, who also stresses that the shire does not want to close the airfield, sees problems being caused by people at the airfield "having this sense of entitlement. If they have permits, where are they? It's nonsense".
"Everybody needs to operate on a fair and equal basis. It's just rubbish about [council] wanting to close the airfield," he said.
"It seems like there are some there that do not believe they needed permits to operate. It's a private airfield with a private aero club.
"The airfield is not-for-profit but there are normal, for-profit businesses operating there.
"It will be interesting to see how this pans out; the aero club is definitely winning the publicity war at the moment.
"But, in the end, it will all come out."
Cr Gill said council officers had been subjected to pressure from "ex-CEOs, government ministers and departmental heads".
He said that one minister had offered to help pay for a master plan "but they don't want us to administer it".
Mr Vevers said it was time to "turn the talk into action".
"To be honest, we are still trying to understand what the issues are – we are waiting for evidence that we have done anything wrong."
Mr Vevers says he "can't answer for the other businesses" but insists the airfield has "all relevant permits for open dates and times, permits for the helipad, taxi ways, infrastructure, including the clubhouse, and operation of the flying school".
"Also, we have existing use rights anyway as we have been here almost 60 years."
Mr Vevers said the uncertainty was jeopardising the prospects of 12 on-site businesses – and up to 100 jobs in plane maintenance and repair, restoration, engine manufacturer, and import-and-sales, which he said all have Civil Aviation Safety Authority (CASA) approvals. A nearby motel is also said to be suffering.
"These are generational businesses," Mr Vevers said. "One has been pushed almost to the brink."
Mr Vevers said the conflict had "put at risk" many of the Peninsula Aero Club's community activities, such as the Tyabb Air Show in March, as well as the fun flights in October in aid of sick children and the toy run in the lead up to Christmas.
"These probably won't be happening," he said.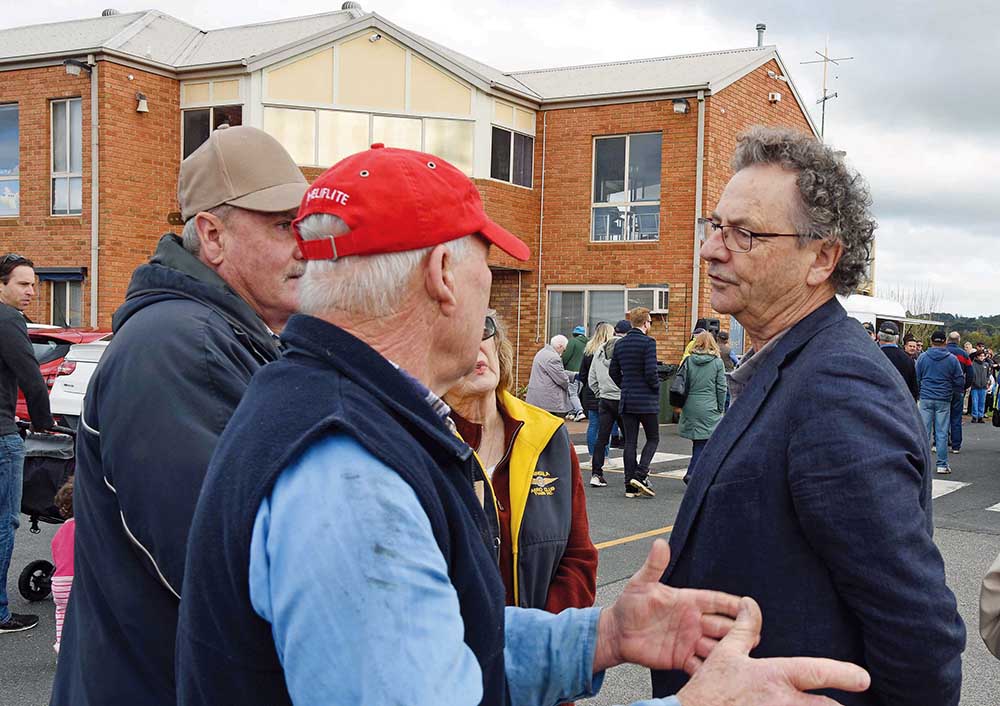 Mayor's 'unwelcome' airfield arrival
MORNINGTON Peninsula Shire mayor Cr David Gill drew some angry responses when he attended an "open day" at Tyabb Airfield over the 15-16 June weekend.
Not one to avoid confrontation or debateable issues, Cr Gill told The News: "I set myself up beautifully; I did it deliberately."
Peninsula Aero Club president Jack Vevers said Cr Gill was "ill-prepared and not across the issues".
"I challenged him [on being at the airfield] and he said it was fun. I said it wasn't fun and that people's jobs were at risk."
According to one airfield supporter, up to 16,000 signatures had by Monday been added to an online petition protesting at the shire's "attack on the airport and those employed there".