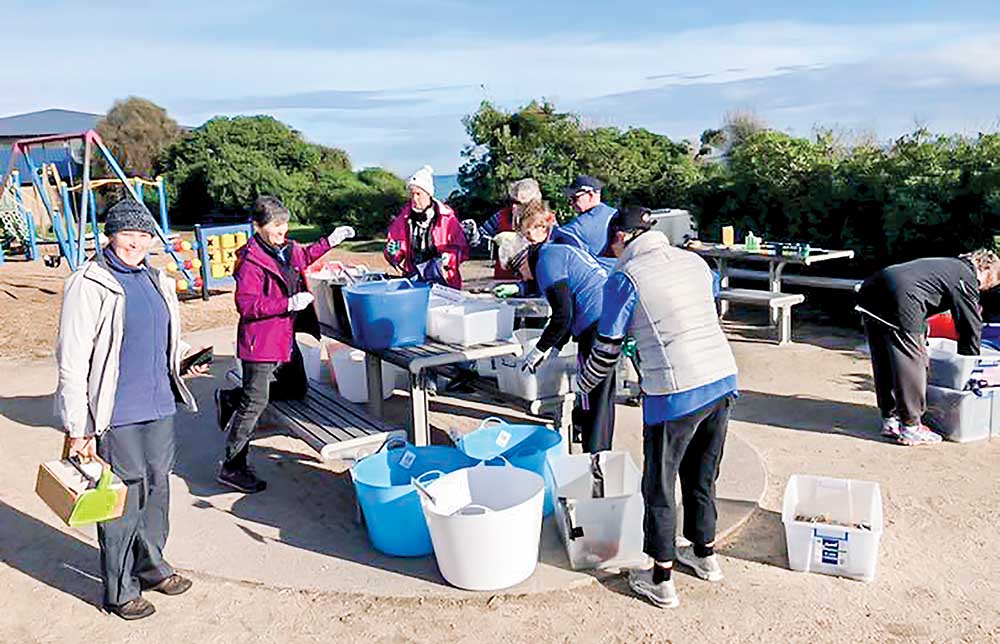 BEACH Patrol Safety Beach/Dromana members had fine weather for their recent clean up, Sunday 16 June.
About 24 volunteers turned out to pick micro plastics from the seaweed and the usual cigarette butts and general plastics off the foreshore.
In all, they collected 2401 pieces of plastic plus 38kg of general rubbish.
Big hitters were 790 cigarette butts and 750 wrappers and packages. Other items included 12 plastic bottles, 16 plastic cups, 16 glass bottles, 24 cans, 76 pieces of broken glass, 16 coffee cups, 45 plastic bottle caps, 30 metal bottle caps, 93 small hard plastics, 36 large hard plastics, 122 straws, 138 fishing lines, 32 pieces of polystyrene, seven pieces of cardboard, 194 plastic bags, five utensils, and eight "strange and unusual" pieces.
Tracking litter
ABOUT 95 per cent of the litter found along the shores of Port Phillip comes from suburban streets, with about 350,000 cigarette butts washing into the bay every year.
A Melbourne Water and RMIT University project called the Litter Trackers project aims to track litter from its source to where it ends up. This will involve university scientists working with schools and community groups to deploy 100 GPS-tracked bottles from 20 locations across Melbourne's catchments to reveal how litter makes its way from streets onto beaches.
Measures can then be put in place to restrict the flow of litter.
Litter and waterwatch coordinator Naomi Dart says Litter Trackers is a good learning tool for students and the wider community. "People often don't realise that the rubbish they drop in their suburban street ends up right here in our rivers and streams carried by stormwater through our waterways.
The Litter Tracker technology shows us this in real time."