SOCCER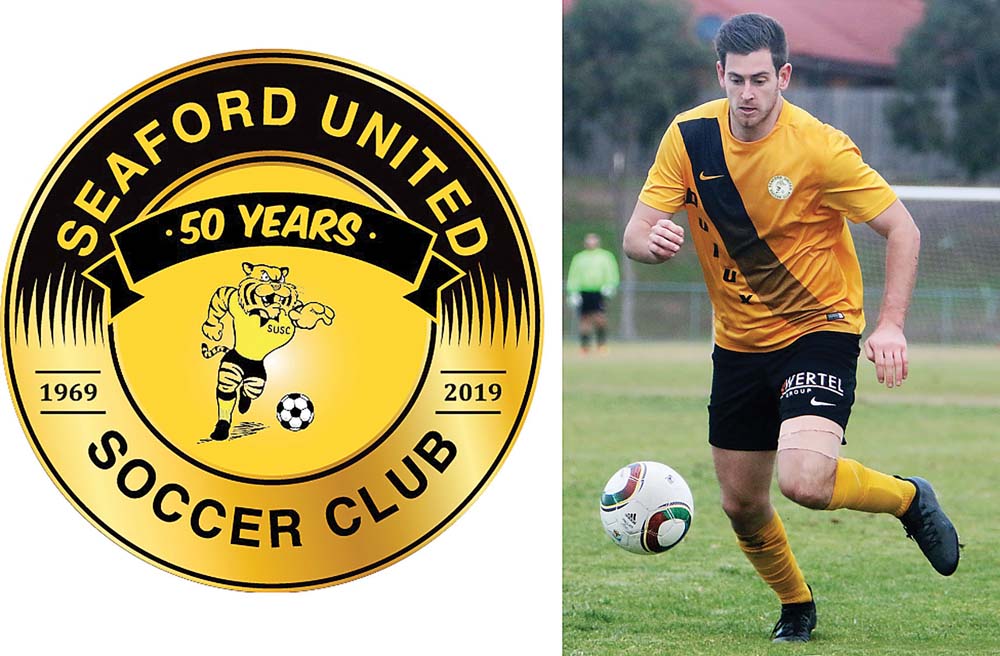 A STUNNING performance from Seaford striker Dylan Waugh highlighted last weekend's round of matches.
The gun forward scored all of Seaford's goals in a 5-1 trouncing of FC Noble Hurricanes at North Seaford Reserve on Saturday.
Harry McCartney reports that the Waugh onslaught started after just five minutes when he won a 50/50 challenge with the last Hurricanes defender then easily sidefooted the ball home.
Seaford dominated the first half but had to wait until the 39th minute to gain reward for its efforts when Waugh pounced on a bouncing ball and delicately tapped it over the head of Hurricanes keeper Andrea Stoilovic to make it 2-0.
But two minutes later the visitors hit back when Nicholas Phaedonas got a toe to the ball in a crowded box to keep them in the hunt.
Waugh gave Seaford breathing space and notched his hat-trick in the 54th minute when he was given time to unleash a 25-metre drive into the top corner leaving Stoilovic fuming with his defence.
Stoilovic added to his frustration three minutes later when he misjudged a free-kick and Waugh caught out the flat-footed Hurricanes defence to make it 4-1.
When Mitch Lander was brought down inside the area in the 62nd minute there was little doubt about who would take the resultant penalty and Waugh didn't disappoint as he slotted home his fifth to complete an impressive day at the office for the big man.
Things for the visitors went from bad to worse in the 87th minute when substitute Erik Pulo was sent off.
In NPL news Langwarrin strolled to a comfortable 4-0 win over Springvale White Eagles at Lawton Park on Saturday without midfielder Wayne Wallace who was rested or defenders Luke Burgess and Jamie Cumming who were suspended.
Lucas Portelli opened the scoring in the 13th minute when he was at the near post to head home a Jordan Templin free kick from the left.
A superb move down the right involving Damir Stoilovic and Callum Goulding ended with the latter cutting the ball back to Thomas Ahmadzai whose shot was touched in by John Baird to make it 2-0 four minutes from half-time.
In the 71st minute Brandon Jansz played in substitute David Stirton whose strike across the face of goal was tapped in by Stoilovic putting his former club out of the contest.
A good day's work was completed two minutes later when an extravagant Stoilovic lay-off was volleyed home by Goulding in superb style.
In NPLW news Southern United lost 3-0 to Geelong Galaxy United at Monterey Reserve last weekend.
Southern's under-19s won 4-1 with goals from Sita Karimi (2) and Talia Palmer (2) while the under-16s drew 3-3 with Rhys McKenna (2) and Sage Kirby scoring for Southern and Tanysha Hogan named player of the match.
The under-14s won 1-0 thanks to Chiara Renzeme's first goal of the season and a player of the match performance from South Melbourne recruit Ellena Zissis.
Meanwhile the reputation of former Langwarrin junior Alana Murphy continues to grow after the gifted teenager was named player of the tournament at the under-15 national championships at Coffs Harbour last week.
The 13-year-old has been involved with Victoria's National Training Centre program for the past few seasons and was used both in midfield and up front by Victoria to showcase her talents with junior Matildas coach Rae Dower a keen onlooker.
In State 1 news Mornington lost 2-1 at home to Caulfield United Zebras last weekend.
The home side was set back on its heels with two Caulfield goals in the opening 20 minutes, the first a low left-foot shot from Cory Kibler-Melby and the second an own goal from defender Charlie Parker.
Mornington hit back in the 30th minute when Sam Luxford was at the back post to finish from a Craig Smart free kick and despite long periods of the second half played inside Mornington's attacking half it couldn't break down Caulfield's resistance.
Striker Josh Hine has returned to England for three weeks but Scottish striker Liam Baxter came off the bench for his first appearance sign rejoining Mornington a fortnight ago.
In State 2 news a controversial finish marred the 2-2 draw between Doncaster Rovers and Peninsula Strikers at Anderson Park on Friday night.
Goals by Michael Hoogendyk and Matt Harrington gave Strikers a 2-0 lead after 55 minutes but Abdirahman Ahmed reduced the deficit in the 65th minute.
In the 90th minute a hotly contested penalty decision gave Sayed Hussain the chance to level the scores and he made no mistake from the spot.
Strikers keeper Colin McCormack and Hussain were involved in a clash straight after the penalty had been taken and after an intervention by the linesman McCormack was red carded.
In State 3 news Skye United hammered cellar dwellers Middle Park 5-1 at Albert Park on Saturday.
Skye kicked off proceedings in the 7th minute when Daniel Attard's switch sent Marcus Anastasiou clear, and the youngster rounded Middle Park custodian Fadi Qunqar and finished into an unguarded goal.
Mitch Blake doubled the lead in the 27th minute when he got on the end of a Saj Sugrim cross from the left.
The second half was much of the same as Skye dominated and when Mark O'Connor sent Attard clear in the 58th minute the big man put the ball into the top corner.
Skye won possession straight from the restart and Attard sent Blake clear who rounded the keeper to make it 4-0.
Substitute Michael Turner was brought down inside the box in the 77th minute and Daniel Walsh made it 5-0.
Middle Park's consolation goal came in the 90th minute when the ball was bundled over the goal line.
Skye reserves coach Liam George resigned last week for personal reasons not connected to the club.
He was in his fourth season at the helm.
State 3 rival Frankston Pines led twice but had to settle for a 2-2 draw with Brighton at Monterey Reserve on Friday night.
Three late goals in six minutes had spectators glued to the action and left Pines ruing the one that got away.
It took a special strike from 18-year-old Pines central defender Aiden McKenna to break the deadlock in the 55th minute.
Brighton failed to clear properly following a corner and Bailey Atkinson touched the ball off to McKenna outside the box and he curled a stunning left-foot strike into the top far corner.
In the 85th minute a superb ball in from the right was headed home from point-blank range by Brighton substitute Nick Bale to make it 1-1.
Five minutes later Travis Ernsdoerfer's commitment and perseverance saw him block the ball then chase it down and just keep it in play wide on the left.
He checked back inside then sent over a near post cross that was touched in by Kevin Brown for what looked like the winner.
A minute later Pines' players and bench were in dismay when Kia Walsh made it 2-2 from close range.
Striker Jason Bradbury has left Pines and joined Queensland NPL club Sunshine Coast Fire. He had switched to Pines from Mornington during the off-season.
In State 4 news Baxter lost 3-2 at home to Endeavour United last weekend.
Endeavour hit the front in the 8th minute when Ifeoluwa Ogidan got free on the left of the area and finished superbly past Baxter keeper James Foster.
Two minutes later Charlie Jones scored with a well-taken strike after Endeavour failed to clear a Baxter corner.
But the visitors took a 2-1 lead into the interval after a Foster mistake gifted a goal to Ahmed Tabbara.
A superb Stuart McKenzie header in the 50th minute made it 2-2 but Baxter was caught square at the back 10 minutes later and Ogidan made it pay dearly when he broke clear and neatly slotted the ball past the advancing Foster for what proved to be the winner.
A bizarre moment arrived in the 69th minute when Endeavour's Harry Herouvim was red carded.
He'd been booked minutes earlier after scything down Nat Daher and when he decided to grab the flag and fling it out of his way as he prepared to take a corner the referee sprang to the flag's defence with a second caution.
Daher too was given his marching orders after a second caution in the 82nd minute.
In State 5 news Somerville Eagles inflicted Tullamarine's first home defeat of the season with a 3-1 win on Saturday.
The Eagles did the double against Tulla and no prizes for guessing who opened the scoring.
A brilliant through ball from Mark Pagliarulo in the 13th minute was clinically despatched by Dave Greening for his 50th goal for the club and his 300th in Australia.
With half-time looming a wind-assisted free-kick wasn't cleared and substitute Ugur Erdem poked the ball home for the equaliser.
In the 53rd minute Pagliarulo found some space and fired an unstoppable drive past the keeper before celebrating in style after being subjected to a torrent of abuse.
In the 66th minute Callum Richardson grabbed his fifth goal in three games with a superb strike that went in off the post after good work by Pagliarulo and Ben Meiklem.
Tulla's Benan Kuzucu and Somerville's Eric Manhanong were both sent off in injury time.
Aspendale Stingrays went down 3-1 at home to White Star Dandenong last weekend with Anthony Segavac scoring for the Stingrays.
Aspendale's best were Peter Dimopoulos, Patrick Diakogeorgiou and Sonny Lindsay.
This weekend's games:
SATURDAY, 3pm: Southern Utd v Bayside Utd (Monterey Reserve; under-12s 9am, under-14s 10.10am, under-16s 11.30am, under-19s 1pm), Mornington v Warragul Utd (Dallas Brooks Park), Bayside Argonauts v Skye Utd (Shipston Reserve), South Yarra v Frankston Pines (Fawkner Park South), Keysborough v Seaford Utd (Coomoora Reserve), FC Noble Hurricanes v Baxter (Alex Nelson Reserve), Somerville Eagles v Aspendale Stingrays (Tyabb Central Reserve), Rosebud v White Star Dandenong (Olympic Park).
SATURDAY, 3.15pm: Box Hill Utd v Langwarrin (Wembley Park).
SATURDAY, 7pm: Heatherton Utd v Peninsula Strikers (Bosnia and Herzegovina Centre).