DIVISION TWO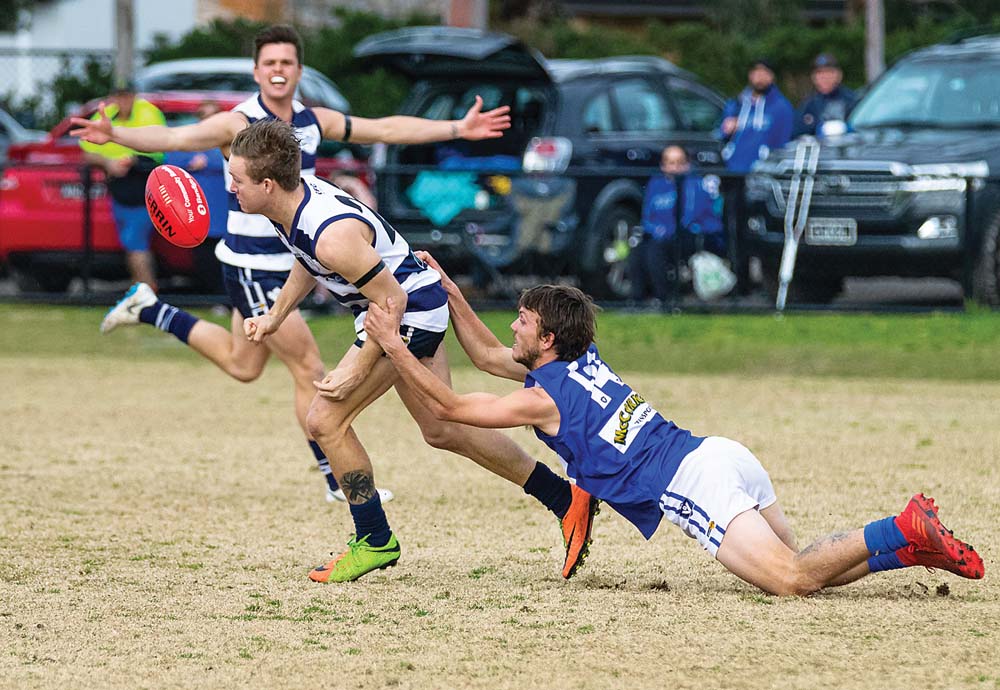 KARINGAL have suffered their second loss for the year after a shock defeat against Langwarrin.
The ladder leading Bulls were put on the back foot early by the Kangaroos. A strong first half performance saw Langwarrin hop out to a 17 point lead by half time.
Karingal maintained pressure in the third quarter, but couldn't close the gap enough to threaten Langwarrin. The Kangaroos were impressive all day and eventually secured a much deserved win.
Langwarrin messed with the Bulls, and took them by the horns. The final score read Langwarrin 14.16 (100) to Karingal 10.8 (68).
Marc Holt was held scoreless, which played a big part in Langwarrin getting the win. He has nine goals in his last five games. He scored 29 in his first five games of the year.
Red Hill were able to get back to top of the ladder after defeating Rye at Red Hill Recreation Reserve.
Rye struggled all afternoon, as Red Hill put on yet another defensive masterclass. The Demons were held to just two goals all day.
Zach Vnes doubled Rye's score on his own, booting five goals for the Hillmen. They claimed the victory 15.7 (97) to 2.3 (15).
At Chelsea Reserve, the Chelsea claimed an entertaining win over Hastings.
Brendan Fevola played in a rare away game for the Blues, but he was upstaged by Chelsea talisman Curtis Bywater. Fevola booted five goals for the Blues, but Bywater had a mammoth haul of nine goals.
Both sides traded blows all day, and Hastings went into the final term up by eight. A seven goals final quarter helped Chelsea claim the win 16.17 (113) to 15.8 (98).
At Bunguyan Reserve, Tyabb secured a win over Devon Meadows. The Yabbies have improved from last year, and had to work hard to claim the win in the scrappy contest.
In a low scoring affair, Michael Altenkirch's bag of five goals proved the difference. The Yabbies defeated the Panthers 9.10 (64) to 6.12 (48).
Around the grounds, Pearcedale's woes this season continued against Somerville. Somerville claimed the four points with a 19.14 (128) to 8.8 (56) win.
Crib Point also had another bad week. They were smashed by Seaford 22.19 (151) to 4.6 (30). Aaron Walton booted eight goals for the Tigers. He has 57 for the year, and is closing in on Karingal's Marc Holt on the goal kicking leaderboard.