SOCCER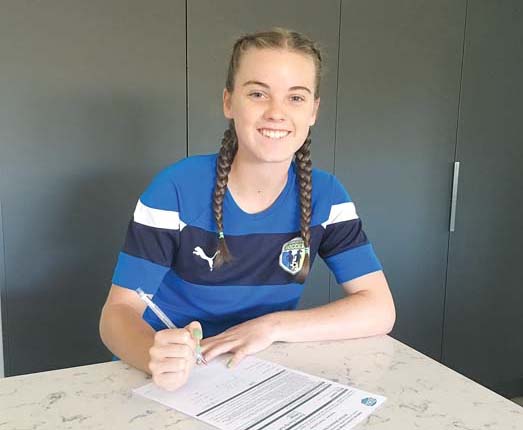 MILLA Jowett of Southern United flew out of Melbourne on Friday to start a two-year scholarship at Sussex County Community College in New Jersey.
The US college announced recently that it had signed the 19-year-old defender who is expected to make an immediate impact in the starting 11 for Sussex Skylanders.
Coaches Frank Vernacchio and Michael Rath have been touting Jowett as one of a number of key recruits who they hope can propel the college's women's soccer program all the way to the NJCAA National Championship Tournament.
Jowett is a former Peninsula Strikers player who has been coaching a junior girls side at Mount Martha.
She would have been proud of her ex-teammates at Southern last weekend when they gave one of their best displays of the season only to go down 3-0 to Bayside United at Monterey Reserve.
With injured player-coach Melissa Maizels organising and encouraging them from the technical area and a sometimes raucous dugout Southern's players gave a spirited and committed display and created two gilt-edged chances in the second half but couldn't convert.
It took Bayside until the 28th minute to break Southern's defensive barrier and the opener came from a corner that Emma Runnalls headed home firmly.
Five minutes later Cristina Cardaci's run was superbly synced with a well-weighted and directed Runnalls' through ball and Cardaci got clear and poked the ball past advancing Southern keeper Celia Kelsall to make it 2-0.
In the 60th minute one of the best players on the pitch, teenage Southern central defender Sarah Tebbutt, slid down at the near post when trying to clear a corner and deflected the ball past Kelsall to make it 3-0.
In the 76th minute a poor back pass was pounced on by Southern's US import Jennifer Lum but advancing Bayside keeper Midori Arai spread herself well to block Lum's attempt to knock the ball in behind her.
Southern's best chance was engineered by Lum 10 minutes later when she dinked the ball over the head of the last defender for substitute Claudia Beissmann to run onto only to send a well-struck volley fractionally over the bar.
Southern's under-19s lost 4-0 to Bayside, the under-16s went down 3-1 with India Scarr scoring for Southern while the under-14s lost 2-0.
Some Southern sides played catch-up games last week with the seniors losing to Box Hill United while the under-16s fought back from a 1-0 deficit to defeat Heidelberg United 4-2 thanks to a Talia Palmer hat-trick and a Rhys McKenna goal.
The under-14s beat Heidelberg United 2-1 with goals from Eden Mckeown and Erica-Derrick Sarfo-Sarpong.
In NPL2 news Langwarrin had to settle for a point in a 1-1 draw away to Box Hill United on Saturday.
Javier Marangos put Box Hill ahead in the 72nd minute but a Max Etheridge header six minutes later tied it up.
Luke Burgess returns to the Langy matchday squad next week after suspension.
In State 1 news Mornington downed Warragul United 2-1 at Dallas Brooks Park on Saturday.
Youngster Kyron Kerr was instrumental in the opening goal when he won the ball in midfield in the 9th minute and surged forward.
His attempt to release Sammy Orritt on the left was blocked but the ball fell to Liam Baxter who calmly struck it past Warragul keeper Liam Andersen.
Ten minutes later Orritt made it 2-0 with a goal-of-the-season contender.
He cut in from the left then unleashed a stunning strike from just outside the area that nestled in the top far corner of goal.
The second half wasn't even a minute old when Kane Bentley lost possession and Warragul stormed down the left.
The ball was played to the near post where Paul Kuol was unmarked and he controlled it with his first touch then thumped it past Mornington keeper Taylor Davidson to make it 2-1.
Both sides had chances to add to the scoreline and Mornington eventually kept the visitors at bay during a frantic final few minutes.
In State 2 news Peninsula Strikers hung on for a 2-2 away draw with Heatherton United on Saturday night.
Strikers could have put this one to bed in the first half with two superb Danny Brooks free-kicks giving them a two-goal cushion while John Prescott missed chances to make the lead insurmountable.
An Oscar Marsden own goal in the 52nd minute brought the home team back into the contest and Mario Hofmann made it 2-2 in the 63rd minute.
Heatherton had chances to win comfortably but couldn't convert.
In State 3 news Skye United's promotion push suffered a setback with a 3-1 away loss to Bayside Argonauts last weekend.
Skye's sole response came from a second half penalty converted by Daniel Walsh.
Senior coach Phil McGuinness and his men face a formidable foe in ladder leader Collingwood City at Kevin Bartlett Reserve on Friday night in what looms as a must-win contest for the local side.
Frankston Pines lost 3-2 away to South Yarra last weekend despite leading 2-0 after 14 minutes thanks to goals from Joe O'Connor and CJ Hodgson.
South Yarra's winner arrived in the 90th minute.
In State 4 news Harry McCartney reports that Seaford United enjoyed its biggest win of the season when it hammered Keysborough 8-0 at Coomoora Reserve on Saturday.
Seaford striker Mitch Lander was out injured and his place was taken by Conor Mcfall who set up Jeremy Schwellinger in the 13th minute and his well-placed volley made it 1-0.
Four minutes later Mcfall was the receiver when Dylan Waugh played the ball over the top and Mcfall ran through and slotted home the second.
Two minutes before half-time Jeremy Schwellinger broke down the right and drew out Keysborough keeper Bobby Pejkovic before centring to Waugh who tapped the ball into an open goal.
In the 59th minute Mcfall again proved his worth as he picked out Waugh with a long diagonal ball.
Waugh rounded the stopper with his first touch and finished well with his non-preferred right foot to make it 4-0.
Two minutes later Waugh notched his second consecutive hat-trick when he headed home a Matthias Schwellinger cross.
In the 74th minute the Schwellinger brothers combined with Jeremy's corner picking out Matthias at the top of the box and his shot through the crowded defence made it 6-0.
Thomas Pollock was making his first senior appearance of the season and in the 84th minute his volley made it 7-0.
In the 87th minute a mistimed goal-kick landed at Mcfall's feet and he controlled the ball before striking a shot that caught Pejkovic off his line to put a full stop on a scoreline that the gloveman no doubt would rather forget.
Baxter drew 1-1 away from home with FC Noble Hurricanes.
Lawrence Komba and Lewis Gibson should have given Baxter a half-time lead but the home team hit the front in the 65th minute when Nicholas Phaedonos converted from the penalty spot.
A Charlie Jones shot from just inside the box shortly after made it 1-1 but the visitors suffered a setback when Izaak Baar was sent off in the 68th minute and another penalty awarded.
Despite a retake Baxter keeper James Foster held his nerve and the second attempt struck the post then the shot from the rebound was saved by the young custodian.
In the dying moments the 10 men had the best chance of winning when Komba rounded the keeper but sent his shot wide of the target much to the dismay of the Baxter bench and supporters.
In State 5 news Somerville Eagles took an important step towards the title by coming from behind to beat Aspendale Stingrays 3-1 at Tyabb Central Reserve on Saturday.
Anthony Segavac broke the deadlock in the 48th minute but goals from substitute Daniel Hodge and star striker Mark Pagliarulo in the 58th and 61st minutes gave the home side the upper hand and a customary Dave Greening finish in the 72nd minute settled the matter.
A shock 3-1 loss to Casey Comets has put pressure on second-placed Old Mentonians to keep pace with ladder leader Somerville despite having two games in hand.
But Football Victoria's fixturing may give Old Mentonians an advantage as they will play their second catch-up match a few days after the last official round of the season knowing exactly what needs to be done if they remain in the title race.
Somerville is expected to contact the governing body about this matter.
Rosebud and White Star Dandenong shared the spoils in a six-goal thriller at Greaves Reserve last weekend.
Chris Parry (2) and Beau Sharpe scored for Rosebud who went into the clash a pronounced underdog.
This weekend's games:
FRIDAY, 8.30pm: Collingwood City v Skye Utd (Kevin Bartlett Reserve), Frankston Pines v Ashburton Utd (Centenary Park).
SATURDAY, 3pm: Langwarrin v Werribee City (Lawton Park), Richmond v Mornington (Kevin Bartlett Reserve), Peninsula Strikers v Knox City (Centenary Park), Seaford Utd v Noble Park Utd (North Seaford Reserve), Baxter v Keysborough (Baxter Park), Somerville v White Star Dandenong (Tyabb Central Reserve), Rosebud v Knox Utd (Olympic Park), Aspendale Stingrays v Hampton Park Utd (Jack Grut Reserve).
SUNDAY, 3pm: Alamein v Southern United (HA Smith Reserve).