SOCCER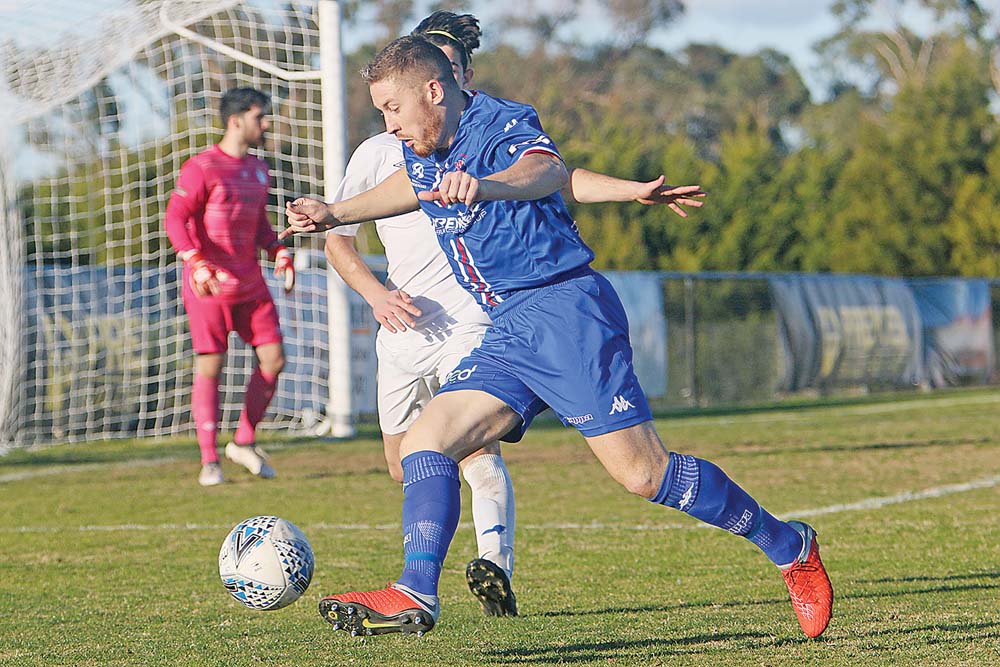 A SIZZLING injury-time winner from import John Baird gave Langwarrin its best win of the season against visitor Werribee City at Lawton Park on Saturday.
The former Scottish professional let fly with a first-time left-foot volley from the left of the area that Werribee keeper Nikola Kostadinoski couldn't stop from rocketing into the far corner of goal.
Werribee came to the peninsula in third spot in NPL2 West just two points behind leader St Albans Saints but its promotion chances were dealt a bodyblow by Baird's late winner.
Langwarrin had lined up in a pink strip as part of the club's promotion of the DonateLife movement to raise community awareness of the importance of registering as an organ and tissue donor.
It created the best chance of the first half in the 37th minute with a slick interpassing movement involving Damir Stoilovic and Callum Goulding that ended with Wayne Wallace's shot being deflected just wide of the near post.
But the visitors broke the deadlock in the 54th minute with a stinging long-range strike from Tyler James after a Jake Butler lay-off on the left.
Langy gaffer Scott Miller made a double substitution in the 62nd minute and struck gold.
Six minutes later one of the subs, Luke Burgess, sent a firm low cross in behind the Werribee defence and Shaun Hodor sliding in to clear could only divert the ball past Kostadinoski for an own goal.
The other Langy sub, David Stirton, set Lawton Park alight with a belter of a free kick four minutes later sending the ball crashing off the inside of the far post and giving Kostadinoski no chance.
But Werribee levelled in the 79th minute when Alec Goodwin beat advancing Fraser Maclaren to a Lisandro Paz free kick from the left heading past the Langy keeper to make it 2-2.
The stage was set for a dramatic winner and four minutes into injury time Baird stole the show and the Langy bench erupted.
"It was an awesome win and I couldn't be happier for the team," Miller said.
"That's the best game of football we've been involved in all season."
In NPLW news Southern United lost 6-0 to finals-bound Alamein on Sunday.
The match was played at Dorothy Laver West Reserve in Glen Iris on a substandard pitch sanctioned by Football Victoria in contravention of its own facility and playing standards.
Southern's under-19s lost 3-0 while the under-16s and under-14s both lost 1-0.
Meanwhile the burgeoning career of striker Alana Murphy continues apace with news that the teenager has been included in the 23-player national under-17 squad that started a three-match Pacific tour this week.
The former Langwarrin junior and current National Training Centre star turns 14 next month and is keen to forge a professional career in the women's game.
At least one leading English club is keeping tabs on the young prodigy.
In State 1 news Mornington again fell foul of a late Richmond goal when it lost 3-2 at Kevin Bartlett Reserve last weekend.
In the corresponding fixture at Dallas Brooks Park in the first half of the season 10-man Richmond stole a point with a 97th minute equaliser.
Last Saturday a Julio Beltran goal in the 95th minute proved Mornington's undoing after Liam Baxter and Sammy Orritt had given the visitors a 2-1 half-time lead.
In State 2 news Peninsula Strikers lost 2-1 at home to Knox City last weekend, a result that makes promotion for the local outfit highly unlikely.
This contest sprang into life in the last half-hour and one of the sparks was teenage Strikers' substitute Matt Harrington who along with Jordan "Kaka" Avraham came off the bench in the 60th minute in an attempt to break the impasse.
"Kaka" sent Harrington through in the 70th minute but the youngster's shot was blocked by Knox keeper Enes Unai and Alpha Turay's attempt from the rebound was blocked by a defender before the ball was scrambled clear.
Two minutes later Grant Lane and Harrington combined down the right but Harrington's cutback was completely mistimed by Turay when dead in front.
Then in the 75th minute Ray Markley ghosted in at the far post to sidefoot home a delicately flighted chip from Knox substitute Aaron Porcaro to give the visitors a shock lead.
In the 85th minute "Kaka" sent Harrington down the right again and this time his cutback was calmly slotted first time past Unai by John Prescott to make it 1-1.
Strikers' players and supporters barely had time to celebrate for straight from the restart Matt Kurceja unleashed a 25-metre piledriver that left Strikers' keeper Colin McCormack clutching at thin air.
Strikers' had chances to put Unai under intense pressure but poor delivery from free-kicks and corners proved costly.
In State 3 news Skye United's promotion tilt took a massive hit with a 2-1 away loss to champion elect Collingwood City last Friday night.
Privately Skye is seething with the standard of officiating that left it with nine men for the last hour of the contest but would not to comment for fear of Football Victoria reprisal.
Skye scored first through a Daniel Walsh header following a Mark O'Connor free-kick in the 25th minute.
Then Harrison Michaelis earned two yellow cards in two minutes for his only fouls of the match and Mikey Turner earned a second yellow for nudging a defender who was trying to shield the ball and run it out of play.
Five minutes into the second half Collingwood's Stephen Mahon bundled the ball over the goal line for the equaliser then the referee awarded a controversial penalty in the 67th minute ruling that Mitch Blake had handled.
Matt Richardson converted what was to be the winner.
To add insult to injury minutes after the restart Skye earned a rare second half corner and the delivery struck the hand of a Collingwood defender only for the referee to wave away Skye's penalty appeals.
The only upside to the weekend's round of matches was the shock loss of second-placed Whitehorse United giving Skye the chance to leapfrog its promotion opponent when it plays a catch-up match at home against Elwood City on Thursday night.
Frankston Pines also played last Friday night and was able to hold on in the final 10 minutes to record a 2-1 home win over Ashburton United.
Pines coach Kevin "Squizzy" Taylor rejigged his defensive structure with Kevin Brown joining Cedric Benza in central defence, Connor McAndrews and Noah Green as full backs and the experienced Daniel Mota playing in centre midfield.
Lachie McMinimee put Pines ahead 10 minutes into the second half when a long throw by McAndrews was flicked on by CJ Hodgson and McMinimee rolled his marker then shot truly from close range.
Joe O'Connor pounced on a poor back pass in the 82nd minute to make it 2-0 but Ashburton's Filip Dubljevic reacted quickly and made it 2-1 after Pines keeper Jarrod Nardino had parried a shot in the 88th minute.
In State 4 news Baxter recorded a 2-1 home win over Keysborough last weekend thanks to a late own goal.
A Nico Juric free-kick in the 12th minute was headed in by Stuart MacKenzie but Helder Garcia grabbed the equaliser in the 30th minute when Baxter was caught on the break.
Juric rattled the bar with a free-kick in the second half and a stray back pass under pressure from McKenzie in the 81st minute settled the issue.
Seaford and Noble Park United couldn't resolve their arm wrestle at North Seaford Reserve on Saturday and the match ended in a scoreless draw.
In State 5 news Somerville's title tilt stayed on course thanks to a gritty 3-1 home win over White Star Dandenong last weekend.
While Somie keeper Francis Beck was forced to make two quality saves at pivotal moments the home side took a 2-0 lead into the interval.
The opener came from the spot thanks to a converted penalty from player-coach Dave Greening following a foul on strike partner Mark Pagliarulo and the second came from a Greening volley in the 42nd minute following a superb Pagliarulo cross.
White Star's Louis Palmire made it 2-1 in the 55th minute but Pagliarulo restored Somie's two-goal cushion with a header eight minutes later.
Aspendale Stingrays enjoyed a comfortable 4-1 home win over Hampton Park United last weekend.
The home team led 2-0 at the interval thanks to Anthony Segavac and an own goal from Mohammad Changizi and second-half goals to Kieran Hughes and 16-year-old substitute Nathan Barnett completed the win.
Hampton Park's goal came from the penalty spot a minute into injury time.
Rosebud lost 2-0 at home to Knox United on Saturday.
Only five local clubs are in action this week as it's a catch-up round:
THURSDAY, 8.30pm: Skye Utd v Elwood City (Skye Recreation Reserve).
SATURDAY, 3pm: Mazenod Victory v Mornington (Brandon Park Reserve), Rowville Eagles v Seaford United (Park Ridge Reserve), Rosebud v Endeavour Hills Fire (Olympic Park), Aspendale Stingrays v Old Mentonians (Jack Grut Reserve).