SOCCER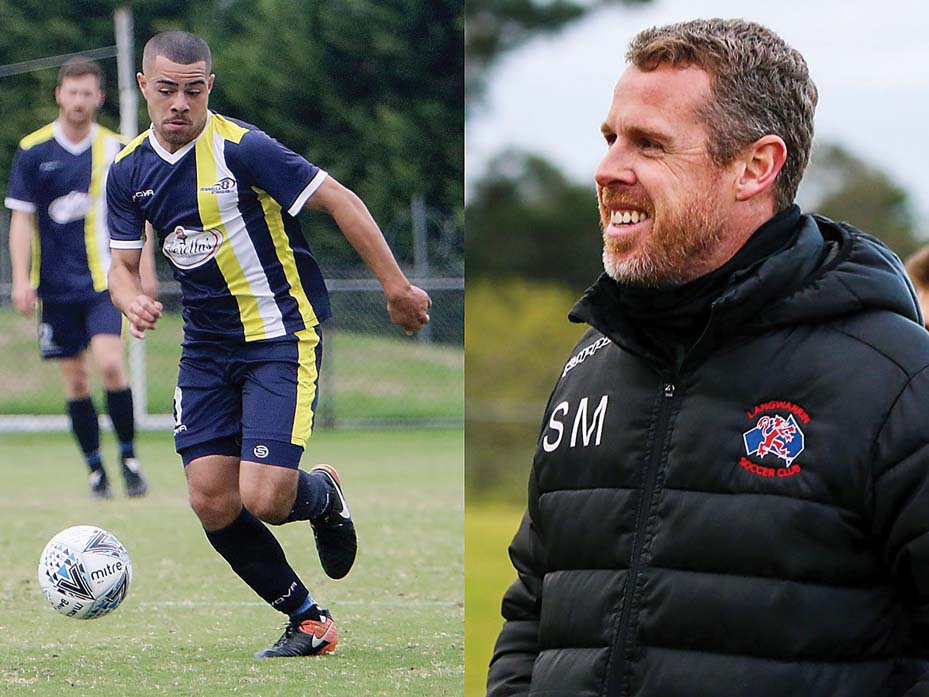 PENINSULA Strikers midfielder Jordan "Kaka" Avraham is on the verge of making his international debut for the Fijian Olympic team.
The 22-year-old has been playing in annual Fijian club tournaments for the past few years and competed in the Pacific Cup last November against teams from Fiji, Australia, New Zealand and the US.
"Kaka" played for Western Sydney in that tournament and the coach of Western Sydney arranged for him to try out with the Fijian Olympic squad.
The Fijian connection is through his father, Israel, and the young midfielder attended a two-week training camp earlier this season.
He has been included in the final Fiji squad which will participate in the Oceania Confederation's Olympic Qualifying Tournament in Suva and Lautoka from 21 September to 5 October.
"Kaka" is due to fly to Fiji straight after Strikers' final league match of the season on 7 September against South Springvale.
He has the backing of Strikers' senior coach Danny Verdun and senior midfielder Grant Lane who both rate him highly and the youngster can't wait to be involved at that level.
"I'm absolutely ecstatic, over-the-moon," he said.
"When it was first brought to my attention five years ago that I could actually represent my father's country, a country that means so much to me, I didn't think I'd end up where I am now."
The big news in local NPL ranks is the signing of Scott Miller last week as head coach of Langwarrin for the 2020 season.
The former Fulham and Socceroo assistant joined Langy late last year and has agreed terms for a second successive season.
"In Scott's first year at Langy he has made a massive impact both on and off the field," Langwarrin president Tanya Wallace said.
In other NPL news a Football Victoria announcement last week means that Langwarrin now faces some strong local competition in NPL junior ranks.
Mornington and Peninsula Strikers were among 12 new clubs licensed by FV to compete in next year's NPL under-13, under-14, under-15 and under-16 competitions.
Strikers are currently costing the venture with a view to cutting back significantly on NPL junior fees that can reach $2200 per player per season.
"We are working as hard as we can to make NPL much more affordable compared to other clubs in the area," club president Adrian Scalpi said.
"Our goal is to make this affordable for families."
It's rumoured that Mornington's NPL player fees could be between $1500 and $1800 per player but like Strikers the club is yet to fix a figure.
Mornington plans to offer six scholarships to junior players next year, two in subjunior ranks, two in community juniors and two in NPL juniors.
In other news Baxter and Seaford United have held discussions about whether they will honour upcoming fixtures against State 4 South opponent Sandown Lions.
Both local clubs believe that they have a duty of care to their players, officials and supporters to ensure their protection after Sandown was involved in an onfield riot a fortnight back that led to the abandonment of its away match with Springvale City at Ross Reserve.
The corresponding fixture between Seaford and Sandown at North Seaford Reserve earlier this season was marred by crowd trouble and police were called.
Sandown is a Sudanese-supported club that has been challenging for the championship but now is the subject of Victoria Police and Football Victoria investigations into its part in the violence which erupted against Springvale City.
It's believed that Sandown senior coach Gavin Ithier and assistant Roy Kilner have resigned their posts.
Seaford's situation is complicated by the success of its reserves side currently vying for the championship and understandably the club is loathe to forfeit the fixture.
However club sources say that player safety is paramount and given that Football Victoria may not have completed the judicial process by the time the fixtures have to be played it seems almost certain that both Baxter and Seaford have an important decision to make.
It's likely that both clubs will invite their players to vote on the matter.
Meanwhile the highlights of the catch-up round just completed were Skye United's win in State 3 South-East and Aspendale Stingrays' come-from-behind draw with Old Mentonians in State 5 South.
Aspendale's result is a major boost for the promotion hopes of Somerville Eagles.
Both Skye and Somerville now have their fate in their own hands for if they win their remaining games they should be promoted.
Somerville has a points advantage over Old Mentonians while Skye has a significant goal difference advantage over third-placed Whitehorse United.
Skye defeated Elwood City 3-0 at Skye Recreation Reserve last Thursday night.
Skye was without Harrison Michaelis and Mikey Turner, who were serving one-match suspensions, as well as captain Jason Nowakowski (ill), however Alex Rojas and Maxi Avram both returned from injury.
Young Marcus Anastasiou broke the deadlock in the 33rd minute after a cracking drive from just inside the area giving Skye the half-time lead.
Despite being in control Skye missed two gilt-edged chances to build on the scoreline when Daniel Attard failed to convert from one-on-ones but Mitch Blake finished off his chance in the 65th minute at the third time of asking after Elwood goalkeeper Ben Paris parried the first two attempts.
The game was wrapped up in the 80th minute when Mo Elhassan's cross was turned into the net by the Elwood centre back.
Skye gaffer Phil McGuinness praised the way his side bounced back from successive losses.
"The lads could have very easily buried their head in the sand and just seen out the last five weeks of the season but there's unbelievable morale in this team and we'll take this promotion fight right to the end," McGuinness said.
Some Somerville players and coaching staff were among the spectators at Saturday's match between Aspendale and Old Mentonians which was officially a home match for the Stingrays.
A venue switch to Old Mentonians' home ground was approved by Football Victoria's competitions department effectively giving Old Mentonians two home games against the same opponent in the same season.
Despite this slap in the face to the integrity of the competition Old Mentonians failed to take advantage.
They led 2-0 with goals from Marcus Spivey in the 57th minute and leading scorer Rannesh Krishnan in the 75th minute.
In the 87th minute Aspendale's Kenan Nuhanovic broke through to reduce the arrears and a minute later Sam Timuska–Carr, who had dominated the midfield throughout, finished off a pass from Adrian Pace to make it 2-2.
Aspendale's best were Timuska-Carr, Jordy Athanassiou and Peter Dimopoulos.
In State 1 Mornington's away clash with Mazenod Victory was called off and no doubt Seaford United would have gladly accepted a similar fate in State 4 South instead of being hammered by league leader Rowville Eagles 10-3 at Park Ridge Reserve on Saturday.
Harry McCartney reports that a Matthias Schwellinger double via a strike from the edge of the area and a header from a Dylan Waugh free kick had Seaford 2-0 up after eight minutes.
In the 10th minute Ruben Ichim finished off a great run and cutback by Ali Madul to make it 2-1 and a Glen Farley own goal two minutes later tied the scores.
In the 19th minute Ben Rigby's shot put Rowville in front and three minutes later Waugh was brought down but the big man struck the resultant penalty against the crossbar passing up a great chance to level.
Madul headed home from close range in the 39th minute and just before half-time Denny Bejan scored from a retaken penalty after Rigby had missed the first attempt but Seaford keeper Anthony Madafferi was ruled to have moved by the assistant referee.
Second half goals from Bejan, Ichim (2) and substitute Daniel Grigoruta (2) completed a dismal day for the visitors who could only offer a Tristan Stass volley in reply.
In State 5 Rosebud lost 3-2 at home to Endeavour Hills Fire.
Eid Sawari's hat-trick was decisive with Rosebud's goals coming from Chris Parry and Blake Hicks.
This weekend's games:
SATURDAY, 3pm: Southern Utd v Calder Utd (Monterey Reserve; under-12s 8.50am, under-14s 10am, under-16s 11.30am, under-19s 1pm), Mornington v Beaumaris (Dallas Brooks Park), Brandon Park v Peninsula Strikers (Freeway Reserve), South Yarra v Skye Utd (Fawkner Park South), Diamond Valley Utd v Frankston Pines (Partingtons Flat), Sandown Lions v Seaford Utd (TBC), Noble Park Utd v Baxter (Parkfield Reserve), Somerville Eagles v Rosebud (Tyabb Central Reserve), Bunyip District v Aspendale Stingrays (Bunyip Recreation Reserve).
SATURDAY, 4pm: Ballarat City v Langwarrin (Morshead Park).