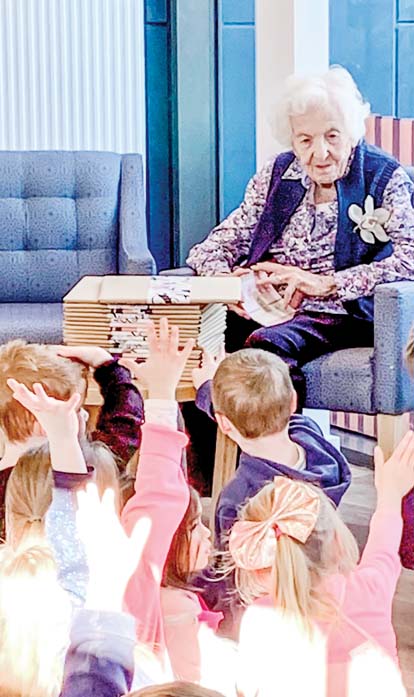 THELMA Kirkman celebrated her 106th birthday sharing her love of literature with children from Goodstart Early Learning Centre, Benton's Road, Mornington.
The Benetas Corowa Court, Mornington resident, a former secretary of Tasmanian State Library, was delighted to mark the milestone with a session that promoted the importance of reading from a young age.
Described as an "incredibly humble and generous" person, Ms Kirkman didn't want to make a fuss, so Benetas staff organised the event so she could share her passion and knowledge with the youngsters who are all a century younger than she is.
Farrell's Bookshop, Mornington, discounted the books which were handed out to each child along with some cakes.
"Mum has never been one for the spotlight," Mrs Kirkman's daughter Pat Cooper said.
"It's been wonderful that she's been able to celebrate by sharing her love for reading and her endless thirst for knowledge with the kindergarten children."
Acting general manager of residential services Melanie Mazzarolli said: "Occasions like this don't come around often.
"It's incredible that we are able to celebrate this amazing milestone and give Thelma a memorable experience aligned with her passion for books.
"Being able to share her love of literature with the next generation, and seeing the wonderment in their faces, is truly a touching moment."
The oldest resident at Corowa Court, Mrs Kirkman has lived on four continents, through two world wars and is said to be "in great shape with energy and curiosity that is unwavering".