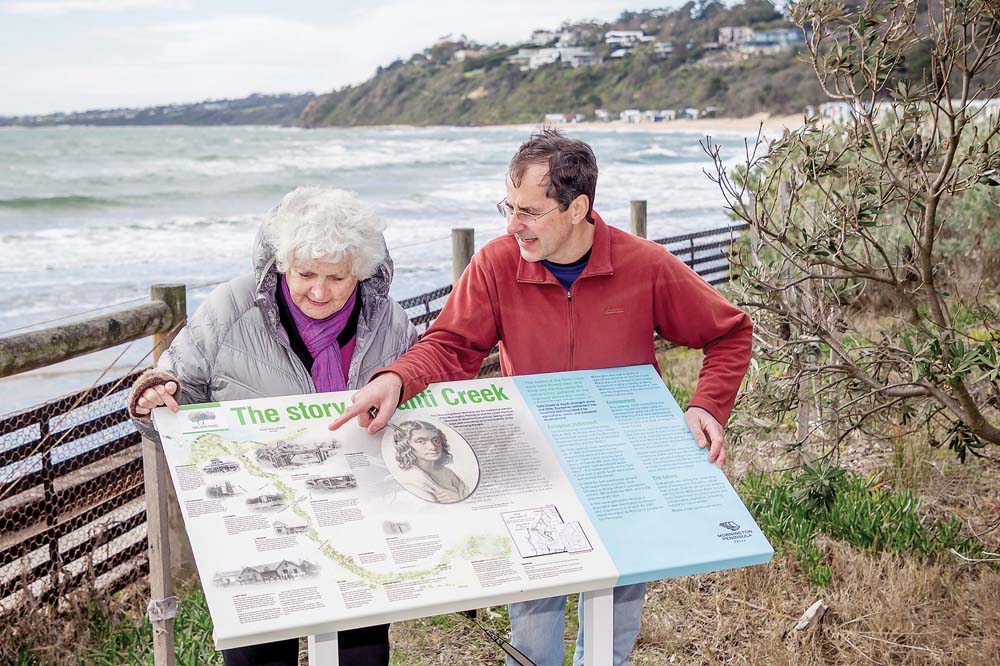 NEW interpretative signs on Tanti Creek, Mornington, explain the natural environment of the creek, and its use by traditional owners the Boon Wurrung through to white settlement. They offer interesting illustrations and descriptions of the plants and wildlife in the creek estuary.
Members of Tanti Creek Friends Judith Martin and Jan Oliver oversaw the designs of the large format signs during 10 years of research. Their work was paid for with a Mornington Peninsula Shire community grant.
The signs are near the estuary at Mills Beach, and at the well-used foot bridge at Stones Crossing.
Some of the early grand houses of Mornington were built along Tanti Creek, and the sign locates them on a map, with old photos and stories about the early inhabitants.
"This was very much a group researched project," Ms Oliver explained. "One shows the plants and animals of Tanti creek; the other shows a map of the original creek, and the key features along it, such as several homes which are still lived in.
"They explain how the Boon Wurrung people used the creek for food, traditional medicines and craft materials."
Ms Martin said from Sydney where she now lives: "Our research produced so much information that it was a challenge to compile and edit it all down.
"There are still families along the creek who remember the large apricot orchards, and the noise of the cattle yards behind the Tanti – now Mornington hotel.
"We had to decide how much of the gossip about life along the creek should be put on the signs. "Also, we were fortunate to have artist Rachel Eareas undertake the artwork."
Visitors can see the signs at either side of the bridge at the Tanti estuary, and at Stones Crossing in Strattons Lane.
A celebratory morning tea will be held 10.30am tomorrow (Wednesday 21 August), at the picnic table near the bridge at Mills Beach on the gravel carpark side.
Tanti Creek Friends is a volunteer group dedicated to preserving and enhancing the environmental and aesthetic values of the creek. Working bees are held on the last Tuesday of each month.
Details: Call Marty Lenard 0427 888 712 or visit morningtonenviro.org.au