By Lance Hodgins
Part Three
The members of the 1913 "Greatest Team Ever"
JACK CAMPBELL was the 1913 captain and, at 38 years of age, a football veteran. He grew up in Bendigo, where he captained the strong Bendigo FC before moving to Tasmania to play in the tough mining competition at Queenstown. In 1912 he came to Hastings to join his brother in the family general and hardware store (near today's Shire Offices) and played in the premiership team that year. He captained again in 1915 and served as a club administrator after the war years. He settled in Hastings where one of his daughters married Albie Perrot and another married Frank Robinson, a member of the 1913 team.
The "coach" LEN INCIGNERI was the farrier son of a Hastings fisherman. He started football at Hastings at the age of 14 in 1898 and played for seven consecutive years. He joined VFA side Richmond and moved with them into the VFL as their captain/coach in 1911 and twice represented Victoria. He sought a clearance to Melbourne and was forced to sit out the VFL 1912 season – so he helped Hastings win the flag, surviving a court case for assault arising from the grand final. By 1913 Len was 30yo 5'11" 14st 0lbs and on only match permits to Melbourne, so he came home to play a key role in Hastings' premiership win. He returned to captain/coach Melbourne FC for two years until his 97-game League career came to an abrupt halt when he triggered a 2,000 person melee on the MCG against South Melbourne. He subsequently coached Oakleigh and Somerville, the latter to a flag in 1928.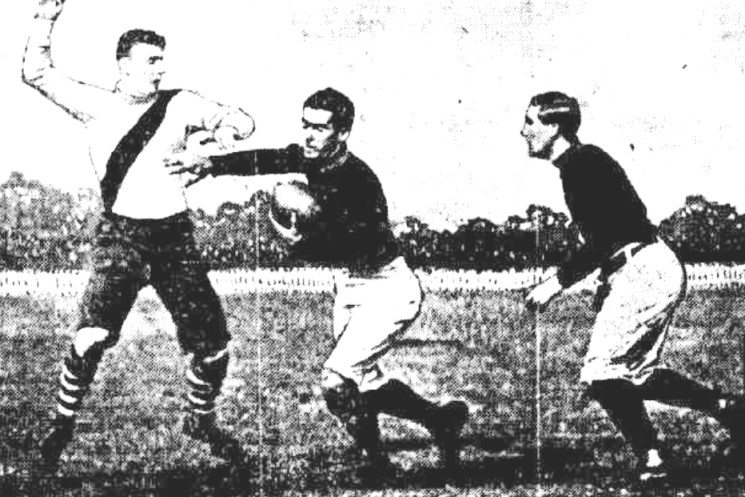 FRED "Nipper" FLOYD was vice-captain in 1913 and a 27 year-old veteran. A fisherman, orchardist and dairyman, Nipper was born and bred in Hastings. He played in their premiership team of 1908 but an altercation over a permit issue with Tyabb saw him rubbed out for 1909 and 1910. Returning to Hastings in 1911, he teamed with Pompey Francis to carry them to the three-peat of 1912-13-14. Hastings captain before and after the Great War, Nipper was an inspirational leader and a strong man who would ruck all day – as a result he was often referred to as "the old war horse". He played until 1924 – a total of 167 games- in an era when seasons were much shorter than those of today. Even after 15 years, he was still playing good enough football to frequently be best on ground.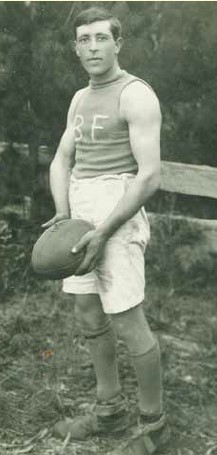 BERT "Pompey" FRANCIS was a cousin of Nipper Floyd and a fisherman from his teenage years. In 1913 he was 28 years of age, 6'0" and 13st 0lbs – an experienced and remarkable athlete who contributed greatly to the 1913 flag. Pompey had been amongst the best players in the 1908 premiership and, after a year off in New Zealand, he returned to win the 1910 flag. His better friends never let him forget that the free kick he gave in the dying minutes of the game cost them the 1911 flag. The following year he played several games for Melbourne FC, but three wins on the MCG were not enough to keep him in the city. Returning "home", he lacked the necessary qualifying games and had to sit and watch his mates win the 1912 flag. Pompey returned with a vengeance in 1913 and 1914. He continued playing until 1922 and then served the Hastings FC in many capacities into the 1950s.
HUGHIE CARMICHAEL. The 25 year-old was absent for the 1913 photo, but his football career with Hastings FC began in 1907 and finished in 1924. He was a long-term teammate of Pompey and Nipper and played in both three-peats (1908-10 and 1912-14). He was widely known in Hastings as "the gentleman fisherman" and in later years worked for the Shire Council and ran an orchard.
GEORGE SLOCOMBE senior was 31 years of age in 1913. Born in the Mallee, he grew up on his father's 30 acre orchard behind where the Tyabb Hall is today. He was a horse-breaker of renown and started the Tyabb Post Office which his family ran for almost 100 years. George started football in 1899, playing for Tyabb, Somerville and Hastings.  He played for Hastings in 1911-12-13 and again after the War in 1919-20. Thirty five years later his son, George jr. would coach and play in the famous three-peat premiership of 1946-47-48.
ALFRED and FREDERICK BOULTER were sons of a prominent Hastings orchardist family. Alf won the 1909 premiership in his first year of football, followed it up with a flag in 1910 and by 1913 was in the middle of a three-peat. He was 24 years-old and only 5'6 ½" and 10st 0lbs but a very skilful footballer. His brother, Fred, was four years younger and in 1913 was also in the middle of a three-peat. He was of a similar build to Alf and the two of them were renowned as athletic "bolters" in the Hastings team. Both enlisted in the Great War.
WILLIAM DENHAM was the son of another orchardist, George Denham of Tyabb, and he worked as a nursery hand at Cole's Fernbank Nursery. He started his football at Tyabb where he was also a handy cricketer. In 1913 he was 19 years of age and 5'9" tall – and playing for his second Hastings premiership.  He would enlist in 1916 and be twice wounded in France.
DAVID LONGMUIR was a first year player with the Blue and Whites in 1913 – 19 years old, 5'5¼" and 8st 13lbs. David was born in Captain's Flat, NSW; his family had settled on an orchard in Tyabb and his older brother Will had played in the 1905 premiership Hastings team. Another brother George enlisted in WW1 and was gassed and later died in a French military hospital. David also enlisted and was twice wounded – a gunshot shattered his right shoulder and a shell-burst opened up his left forearm. Despite this, he returned to play for Hastings in 1919-20 and then several years for Tyabb, where he was made a life member.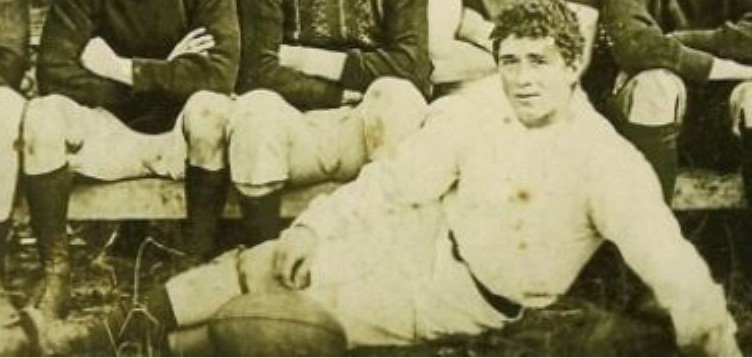 CHRISTOPHER "Spud" SPOSITO (above) was one of seven children in the family of "Batty" Sposito, a fisherman from Naples. Although only 25, Christie could boast of being the only member of the 1913 team to have played in every Hastings premiership to date, including the 1905 flag. He would complete his second three-peat by winning again in 1914. At 5'5½" tall and 11st 7lbs, he was a tenacious player who surprised everyone when he was declared medically unfit for wartime service due to very defective vision, a congenital condition he had suffered from birth.
HENRY "Harry" KERR was another 25 year-old who could claim premierships in 1909-10 and then eventually the three-peat of 1912-13-14. Harry grew up in Hastings, his father Gilbert originally farmed 100 acres of land around Reid Parade. He was a tall and athletic lad who excelled at cricket and stood out at district sports days. Harry also served the Club as secretary and delegate to the Association.
ALEXANDER "Ack" LOTHIAN was a 31yo fisherman in 1913, one of six children in the family of Thomas and Esther Lothian-Black. A brilliant athlete, he already had three premiership flags with the Blue and Whites (1909-10-12) and would achieve his second three-peat in 1914. In 1915 he was part of a tragedy in the bay when his mate and former footballer Nick Amendola was drowned trying to save a man overboard from his fishing boat.
ARTHUR "Curly" MCDONALD   was a second year Hastings player originally from Eaglehawk. At 23 years of age, 5'9" and 13st 2lbs, this blacksmith's assistant was one of the strong men of the 1913 team. He completed his three-peat in 1914. Despite trouble with the law as a teenager in Bendigo, he went on to fight for his country with distinction at Gallipoli and in France, where he was promoted and awarded the DCM for outstanding bravery under shell-fire.
WILLIAM PERRIAM was one of two tall brothers who played for Hastings over the years.  His father Gilbert was one of the district's early fishermen, originally living in the vicinity of today's Thos Barclay Oval. William started playing football in 1900 and was in the early 1905 premiership team. Not playing during the three-peat years, he won his second flag in 1913 at 29 years of age, after which he retired.
DAVID "Dobbin" REID was the 25yo son of a Scottish immigrant "Sandy" Reid, one of the original fisherman who took up a cottage at Star point (Hastings). Dobbin became widely known as "the best mesh fisherman in the Bay". In 1913 he was playing for his fifth premiership and the following year would join the select group of double three-peaters. He retired after the 1915 season.
FRANK "Pomner" ROBINSON, at 25 years of age, was also playing in his fifth premiership team. He had the three-peat of 1908-09-10 under his belt and would go on to win the 1914 flag – one of a handful of 1913 players to play in both triples. He would retire after the 1915 season.  In 1923 he married skipper Jack Campbell's elder daughter Greta, who would tragically pass away two years later.
WILLIAM "Paddy" GOMM was 33 years old in 1913. The veteran footballer started in Somerville at the turn of the century and then played for Hastings in 1907-08 before returning to Somerville.  He came back to Hastings for 1911 and the three-peat of 1912-13-14. Paddy was the son of Henry and Margaret Gomm and he married Jean Firth of Somerville in 1915.
LES POTTS moved from Hawthorn with his family to a farm on the Tyabb-Mornington Road when he was a young child.  He played football for Somerville and Tyabb and his only year at Hastings was in 1913 when, at 24 years of age, he was at his peak. The following year he returned to Tyabb along with George Slocombe and David Longmuir. Les worked an orchard and later moved to a farm in Gippsland.
B "Cocky" JACK was in his second year with Blues and would play in all three-peat teams of 1912-13-14.
CHARLES MOFFATT was 23 years of age, in his first year with the team and would return for another flag in 1914.
HECTOR BICKLEY and ERNEST ROBINSON were fellow trainers in the 1913 team. They had both grown up in Hastings as school mates and were now in their late twenties. Hec was part of a large family which had come from Tylden South, near Kyneton, and was orphaned when his father died of complications from influenza in 1899. His three brothers (Joe, George and Cec) were all seriously wounded in WW1.  Ernest Robinson was one of three sons of Richard and Ann Robinson of High Street Hastings. He was a farm labourer who lived on Ellery Street in Old Tyabb. Ernest's brother Frank was a star player in the 1913 team.
JOHN LATCHFORD was Vice-President of the Club. He had married the daughter of O'Reilly's Westernport Hotel – a regular meeting place for the HFC committee and now a vacant block near the Catholic Church. At 73 years of age in 1913, he was a major patron of the team and a long-time supporter of the club.
JAMES DAVID HODGINS (not in team photo) was in his fourth year as Club President in 1913. Despite his 42 years, he had a lengthy connection with Hastings Football Club, having been called in twenty years earlier to re-form the club when it was in tatters. Repeated attempts to create a local league saw much bickering and many false starts until finally, in 1908, James was influential in establishing the rules and organising the clubs into the Peninsula Football Association, ultimately becoming its President.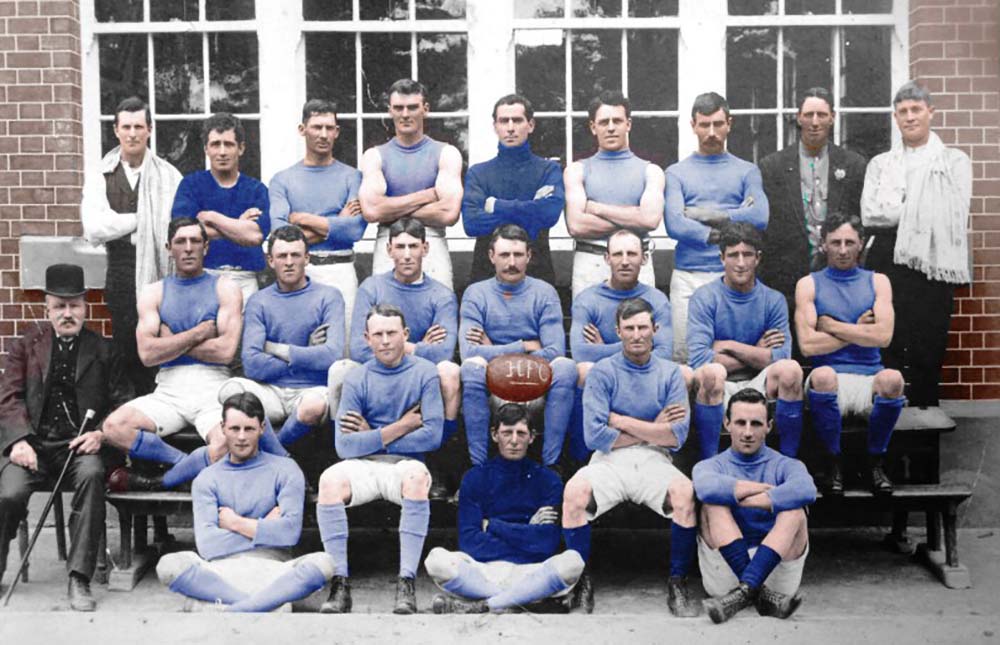 From that time on, Hastings became a dominant force in football on the Peninsula, producing a string of early premiership teams including – arguably the greatest of them all – the team of 1913.