SOCCER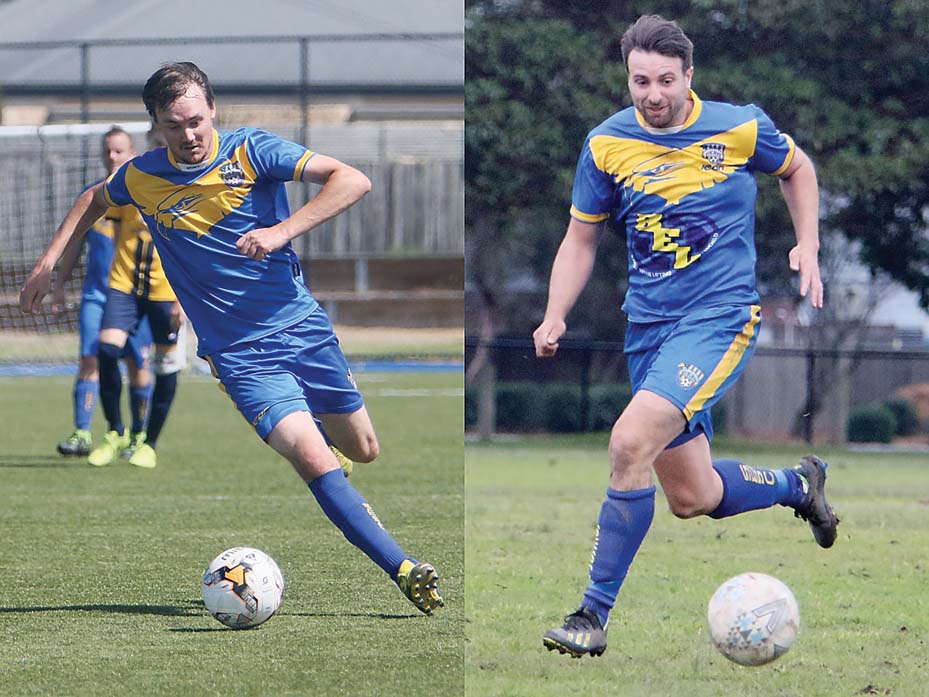 SOMERVILLE should clinch the State 5 South title by defeating third-bottom Bunyip District on Saturday.
The local outfit enjoyed an 11-goal romp against bottom side Hampton Park United last weekend while Old Mentonians continued to drop the baton in the championship chase by drawing 2-2 with Rosebud at Olympic Village.
Old Mentonians got off to a dream start when Chris Gibson put them in front after three minutes but goals to Cory Osorio and Chris Hatzikonstantinos had the home side ahead at half-time.
Old Mentonians' leading scorer Rannesh Krishnan had started on the bench but he came on early in the second half and equalised in the 52nd minute but the visitors were unable to claim all three points.
What was a neck-and-neck struggle just a few rounds ago has turned into a stroll to the line for Somerville and another title triumph for the Scott Morrison and Dave Greening partnership seems assured given that they need just one point with two matches remaining.
Mark Pagliarulo and Greening have formed a lethal strike force this season and the struggling Hampton Park outfit had little chance of keeping them at arm's length.
The avalanche of goals at KM Reedy Reserve was supplied by Pagliarulo (6), Carlo Cardoso (2), Callum Richardson, Daniel Hodge and Ben Meiklem.
Although Greening was unusually absent from the scorers' list he was credited with seven assists.
In NPL2 news Langwarrin drew 1-1 with Goulburn Valley Suns at Lawton Park on Saturday.
A well-executed glancing header from Max Etheridge following a David Stirton corner in the 5th minute put the home side in front but a superb diving header from Alou Kuol in the 16th minute levelled proceedings.
In other Langy news the much-rumoured clinching of Ryan Paczkowski's signature is unlikely to eventuate as it's believed that the former Mornington striker and current Oakleigh Cannons star is negotiating a new deal to extend his stay at Jack Edwards Reserve.
Scottish midfielder Scott Lochhead, 22, is training with Langy and has an impressive CV which includes spells with Rangers, Celtic, Dundee United and Dunfermline.
Lochhead arrived in Melbourne in February to join Bentleigh Greens but is keen to switch to Lawton Park for the upcoming season.
Langy has released second-string keeper Faraz Zenoozi to make way on its senior list for Luke Goulding who was named in the under-20s list when initially signed from Melbourne Victory and could only play nine senior games under NPL rules.
Langwarrin's under-15s clinched the NPL title on Sunday with a 2-1 win over Port Melbourne giving Don Delaney's side an unassailable lead with three games to go.
In NPLW news Southern United lost 3-2 to Senior NTC at Monterey Reserve on Saturday with Southern's goals coming from defender Sarah Tebbutt and US import Jennifer Lum.
The under-19s were overrun in the second half by Young NTC going down 7-0 but Southern's under-16s won 3-1 thanks to a Rhys McKenna brace and a close-range strike from Ezel Duyar.
In State 1 news Mornington had a 1-0 away win over St Kilda Celts last weekend.
Andy Goff prodded home a loose ball following a corner in the 28th minute and this proved decisive.
Mornington had five players aged 21 or under in its matchday squad and all enjoyed significant game time.
"I'm having a really good look at some of our future talent to see if they can make the step up next year," Mornington head coach Adam Jamieson said.
In State 2 news Peninsula Strikers won 2-1 at home to Mooroolbark on Saturday.
Jonny Guthrie put Strikers in front in the 7th minute after an excellent run by Matt Harrington who beat two defenders out wide then set up the former Langwarrin midfielder who scored from close range.
Dave Brickell equalised five minutes later but four minutes into the second half Jordan "Kaka" Avraham nabbed the winner after being set up by Grant Lane in a move involving Oscar Marsden and Alpha Turay.
In State 3 news Skye United kept in front of third-placed Whitehorse United with a 2-0 away win over Diamond Valley United on Saturday.
Skye and Whitehorse are on the same points but Skye has a far superior goal difference and is unlikely to lose that advantage with just two games remaining.
Partingtons Flat is not the most inviting venue in Victorian soccer due to the quality of the pitch but that didn't stop Skye from emerging victorious last weekend.
A first-half double from Jack Gallagher was enough to seal the deal in a game which failed to reach any great heights.
Gallagher's first came after 10 minutes when Mitch Blake broke into a one-on-one and a last-ditch tackle saw the ball spill to Gallagher for a tap-in.
Two minutes later Gallagher was on hand to head home after a Daniel Walsh header rebounded off the crossbar.
Skye now has two home games to finish the season and successive wins will ensure promotion.
Meanwhile goalkeeper Alfonso Cardinale was given a send-off game for Frankston Pines last Friday night in a 3-3 draw with visitor Elwood City.
The former NPL gloveman has retired after a career which included stints at Goulburn Valley Suns, Keilor Park and Heatherton United.
Joe O'Connor (2) and Lachie McMinimee scored for Pines with O'Connor's first goal in the 32nd minute coming from a good interpassing move involving Nick Simmons and McMinimee and his second in the 95th minute snatching a point for the home side.
In State 4 news Baxter held a players' meeting last Thursday night and decided to go ahead and honour its home fixture against Sandown Lions on Saturday.
Sandown, Springvale City and some of their club associates faced charges arising from an abandoned fixture at Ross Reserve early in August.
A Football Victoria tribunal hearing was held last week and both clubs were fined and given points deductions but the fallout also affected Baxter whose director of coaching Billy McLeod is understood to have resigned his post with his father and senior team manager following suit both believing that Saturday's match should not have gone ahead.
It did and as expected Sandown had the bulk of possession but chose to waste it with a succession of poorly executed shots from distance.
When the visitors did hit the target they found Baxter keeper James Foster and the crossbar significant hurdles but Sandown eventually prevailed 1-0 in controversial circumstances.
How the referee found so much time added in a contest where no players required onfield treatment during normal time remains a mystery but six minutes into injury time Masur Kuei scored after Baxter failed to effectively clear following a corner.
Off the field a leading Baxter administrator expressed dismay at Langwarrin's failure to provide a formal proposal after both clubs held secret meetings earlier this season to discuss a partnership arrangement for 2020.
It's believed that Langwarrin was prepared to offer financial compensation for providing training and matchday facilities at Baxter Park for Langy's community junior sides, its women's program and its Bayside teams.
The Baxter administrator claims that Langwarrin also wanted to have two representatives on the Baxter committee and led Baxter to believe that a written proposal was being formulated.
"That was about two months ago but we're not holding our breath," the Baxter source said.
However Langwarrin's reticence to respond is understood to be based on uncertainty over the level of Baxter's alleged debt.
Harry McCartney reports that Seaford United was eventually rewarded for its pressure with a 1-0 away win over Springvale City last Friday night.
The visitors had to wait until the 58th minute and the winner came via a Jeremy Schwellinger strike that took a wicked bounce on a patchy Ross Reserve surface.
In a late push for an equaliser Springvale sent numbers forward and looked dangerous in doing so but couldn't penetrate Seaford's goal.
In State 5 Aspendale Stingrays thumped Casey Panthers 5-1 last weekend in a fixture switched to Kingston Heath Soccer Complex.
A Sam Timuska-Carr strike in the 44th minute gave Aspendale a half-time lead and although Casey levelled early in the second half it couldn't keep the Stingrays at bay and goals from Kieran Hughes (2), Nathan Barnett and substitute Anthony Segavac rounded off the scoreline.
Aspendale's best were Peter Dimopoulos, Hughes and Sonny Lindsay.
This week's games:
WEDNESDAY, 7pm: Heidelberg Utd v Southern Utd (Olympic Village).
FRIDAY, 8.30pm: Skye Utd v Frankston Pines (Skye Recreation Reserve).
SATURDAY, 3pm: Nunawading City v Mornington (Mahoneys Reserve), Seaford Utd v Baxter (North Seaford Reserve), Bunyip District v Somerville Eagles (Bunyip Recreation Reserve), Rosebud v Hampton Park Utd (Olympic Park), Endeavour Hills Fire v Aspendale Stingrays (Power Reserve).
SATURDAY, 4pm: Manningham Utd Blues v Langwarrin (Veneto Club).
SUNDAY, 3pm: Box Hill Utd v Southern Utd (Wembley Park), North Caulfield v Peninsula Strikers (Caulfield Park).