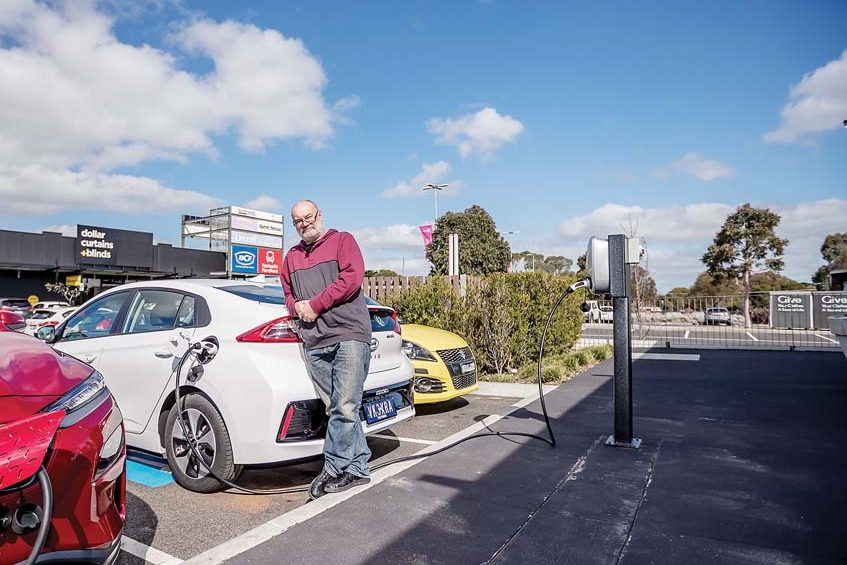 PENINSULA Uber driver Rob Arrowsmith has taken charge of his fuel expenses by going all-electric in his Hyundai Ioniq.
He typically does a fast charge for free at the Peninsula Home centre on Nepean Highway, Mornington, before heading out to collect passengers, or plugs in for an in-depth charge overnight at his Edithvale home for about $8.
The dual-port 22kW AURA charger was installed at Peninsula Home in mid-July. It is free and does not need a smart phone app for access. It provides 40-120km of battery-powered driving for every hour of charge, depending on the type of electric vehicle.
Mr Arrowsmith says he gets 200km from a full charge and drives 50,000km a year. Since switching over from a petrol-powered car he says he saves $5000 a year in fuel bills which means that, over 10 years, he will recoup the $50,000 cost of his car.
"Electric vehicles are great around town," Mr Arrowsmith said. "Contrary to petrol cars, electric vehicles thrive in stop-start traffic because they recharge their batteries as they slow down – a process called regenerative braking.
"On the other hand, they are not as fuel efficient as petrol-powered cars on long trips, so they have to be recharged more often."
This is becoming less of a problem as charging stations are beginning to spring up around Melbourne and interstate, with apps available that show their locations. There is one at Mt Martha and one at Rosebud.
Mr Arrowsmith said a July trip to Parkes in central NSW for the 50th anniversary of the Moon landing illustrated his car's fuel economy. "We stopped to recharge at Euroa, then Barnawartha North, which has a solar-battery system, and then at Narrandera, Parkes and West Wyalong. It was a great trip and didn't cost us a cent in fuel bills, whereas it would have cost us $150 in a petrol-powered car.
"It all depends on how you drive. In the six months I have owned the car I reckon I have saved $2000 that I would have spent on petrol."
Mr Arrowsmith said his only regret since buying his car in February is that he didn't spend $15,000 more on a car with a bigger battery, such as a $65,000 Nissan Kona, which would have given him a range of 450km between charges.
"Battery technology is improving so fast that costs are coming down rapidly," he said. "One company is even making adaptors that fool a car's computer into thinking it is talking to its own manufacturer's make of battery when it's another make entirely.
"Soon you will be able to buy batteries that go into all electric vehicles which will bring the prices down."
Electric vehicle specialists EVolution Australia director Russ Shepherd said many families were delaying buying their next car while waiting for suitable electric vehicle options.
"Family and budget friendly cars, such as the Tesla 3 and Nissan LEAF, will change the face of driving as we know it, and many other manufacturers are planning to launch EVs in coming months," he said.
"Transport accounts for the second largest source of greenhouse gas pollution in Australia, and emissions are projected to continue to grow up to 2030, so it's vital we curb our use of traditional diesel and petrol vehicles as soon as possible."
First published in the Southern Peninsula News – 3 September 2019