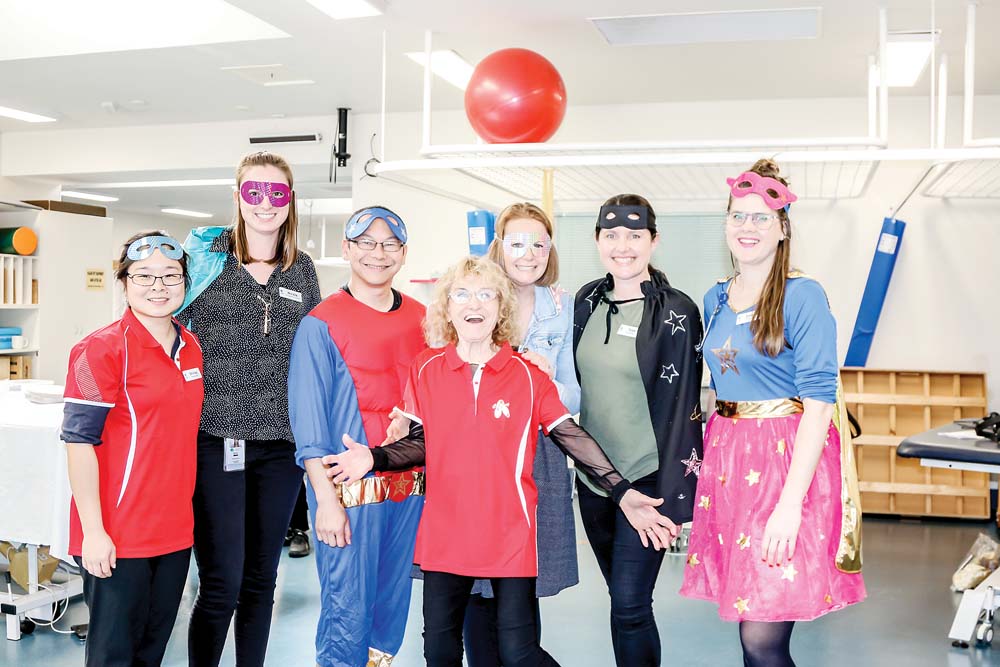 ON a cue of "Let's clog Shirl," Judy Phillips, stroke survivor, and Shirley Cheah, Peninsula Health physiotherapist, performed a type of folk dance called clogging before a large group of Allied Health staff at Peninsula Health's Golf Links Road Rehabilitation Centre.
Comfortable in the limelight after a career as a children's television presenter, Ms Phillips said she had one clear goal after her stroke last June – "I really wanted to get back to clogging."
The toe-tapping show and lunch on Wednesday 4 September was organised as part of Stroke Week and most of Peninsula Health's Stroke Detours team members who worked with Judy were there to enjoy it. "They supported me when I really needed it and I would have been very lost and confused if it hadn't been for them," she said.
The Stroke Detours Team works with patients in their homes following their discharge from hospital after a stroke.
"Judy's great cardiovascular fitness from clogging was a big factor in her recovery," Stroke Detours team Leader Nicola Bronts said. "Our team worked with Judy, and her husband Bob, at their home to help her get back to doing what she loves to do, including clogging."
Ms Phillips spent many years hosting Fredd Bear's Breakfast-a-Go-Go five days a week on Channel 10, which is where she met her two time Logie-winning husband Bob Phillips, the show's producer.
She shared details of her journey and thanked Allied Health staff at the Stroke Week event. When asked what she would do differently if she had her stroke again, she didn't hesitate.
"As soon as I felt something was wrong I should have called an ambulance. I didn't do that, I went to bed and it was Bob who insisted we called an ambulance."
Ms Phillip's message to other stroke survivors is to never give up. "Put your boxing gloves on and be positive, every day is a new day."
The Stroke Foundation urges people to recognise stroke and Think F.A.S.T
F– Has their face drooped?
A – Can they lift both arms?
S – Is their speech slurred and do they understand you?
T – Call 000 as time is critical.
First published in the Southern Peninsula News – 10 September 2019