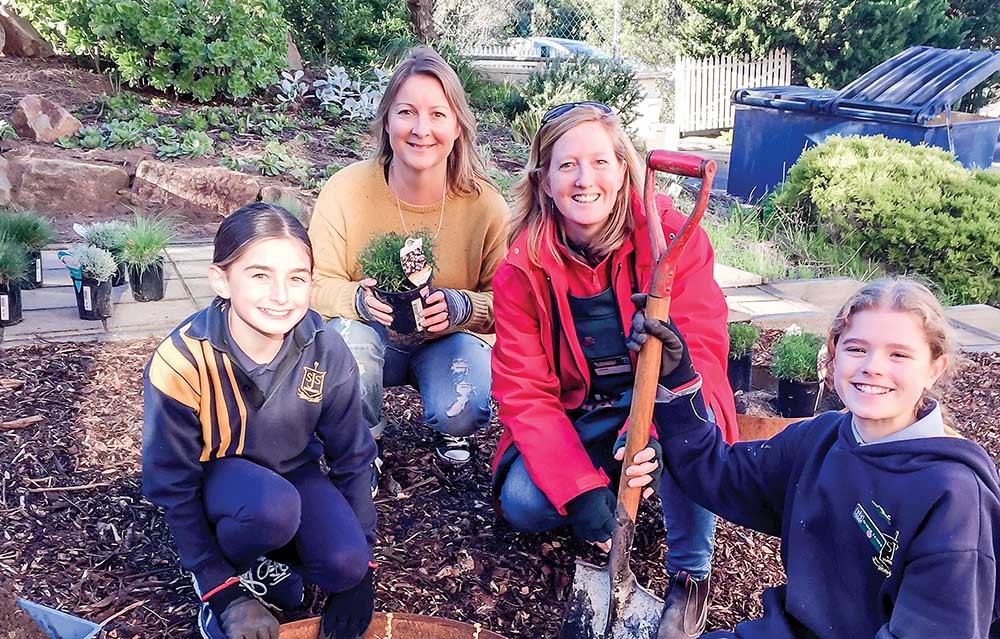 STUDENTS at St Joseph's Primary, Sorrento, celebrated The United Nations International Year of Indigenous Language by researching and designing their own indigenous sensory, edible and medicinal garden using the indigenous plants of the Mornington Peninsula.
The colourful gardens, as well as looking spectacular, encourage birds, native bees and insects to visit their school grounds.
The students' efforts have led the school to being a finalist in this year's Tidy Town Awards.
Sustainability teacher Jane Byrne said the project began following a visit by nine years five and six students to the Royal Botanic Gardens at Cranbourne. On their return the students told their classmates what they had experienced and then all students got to work to learn about the plants' uses and benefits to the Boon Wurrung people.
Along the way they documented the local Indigenous language and translated it into Italian and English and placed these words around the school.
The students collaborated with a diverse group, including landscape architect and parent Tracey O'Connor, who recently established Sorrento HUB Co-workspace. Others involved were members of Pt Nepean Men's Shed, who built bird boxes, seating, wicking boxes, insect hotels, as well as contributing many man-hours to the project. Their work was funded by a Mornington Peninsula Shire Place Maker grant.
Bunnings activities organiser Jane Robins also donated Corten steel landscape rings and plants to the project, with the main funding coming through a grant from the VSGA Independent Schools Victoria for a sensory garden application.
Students Chloe Dalton, Rubystar Irwin and Poppy Williamson explained the garden to Tidy Town judges Robbie Rae, from the Keep Victoria Beautiful, and Mornington Peninsula Shire's Michelle McCready.
Other schools and projects from across the Mornington Peninsula to be named as finalists in this year's Tidy Towns – Sustainable Communities Awards are:
Active Schools Award
St Joseph's Catholic Primary School, Crib Point
3/4 Learning Community, Crib Point
The Sea is my Best Friend Crib Point
Clean Beach/Waterway Award
Mt Eliza Plastic Free, Mount Eliza
Mount Eliza Beach Clean
Community Action and Leadership Award (Pop 3000 and Below)
Seawinds Boomerang Bags, Capel Sound
Bags and Beds for all
St Macartans Parish Primary School, Mornington
Love Local Market
Litter Prevention Award
The Peninsula's Last Straw, Rye
The Peninsula's Last Straw
St Joseph's Catholic Primary School, Crib Point
Waste Management
Resource Recovery & Waste Management
Seawinds Boomerang Bags, Capel Sound
Uniforms 4 all and so much more
Mornington Peninsula Shire's Citizen of the Year Josie Jones, a representative of The Peninsula's Last Straw, said: "There is no better time for community advocacy to support the elimination of single use plastics.
"We have successfully demonstrated in the campaign that, working together, we can make positive change for our future generations, today."
The winners will be announced at the state awards at Dimboola on 26 October.
Details: Visit mornpen.vic.gov.au/tidytowns
First published in the Southern Peninsula News – 10 September 2019