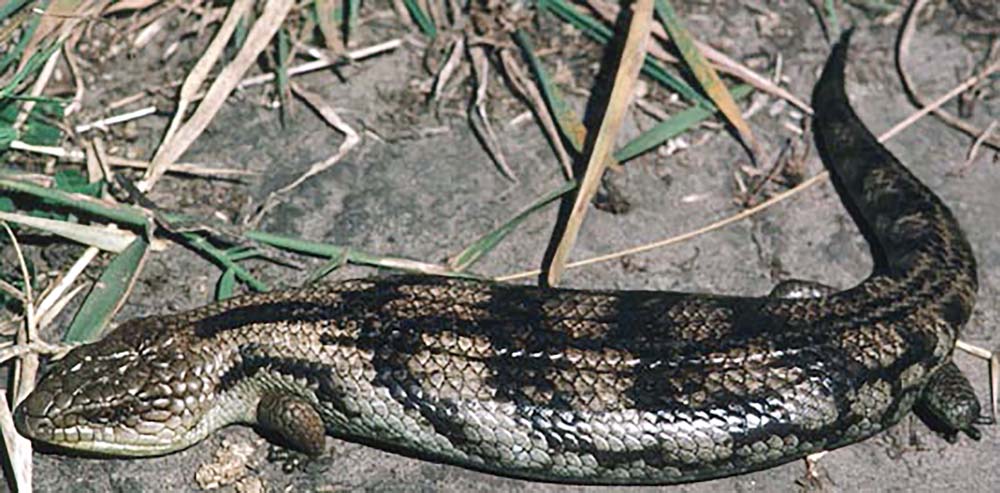 By Patricia MacLeod
ENVIRONMENTAL group BERG MM is urging residents to look out for blue-tongue lizards taking advantage of the warming weather.
The indigenous reptiles are being drawn out of their dormant phase to soak up the sunshine – making them vulnerable to being inadvertently killed.
BERG MM member Hansi Wegner said the cold-blooded animals must sunbathe each morning to produce enough energy to live but that "this can be to their detriment if they choose to do it on the road".
Mr Wegner said motorists seeing a lizard on the road should "avoid them, but only if safe to do so".
"Be blue-tongue aware when driving now that the weather is warming up, especially on our suburban roads," he said.
"Let's try to make a difference and reduce the number of blue-tongue lizards that are run over this year."
Peninsula residents might be familiar with the lizards in their backyards, or in bushland where they forage for snails, insects and plants, and bask on rocks and logs soaking up the sun's rays.
The lizards love eating snails which makes the widespread use of snail bait and insecticides another problem.
Residents should be on the lookout when mowing or whipper-snipping as blue-tongues stay hidden in the grass – often until it is too late.
Household pets also prey on the reptiles so it is vital to keep them apart.
While blue-tongue lizards are not poisonous, they may bite if handled.
Wildlife Help on the Mornington Peninsula (WHOMP), rescues injured wildlife at all hours. Call 0417 380 687 or 0417 395 883.
See also: Animalia Shelter Carer network and rescue service – Portsea to Brighton 0435 822 699 all hours, animaliawildlife.org.au;  Crystal Ocean Wildlife Shelter, Rye, 0407 787 770 or email: rystal_ocean2003@yahoo.com.au,  The Snake Catcher, caught and relocated 24 hours, Barry or Karen 0408 067 062 or 03 5975 0481.